Project
The Talent Ecosystem Guide (TEG)
Above Featured image: by Ann H via Pexels
Why a Talent Ecosystem Guide (TEG)?
The current competitive labor market together with the COVID-19 crises forces urgent need to lifelonglearning, up- and reskilling, match supply and demand, bridge inclusion, the diversity gap and leverage collective (digital) talent development.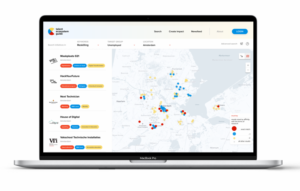 What is TEG?

Talent development is a shared responsibility of the triple helix parties. This interactive mapping tool will help the talent development ecosystem to find talent initiatives, to make lifelong learning, upskilling and reskilling easy in the region of Amsterdam.
It will not only help companies to have an overview on the education and training available for talent development but also give the opportunity to contribute to talent development in the region, for example by offering internships.
It will help universities, colleges and talent initiatives to increase their visibility and facilitate to come into contact with relevant target groups.
It will provide governments with an up-to-date overview for investment decisions and the efficient allocation of resources.

Design challenge
How might we attract and engage the private sector to make TEG, primarily meant as a B2B product, a widely used tool for matching, connecting , different projects, initiatives, programmes and making an impact in the Metropolitan Region Amsterdam (MRA)?

Connection with the EdTech for Social Change Track
The EdTech for Social Change track is a connective hub that opens space for partnerships, applied research and projects with industry stakeholders. Together we use technology to boost individual learning, corporate training and to make learning accessible to vulnerable social groups.
With TEG we like to establish a positive social change and enhance sustainable development in the MRA region. Facing the current labor landscape perspective (Covid-19, possible recession, increasing talent shortages, digitalization, automation etc) , the aspiration is to bring key players together to leverage talent development in an effective way, upskill and reskill as many people in the right mannerto assure they are ready for the jobs of today and the future.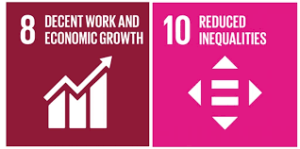 Connection with the Sustainable Development Goals
We believe talent development is a shared responsibility; not only government institutions, talent development initiatives are instrumental in reducing inequality but also companies have a big influence in designing strategies to support sustainable economic development, decent work and promote inclusive growth.
The Trainee Process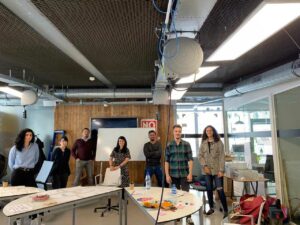 We spent the first two Sprints on user research across the different stakeholders and interviewed representatives from private sector companies of different sizes and backgrounds in the  Metropolitan Region Amsterdam (MRA) and candidates from talent initiatives as well. We conducted desk research to be able to understand the current products in the market and how we may work towards filling the market gap. Moving forward in the next sprint, we took this research and started breaking it down into key elements, trying to resolve our question.
Our research helped us understand the mindsets behind companies and their driving forces to collaborate with an external initiative. The insights gathered pointed towards their emphasis on the need to work with a trustworthy company that will provide them with an additional benefit from the resources they have internally and also enable them to find the right talent through new employees or by training and up-skilling their internal employees. The private sector also acknowledged the importance of talent development and inclusion of the community which is crucial to TEG playing an important role to enhance the current level of engagement and communication in Talent Development landscape in the Metropolitan Region Amsterdam (MRA)
TEG now rebranded as TOMAS, Talent Ontwikkeling Match & Select, so that stakeholders could relate to the product with their wants, needs and requests. In the fourth and the final fifth sprint, with extensive research through design thinking methods and testing with different stakeholders, we designed the T- Passport
T-Passport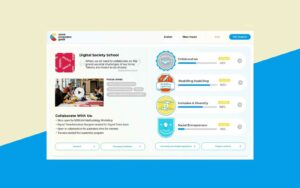 The T-Passport is an impact profile that would be an addition to the current TOMAS website. It would provide talent initiatives and companies the opportunity to have a specialized space showcasing their goals and accomplishments whilst recognizing them for their collaborative work in this industry. The profile would have different criteria to measure the current level of partnerships between companies for talent development. An example would be a criterion on how Inclusive & Diverse companies are, whether their work is focused around this crucial pillar in society. Through their collaborations, announcements, and employee training, one can evaluate how the company includes this pillar and leads the way to be a Talent Development Influencer in the MRA.
The T-Passport not only allows you to showcase your work, but also gives you an additional benefit of participating in social return projects that contribute to society. Based on individual progress companies make in specific pillars on their profile, they earn progress points which then fills a meter towards a specific project. Once a threshold is reached, a social return project gets unlocked, companies can sign up and contribute to social development. These projects would be around inclusivity, sustainability, going green and will respond to societal challenges we see everyday. They are not only rewarded by their effort in the talent development industry, but also have the chance to leave a bigger impact on society through these specialized projects tailored to their goals.
Are you part of a company and dealing with above topics such as lifelong learning, reskilling and upskilling ? Don't be shy to contact us, we would love to exchange ideas with you!