Project
New Learners Hub: A modular virtual hub ensuring learner retention
How can we enhance the digital (pre-)onboarding experience of trainees to ensure learner retention and satisfaction, while supporting their well-being?
The New Learners Hub project (NeLeH) focuses on building a virtual hub that enhances integration, skills development, and community building for trainees. With Covid-19 came new challenges reported by learners of traineeships, such as increased levels of stress and dissatisfaction (Olson & Lalley, 2012).
It is important to highlight that studies on successful integration of learners in nonformal education programs, such as traineeships, which by definition (Shiels & Graham, 2018) bring together diverse learners, are nearly nonexistent. Nevertheless, we find evidence of high attrition and learner dissatisfaction rates in several traineeship programs around Europe (Montaldo, Benke-Åberg & Garcia, 2018).
Our design challenge
We aimed to build a modular virtual hub that could be used by companies and the educational system to ensure learner retention and satisfaction, as well as supporting trainees' well-being. NeLeH's features focuses on seven pillars (Chickering & Reisser, 1993): (1) developing competence, (2) managing emotions, (3) moving through autonomy toward interdependence, (4) developing mature interpersonal relationships, (5) establishing identity, (6) developing purpose and (7) developing integrity.
Design Process
Over the course of 20 weeks, we conducted research in the form of focus groups and interviews with relevant stakeholders including (ex-) trainees at Digital Society School, a Talent coordinator from a global corporate company, a Talent Coordinator from Digital Society School, Programme Director, and a Learning Experience Designer among others. This user research fed into our ideation and prototyping sessions on what our virtual hub should look like. From these needs we derived that not only a virtual hub was needed, but also a physical onboarding package that would be sent out to new trainees to increase their sense of belonging.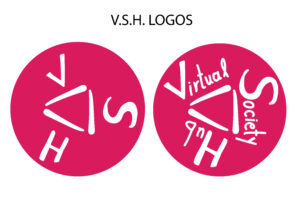 Virtual Society Hub
The Virtual Society Hub (VSH) is a digital space where trainees can connect and collaborate. It aims to promote social interaction and enhancing a sense of belonging. The VSH not only focuses on making the integration of new trainees more smooth within the Digital Society School, but also throughout their time in Amsterdam. This hub serves as an inspirational platform that can be re-modified to fit other companies that hosts trainees. Some of the elements to help trainees better integrate into DSS and Amsterdam that are included in the Virtual Society Hub are:
Culture Corner: The Culture Corner is a space for trainees to help each other better acclimatize to a new environment. Trainees can view recommendations around Amsterdam on a virtual map, shared by their peers and previous trainee groups. This will help them become better acquainted with their new city, making it feel like a home as they explore personalised café, restaurant, and cultural recommendations. Trainees will also be able to view and upload recipes with one another, creating connections among a group of diverse cultures. Lastly, the Culture Corner includes a link to trainees' social media accounts (if permitted by the trainee), as well as a collaborative Spotify playlist where trainees can add songs and listen to the song recommendations of their peers, leading to a greater sense of group connection.
Workshops and Portfolio Reviews: Through our research we found that trainees are interested in having more frequent workshops and opportunities that are tailored to their individual professional development to better prepare them to enter the employment market at the end of the traineeship. The Virtual Society Hub offers an events calendar where trainees can sign up to participate in or run their own workshops, as well as a space to share portfolios with their peers to receive inspiration and feedback.
Chat Space: The Virtual Society Hub promotes physical connections through a general events calendar, but also helps to improve digital communication through a chat space. Through our research, particularly focus groups with current trainees, we found that most trainees had not developed any meaningful relationships with people outside of their respective project teams. The Chat Space is a place where trainees can send general messages to the entire cohort or private messages to one another. For example, the space could be used by a trainee to ask if anyone wants to meet for a virtual coffee or an in-person lunch at a nearby restaurant to begin building relationships with each other and expanding their networks.
During the DSS showcase on the 21st June, we welcome further questions via: virtualsocietyhub@gmail.com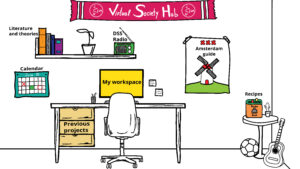 (Pre-)Onboarding Packages
The (pre-)onboarding packages design focused on making sure trainees felt bonded to the organisation before they started, and as they were welcomed into the traineeship. The package includes a pre-arrival envelope and a post-arrival box that aim to be made of and include only sustainable products.
Pre-Arrival Envelope: The pre-arrival envelope will be the trainee's first introduction to the company, in this case, the Digital Society School. The envelope will include a few elements to begin to contribute to the trainee's sense of belonging and excitement before beginning the traineeship. Some of these elements are the Design Tool Kit, a DSS "Jargon Buster", and a personalised note from one of the coaches, members of the DSS administration team, or a past trainee. The envelope will also feature instructions on how to connect to the virtual hub, which will give the upcoming trainees a simple pre-arrival challenge to begin communicating with one another, such as sharing photos of their surroundings before relocating to Amsterdam.
Post-Arrival Box: The post-arrival box, which will be available for pick-up by the trainees after they arrive in Amsterdam, will include items to help the new city and company feel more like a home. For example, Tony's Chocolonely chocolate bars, a local city guide with points of interests recommended by DSS staff and past trainees, and a 3D cardboard cutout in the shape of the DSS mascot for the trainee to assemble.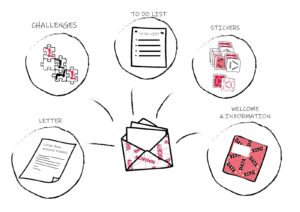 Connection with the EdTech for Social Change Track
This project addresses the following questions:
How do we use the power of technology to make people ready for today's fast-changing labour market and prepare them for the jobs of the future?
How can technology help to bring together better education innovations, ideas and solutions for society?
How can technology help us to make education and training available to vulnerable populations?
Sustainable Development Goals

As Digital Society School, each of our projects adheres to one or more Sustainable Development Goals of the United Nations*. This project focuses on (4) Quality Education, (8) Decent Work and Economic Growth, (10) Reduced Inequalities, and (16) Peace, Justice, and Strong Institutions.
*The Sustainable Development Goals (SDGs) are a collection of 17 global goals set by the United Nations Development Programme. These goals are a universal call to action to end poverty, protect the planet and ensure that all people enjoy peace and prosperity. The aim of the DSS is to develop projects that benefit the SDGs and work towards providing a new perspective on an innovative solution.
References
Chickering, A. & Reisser, L. (1993). Education and Identity. San Francisco, CA: The Jossey-Bass Higher and Adult Education Series.
Montaldo, M., Benke-Åberg, R. & Garcia, C. (2018). Quality internships. Paving the way for young people. Brussels: European University Foundation.
Olson, J., & Lalley, K. (2012). Evaluating a Short-Term, First-Year Study Abroad Program for Business and Engineering Undergraduates: Understanding the Student Learning Experience. Journal of Education for Business, 87(6), 325-332.
Shiels, B. & Graham, N. (2018). Developing Best Practice in Work-Based Learning – An Evaluation of the Career Traineeship Pilot. London: ICF Consulting Services Limited.