Article
Can a digital copy help paralympic athletes win gold?
The Digital Society School of the Amsterdam University of Applied Sciences (AUAS) has explored this. They started with the idea of developing a digital twin (i.e. digital copy) of elite athlete Larissa Klaassen, who won gold at the Paralympic Games in Tokyo during the 2020 Paralympic Games.
A digital twin is a digital copy of a person or object, for example, with which you can experiment and gain new insights. Such a copy contains all sorts of crucial data, such as physical functions, from heart rate to sleep and calorie consumption, and also behaviour, creating a virtual reflection of a person (or object).
Dennis van Vlaanderen, manager of the Elite Sports Academy Amsterdam, wondered whether this new application could be useful for Paralympic athletes, and presented this assignment to trainees of the Digital Society School (AUAS).
Van Vlaanderen: "Paralympic students constantly have to balance their sport with their private life and studies. We have apps that measure your heart rate, and Strava that measures speed, but we don't yet have anything that monitors how you feel. It would therefore be nice if a digital twin became a virtual copy of your whole person."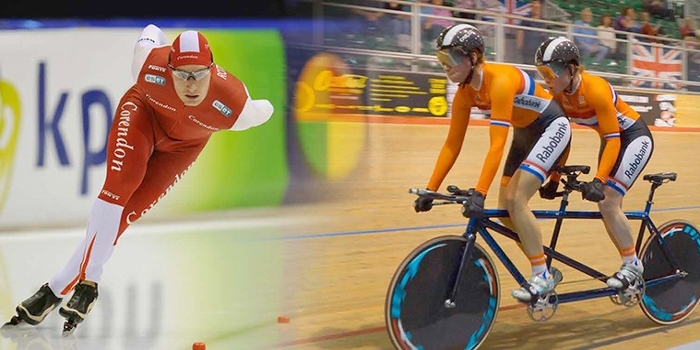 Larissa Klaassen as a role model
The Digital Society trainees realised that there is all kinds of data available about our physical functioning, but that little thought is given to emotions. This contrast is even greater for elite and Paralympic athletes, who are under great pressure.
Therefore, they took Larissa Klaassen (HBO-ICT alumna) as a role model when developing a digital twin. Larissa Klaassen is a Paralympic cyclist with a visual impairment (she can only see light and dark). She competes at the highest level, and even won gold at the Paralympic Games in Tokyo during the 2020 Paralympic Games, together with Imke Brommer (JCU, AUAS student).
Larissa helped the trainees during the start-up of the project. Because she had to focus on the Paralympic Games in Tokyo, the trainees then worked together with several students with disabilities to complete the prototype.
Prototype completed
The result of the assignment is the Self prototype, an app that combines all sorts of personal data with the idea of helping people to stay in balance. The app contains data on physical functioning (including sleep cycles), collected from wearables, and insights into emotions and personal boundaries (by means of a diary function). The app reveals connections between those personal aspects and sports performance, and vice versa. In this way, Self generates a complete digital twin of an athlete, Paralympic or otherwise.
Must be workable for Paralympians
The application must also be easy for Larissa to use, because apps and videos often aren't suitable for people with visual impairments. Students also took this into account when designing the app. For example, they tested in advance how smartphones convert the information into audio and spoken text (through the accessibility functions). "If it's workable for Larissa, it will be workable for most of the world," Van Vlaanderen says.
Revolutionary app
After the Paralympics, a new team from the Digital Society School will further develop the app, together with Van Vlaanderen. Other target groups can also benefit from such a 'revolutionary app', Van Vlaanderen thinks: "For example, students who care for sick or disabled relatives: they too are trying to stay in balance, and can benefit from insight into the relationship between physical and mental strain, and emotions."
Read more about the Digital Twin Track
This article appeared first on the website of the AUAS.