Programme
U!REKA Change Agents Programme
The next edition will be in Spring 2024. Dates to be communicated soon! Interested to join the programme? Send an email to Dymphna Snijders-Blok at d.snijders.blok@hva.nl
———
As an international applied research, innovation and education network with common goals, U!REKA's ambition is to educate, shape and deliver the European professionals of tomorrow. These professionals will contribute to an inclusive, intercultural and open-minded professional Europe. 
In order to have more students involved in the U!REKA network and to work on topics related to the sustainable development goals combined with topics that are important for each institute, a new initiative was born: the U!REKA Change Agents programme.
The pilot programme is made up of a combination of online and in-person sessions in Amsterdam. During this 2,5 month programme, students of various backgrounds from across different European institutions will work together to work on a challenge. At the end of the programme, they will present their findings to each other and to their respective University representatives.
Below overview gives an indication of the content and format of how the programme is structured.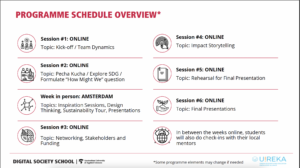 See what the participants had to say about the programme: