How can a DIY (do it yourself) activity kit designed for children with cerebral palsy, created with household objects, develop an intrinsic motivation to follow home-based hand therapy?
Children who have spasticity in their hand need paediatric occupational and physical therapy. They often struggle to execute these hand exercises at home, as they are repetitive and uninviting. In this project, we wanted to learn, how to use DIY (do it yourself) techniques to help children do their hand therapy exercises at home in a playful way. We also wanted to engage them by leaving enough room for social play with peers and parents.
We designed Happy T(h)inkers tinkering cards. It is a carefully curated DIY kit which consists of activity cards, object cards and playful guide for parents. This fun DIY kit allows children to follow hand therapy at home. We aimed to inspire children to get creative in using objects found in their home, explore shapes, learn new skills and enjoy the feeling of creating their own hand therapy toys.
The activity cards guide the children through some steps to create one of the DIY toys. The making and playing of the toys both contribute to hand therapy exercises. The object cards provide challenges related to activities of daily living and gives space for the children to explore their own creativity by personalizing their toy with more household objects. The kit has a playful guide which informs parents and caregivers about different hand movements required for hand therapy. It also indicates how these hand movements are related to our activities and challenges. Our kit aims to develop a joyful feeling which gives children intrinsic motivation to follow hand therapy at home.
This DIY kit provides a research opportunity to understand how motivation and playfulness play a role in home-based hand therapy. In the future, it can be integrated with technology to provide data to physiotherapists which will help them accurately monitor the child's progress.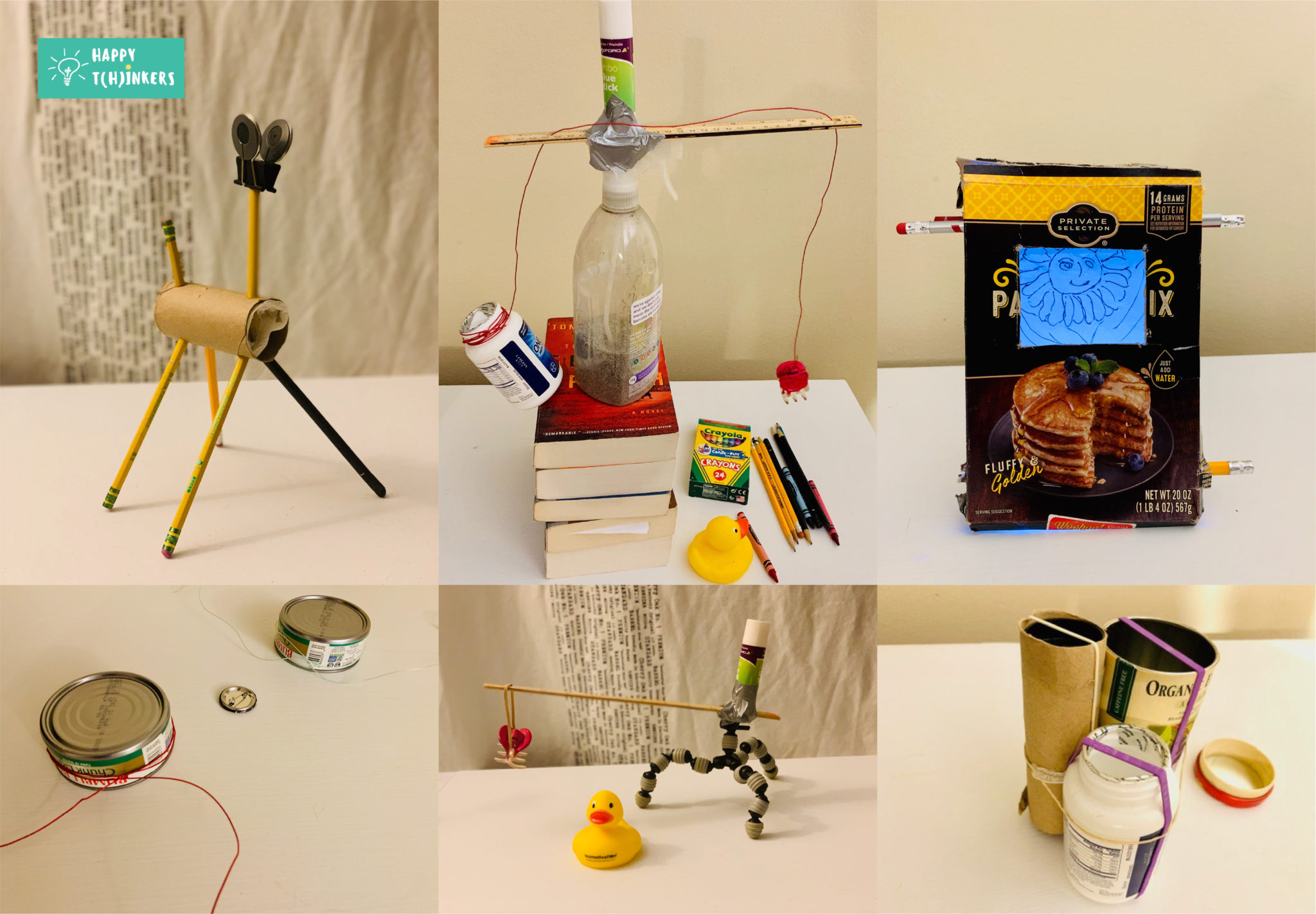 DIY toys…watch 'how to make' and 'how to play' videos on Instagram
Happy T(h)inkers tinkering cards are designed to improve fine motor skills, engage children and stimulate creativity for children between 8 to 12 years.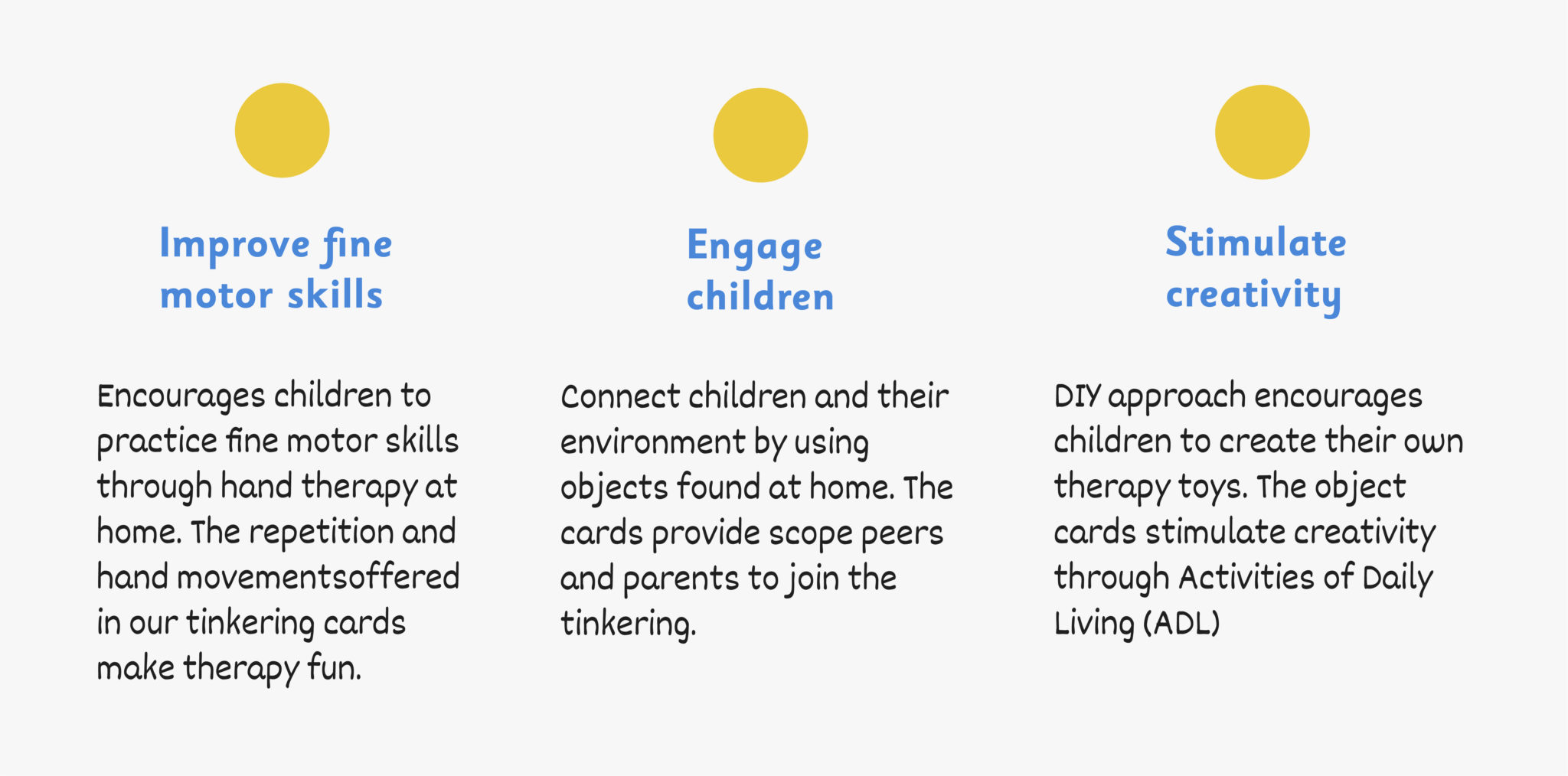 Hand Movements
How it works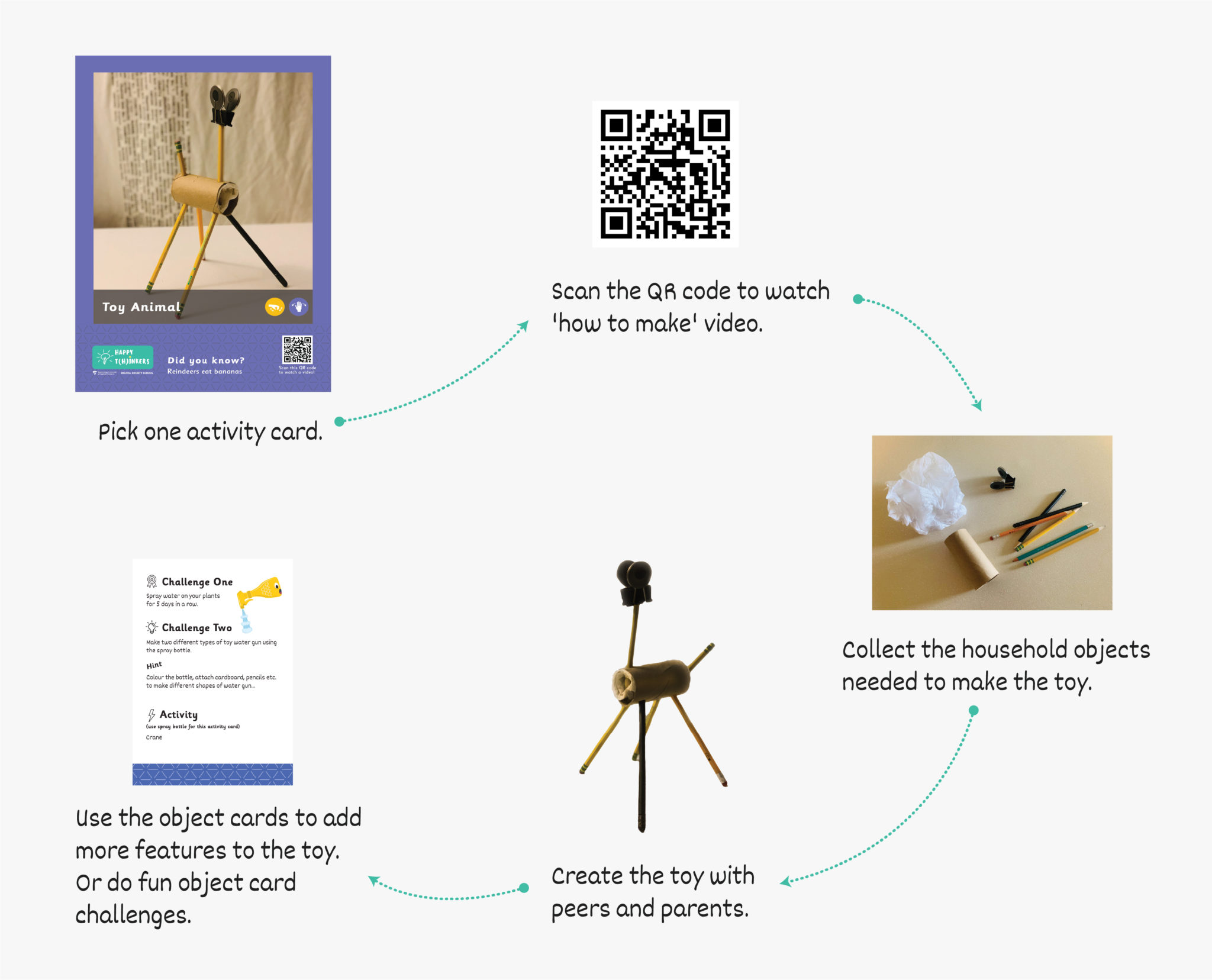 Activity Cards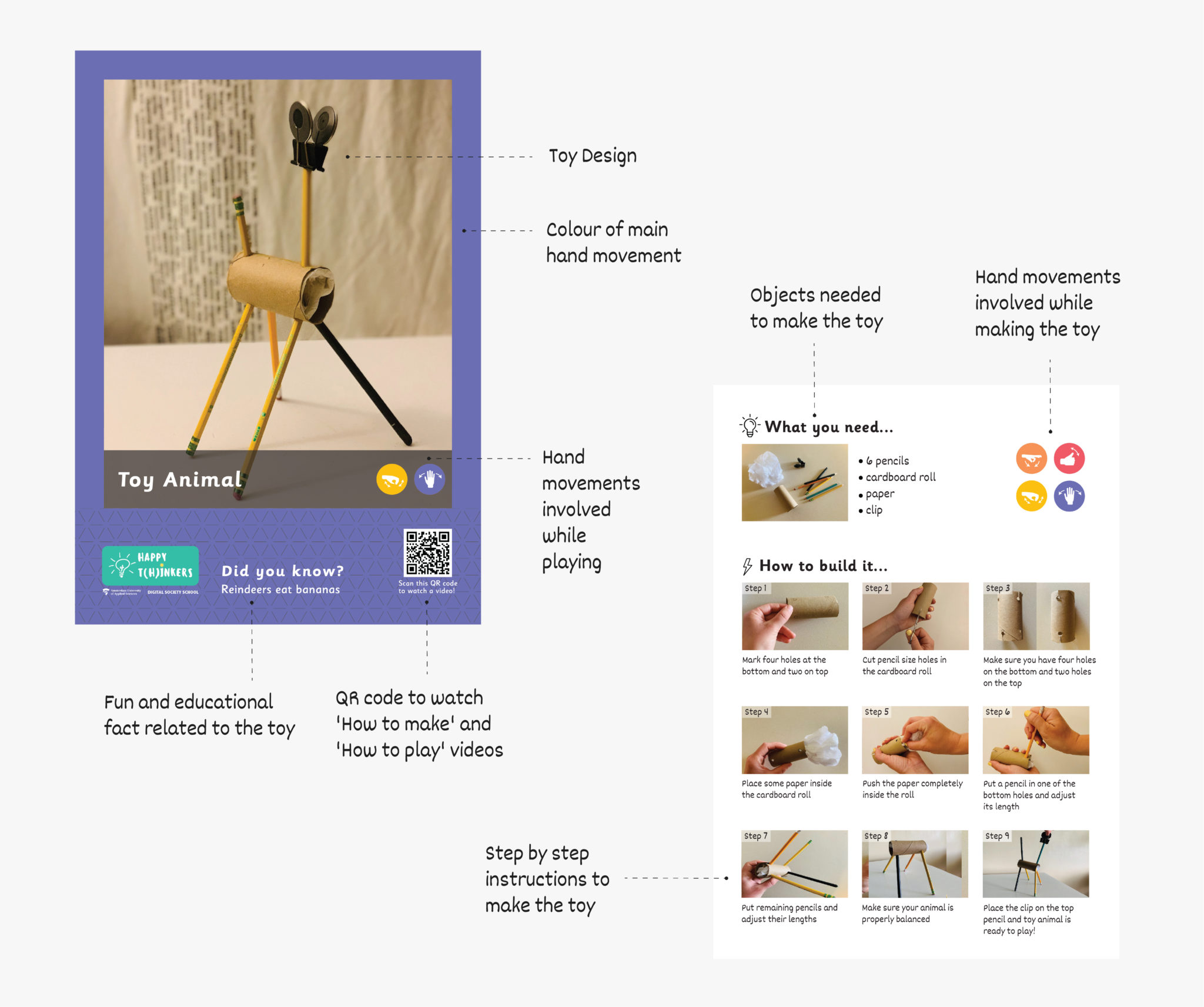 Object Cards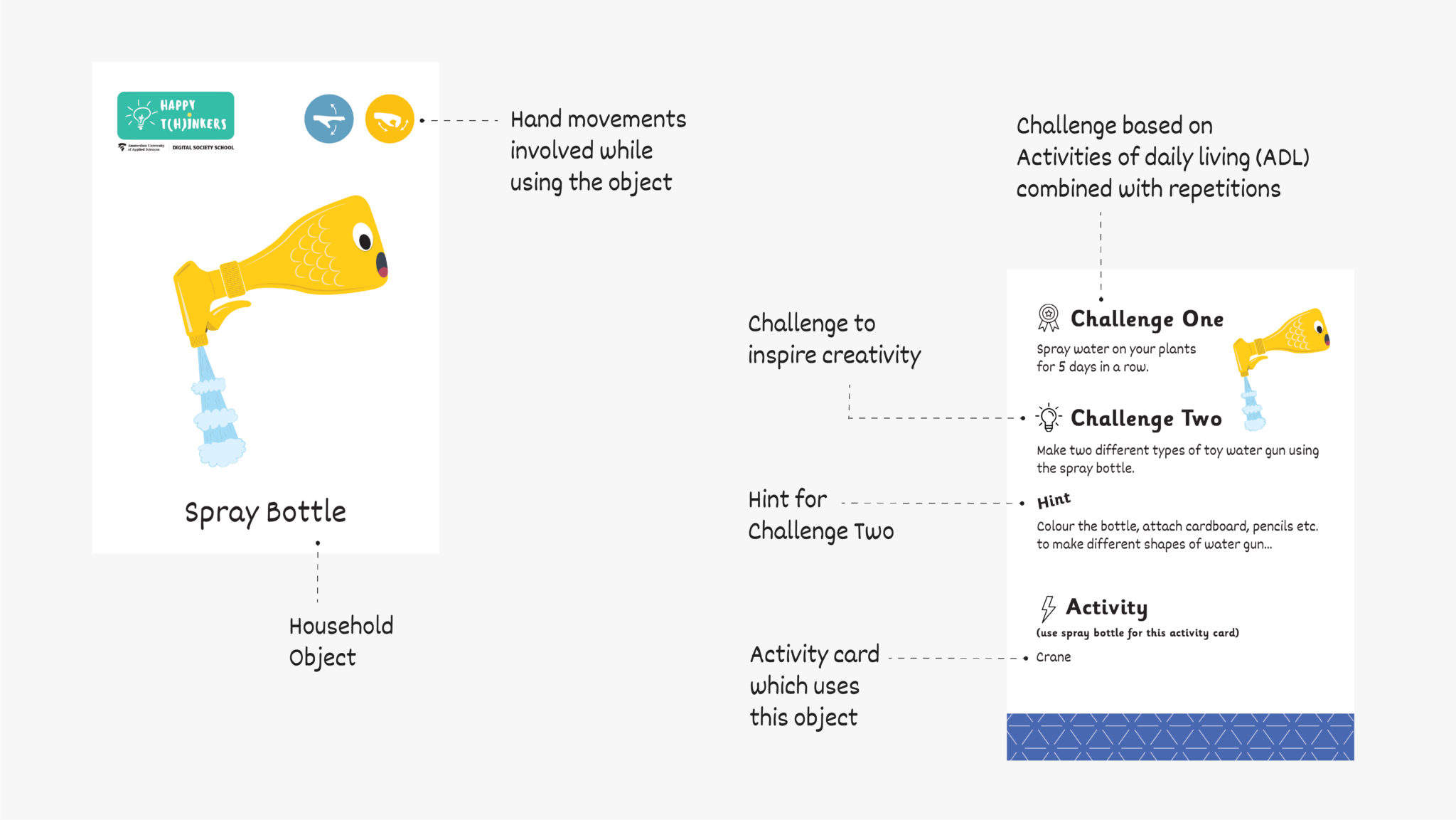 This project is focused on the Sustainable Development Goals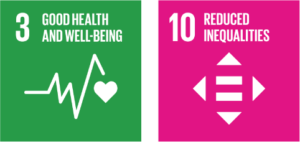 In collaboration with the research labs Digital Life Centre and Play & Civic Media.