Project
Spring 2020: Toys for Therapy
Which behavior change techniques can be implemented in the use of smart-toys in the context of home-based hand therapy for children with cerebral palsy?
Kids who need pediatric occupational and physical therapy exercises often struggle executing them as such therapies are often repetitive and uninviting. We are interested to learn how the use of smart-toys (interactive & connected) can encourage children to exercise more at home in an accessible and motivating way and thus improving their quality of life.
Open call for industry partner to join us in our exploration of a prototype for the future of physical therapy. Area's of interest are behaviour change, physical therapy, and smart objects, among others. Closing date January 20th 2020. More info Assia Kraan/ a.kraan@hva.nl
In this project we will study how already used muscle therapies for children with cerebral palsy can be complemented with playful and engaging interactions that increase motivation supported by behavior change techniques (BCTs). In an iterative process, we will develop prototypes of smart-toys that implement different BCTs such as goal setting, feedback, social support, etc. and test which techniques can provide better results.
This research provides an important opportunity to advance the understanding of motivation and playfulness in therapy assisted by new technologies.
This project is focused on the Sustainable Development Goals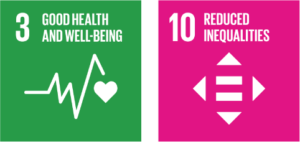 And is a collaboration with the research labs Digital Life Centre and Play & Civic Media.