How can we support families of chronically ill children in their transition from hospital to home?
When families of children with complex care leave the hospital they feel the gap they need to bridge for starting their new life at home is too big. Partly due to this, re-admissions of these children in the hospital are frequent.
Digital Society School partnered up with the Emma Children's Hospital, one of the sponsors behind the future Het Jeroen Pit Huis (https://hetjeroenpithuis.nl/). The care concept of Het Jeroen Pit Huis will be focused on improving the transition from hospital to home for families of chronically ill children.
Research
One of our first step in the research process was to visualize all the stakeholders involved through a stakeholders map.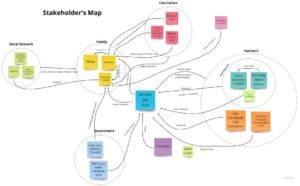 Our team set as a goal to research and design a digital tool to support families during this difficult stage. In order to do this it was important to visualize the transition journey of these families, so we could have an overview of touch and pain points.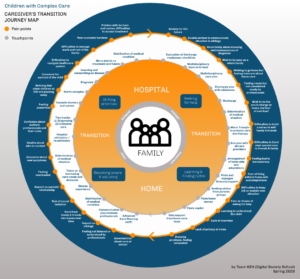 Ideating and prototyping: From a conversational object to empathize with users, to a solution-based prototype
Initially we created a card game where doctors, nurses and parents could share stories, ask questions and learn more about each other. It is intended to be a playful and light-hearted way to approach difficult conversations, and to foster more empathy between professionals and families.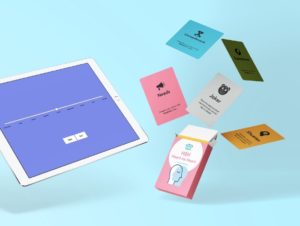 After the first sprints mainly focused on research, we decided to focus our solution around the concept of the Extended Family: the network of professionals, friends, relatives and network  that contribute to take care of chronically ill children.
During sprint 3 we started to develop the main features of our prototype: Journal (reflection), Goals (learning and development), "Wave" (a smart  lamp to give emotional support to families) and family board  (coordination of the extended family).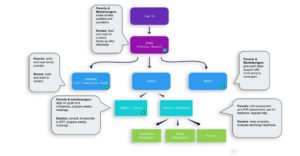 On later sprints this concept was validated and refined through interviews and a co-creation session. The Journal feature dissapeared and the need for support on the care coordination expressed by professionals and families pushed us to give more weight to the Goals feature. This way we added even more functionalities to this section: calendar, tasks and a more simple family board transformed into a timeline section where to keep everyone in the team quickly updated.
We made sure the Wave page not only the caregivers were connected, but also the child him or herself. By lighting up the smart lamp or sending a voice recording the child knows someone is thinking of him or her.
We tried to create a simple and powerful solution that keeps a balance between the needs of both families and professionals, and can be easily integrated in the processes that will be set at Het Jeroen Pit Huis.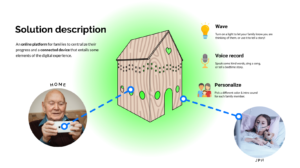 What research and brainstorming methods did we use?
Desk Research
Literature review
Interviews with stakeholders
Surveys
Co-Creation Session
Visit to the Internal Care Unit at Emma Kinderziekenhuis
DSS toolkit for ideation
What did we create?
Initial prototype of a card game to encourage conversations among users
Prototype of public installation to collect insights at the hospital
Stakeholders map
Caregiver's transition journey map
Personas — Parents, Doctor, Nurses, Mantelzorger
Information Architecture for a solution-based prototype
Wireframes and clickable prototype
What did we learn?
Dealing with uncertainty: adapting tools and research to remote work during COVID-19 crisis.
Pivoting: constantly reassessing the problem to set limits on the scope of our solution.
"Kill your darlings": fall in love with the problem, not with your solution.
Being loyal to the research: keeping complexity while narrowing down multiple options to a feasible prototype.
Crystal clear communication and detailed feedback to build trust and keep moving forward.
Meet the team:
Florence Leung (Hong Kong) is a strategic designer with previous work experience in project & client management in the marketing and digital field. She is not afraid of unbundling complex problems and always passionate to think for the users.
Danaë Skrobiszewski (The Netherlands) is a digital designer and front-end developer with a passion for concepting and innovation. As a Communication & Multimedia student she knows her way around UX, UI and visual design, animation and front-end development. After finishing this graduation project looking for a job to put her skills to good use for impact on society. LinkedIn profile.
Dheeresh Madhav (India) is a digital designer, visual artist & photographer. He pursued his Masters in design. He believes visual medium can touch more hearts and minds than a written text. His passion lies in branding, UI and documentary Photography. After this project, he wants to explore new opportunities and will be looking for jobs in these fields where his passion lies.
Daniel García (Spain) is a service designer with a background combining filmmaking, education, research and project management. His passion is learning and a human-centered approach is in everything he does. LinkedIn profile.
Dácio Florêncio (Brazil) is a software developer with a masters degree in Computer Science. One of his passions is learning, for this reason, he is always reading or researching. After this project, he wants to explore other great opportunities that impact on society and help him to grow as a professional.