Project
Ask. Listen. – Designing conversations for better transitions in Dutch education
Close your eyes for a second… picture the last time you faced a tough moment of change in your life – starting a new job, moving to another town or even country, enrolling in a new educational degree… Wouldn't you have wished for a supportive intervention at that moment? Someone to talk to?
Such tough moments of change and transition is what our project is based on: over the course of 20 weeks, we indulged ourselves the Dutch educational system and its various levels between which students transitio0n. In particular, our focus was on students who complete their vocational MBO, and struggle while making their transition to applied science HBO studies at the Faculty of Digital Media and Creative Industries in the Amsterdam University of Applied Sciences or HvA.
After an intensive 20 weeks of research and design, the result is Ask. Listen.
Ask. Listen. is a card game that encourages personal storytelling and radical empathy around change in the student experience by prompting incoming-HBO applied science students to reflect together on the past, present and future of their education. Because even if they feel alone, they must know that they're not on their own. All of us have been part of such transitions  – and as overwhelming as they may be, a good place to start is always to talk about it. Therefore, we used used creative design methods for the sole purpose of connection.
Background
Among all first-year students following one of the study programs within the Faculty of Digital Media and Creative Industries (FDMCI) at the Hogeschool van Amsterdam (HvA) (English: Amsterdam University of Applied Sciences), a considerable amount of students previously studied at an MBO (vocational degree) and are now transitioning into a higher level of education. This transition, however, is not always easy: roughly 40 % of former MBO students drop out in their first year.
Reasons for this high drop-out rate vary – The HvA often requires a very different way of learning than MBO students have been accustomed to, a lot more independence is expected from students than earlier, and the pressure to perform is high, to name a few examples – but what they all share in common, is how vastly different the HvA environment is from MBO-level education. Sometimes, therefore, students feel ashamed to reach out, are lost in the curriculum, or unsure whether they are struggling to begin with. Much research has already been done on the subject, and there are various support systems within the FDMCI, but the drop-out rates remain nonetheless more or less the same.
On a deeper level, this issue taps in to underlying structural inequalities and fragmentations within the Dutch educational system. From the moment Dutch students enter high school, they are put into a 'level' of high school corresponding to their cognitive abilities. The Dutch educational system is very layered. In high school, it consists of three main levels – VMBO, havo, and VWO – each with various sublevels. Once they finish high school around the age of 16-18, students then transition again into one of the following vocational or (applied) university degrees:
MBO — Vocational education (Diploma). Provided by e.g. ROC-institutions
HBO — Higher professional education (Bachelor/Master). Provided by Applied Science institutions, e.g. Amsterdam University of Applied Sciences
WO — academic higher education (Bachelor/Master/PhD). Provided by Universities, e.g. the University of Amsterdam.
On the surface, this system seems quite egalitarian (there is a right place for everyone!). However, previous research has shown that the system may in fact reinforce already existing inequalities related to class and race. The system is inherently normative: Terms such as 'higher-educated' and 'lower-educated' students are engrained in our daily discourses on education. Students with a VWO degree have a much higher chance of securing financial stability, and gaining influential, high-end jobs. Furthermore,  a 12-year old Dutch native with parents who have the time, financial and social resources to support them, will have a much easier time getting into a VWO-level education than a 12-year old with a migrant background or parents working full time. Therefore, some students might be put in an educational level that doesn't necessarily do justice to their abilities. The success of transitioning into a new level education appears to be not so much reliant on cognitive abilities as much as it is dependent on skills, environment, and a sense of belonging. MBO pays a lot of attention to practical skills and lots of supervision; as you move to HBO or university, a lot more value is placed on theoretical skills and independence. In other words, while there is certainly a possibility to move between various levels, expectation management changes drastically when transitioning into a different kind of expectation.
As a consequence, a lot of students become isolated, and suffer from a lack of confidence and internalised guilt when they enter a new level, such as an HBO-level programme at the FDMCI here at the HvA. This is not to say that everyone should do the 'highest' level of education  (because isn't that the normative assumption that causes so many of these problems to begin with?). Rather, what is needed is a space for students to talk about their experiences in a way that helps them better understand the transition they go through. And that is exactly what we aimed to achieve with Ask. Listen.
The challenge we were given
Our team at Design Across Cultures here at the Digital Society School has paired up with the FDMCI faculty at HvA. Over the course of 20 weeks, our team will work on the following challenge:
How might we design a solution with physical-digital elements that can signal MBO students' experience of their transition into HBO-level education, highlighting (collective) challenges and well-being?
Here's what we mean by…
Experience: we want to understand the student and be able to empathise with them. The tool that we design should tap into the richness of their experience, providing new insights, and come without judgement.
Signal: making the students' experience understandable to themselves and HvA support staff.
transition: the (changing) expectations and habits of students
(Collective) challenges: While each student's experience is unique, the tool should tackle the systemic obstacles that students as a user group might encounter during their transition
So what does this all have to do with culture?
Let's briefly talk about this project in light of our track: Design Across Cultures. What has this to do with culture in the first place?
Culture is defined as the ideas, customs, and social behaviour of a particular group of people or society.

~ Oxford English dictionary
'Culture', in other words, isn't just about people from different countries around the world, but also about smaller groups and individuals. We can view the MBO as having one culture and the HBO as having another culture.
These two educational strata involve different ways of thinking and doing. A sense of belonging is crucial here: it becomes difficult to navigate yourself through this new world when you are so unfamiliar with its mindsets, practices, and network of people.  The transition from MBO to HBO is equivalent to the transition from one culture to another, and this transition may involve changing habits and expectations one is yet unfamiliar with.
Therefore, applying a cultural perspective on this challenge can be a helpful framework of tackling the larger issues at stake. In particular, if cultures consist of ideas, customs and social behaviours, it helps to make them visible and explore them in order to gain a richer understanding of the problem at hand. With the use of cultural design prompts, we can stimulate people to share their experiences and create room to host a constructive dialogue about the challenges students are facing.
A brief history of our journey towards our final solution, Ask. Listen.:
We started off by identifying and reaching out to various stakeholders within FDMCI – teachers, councillors, support staff, research experts and, of course, students themselves. In approaching them, we showed them the following video that we made:
The video prompted conversations and feedback that allowed us to identify the students' needs as follows:
HBO students with an MBO background need a safe and connected space at the university.

MBO-graduates should be able to learn new soft and hard skills.

MBO-graduates should be able to explore their existing talents and continue developing them in the future.

Support for MBO-graduates in building better relationships with themselves, fellow students and teachers.

MBO-graduates should know that there is no rush to do HBO. What are their long term goals? It can be different for everyone.

HBO administration and teachers expect the students to be responsible and independent enough to identify their issues and reach out to solve them, but former MBO-students do not necessarily have the soft skills or the overview of tackling those expectations.
This made us realise that the best way of going about these problems is by designing a tool in which students have the agency to create a narrative about their own transition – an informal, community-based, and fun space in which they are encouraged to reflect on their past and present experiences in Dutch education, as well as their expectations of the future. In doing so, we realised it was also crucial to involve students themselves in the development of our tool. Therefore, we hosted several user testing sessions together with students at the HvA facilities, during which we tried out various exercises and formats and asked them how they would like to talk about their own transition into HBO.
Here's how it went: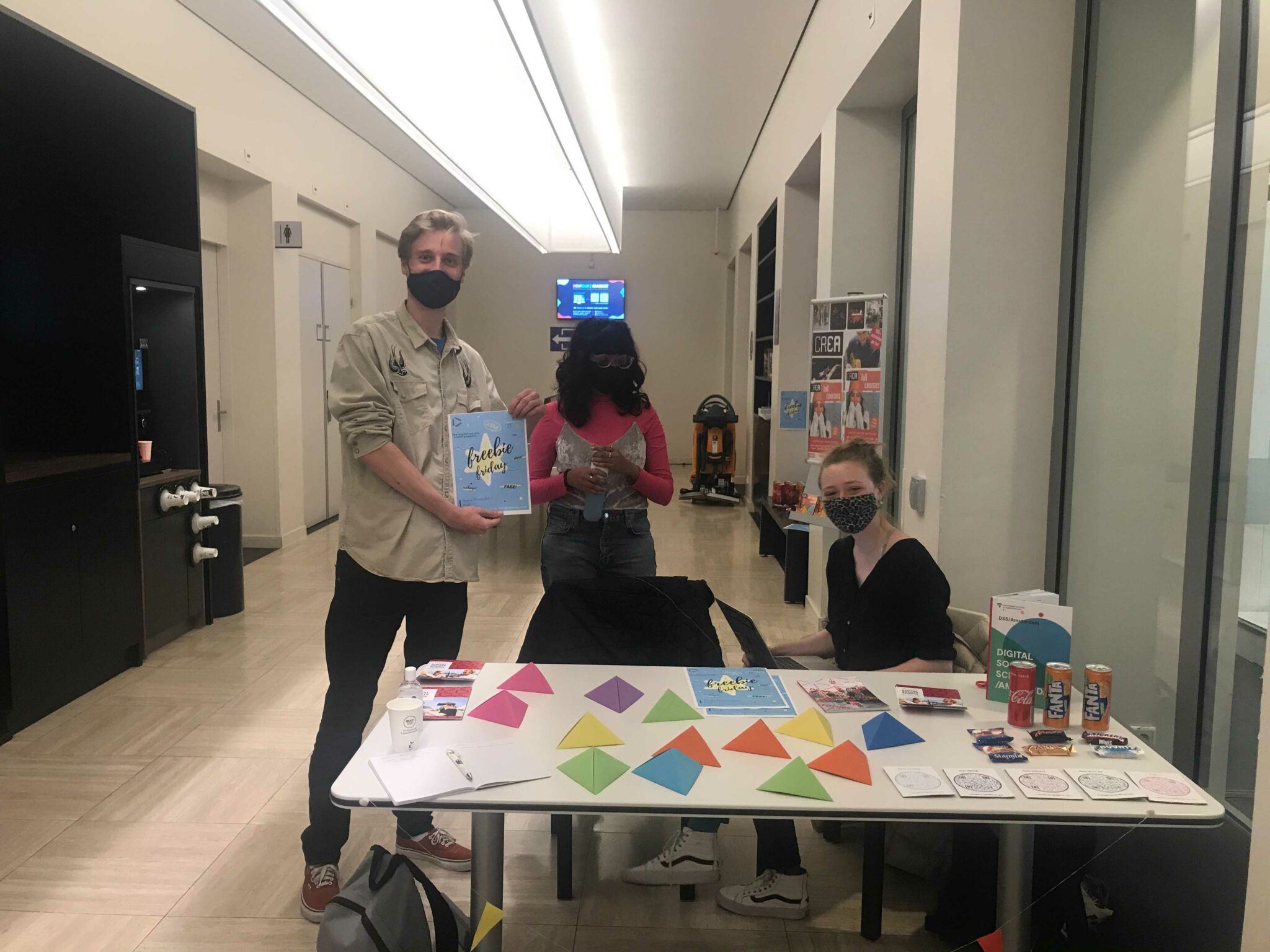 Eventually, this resulted in Ask. Listen.!
So how exactly does Ask. Listen. work?
Ask. Listen. is a card game that encourages personal storytelling and radical empathy around transitions in the student experience by prompting current-HBO students to reflect on the past, present and future of their education.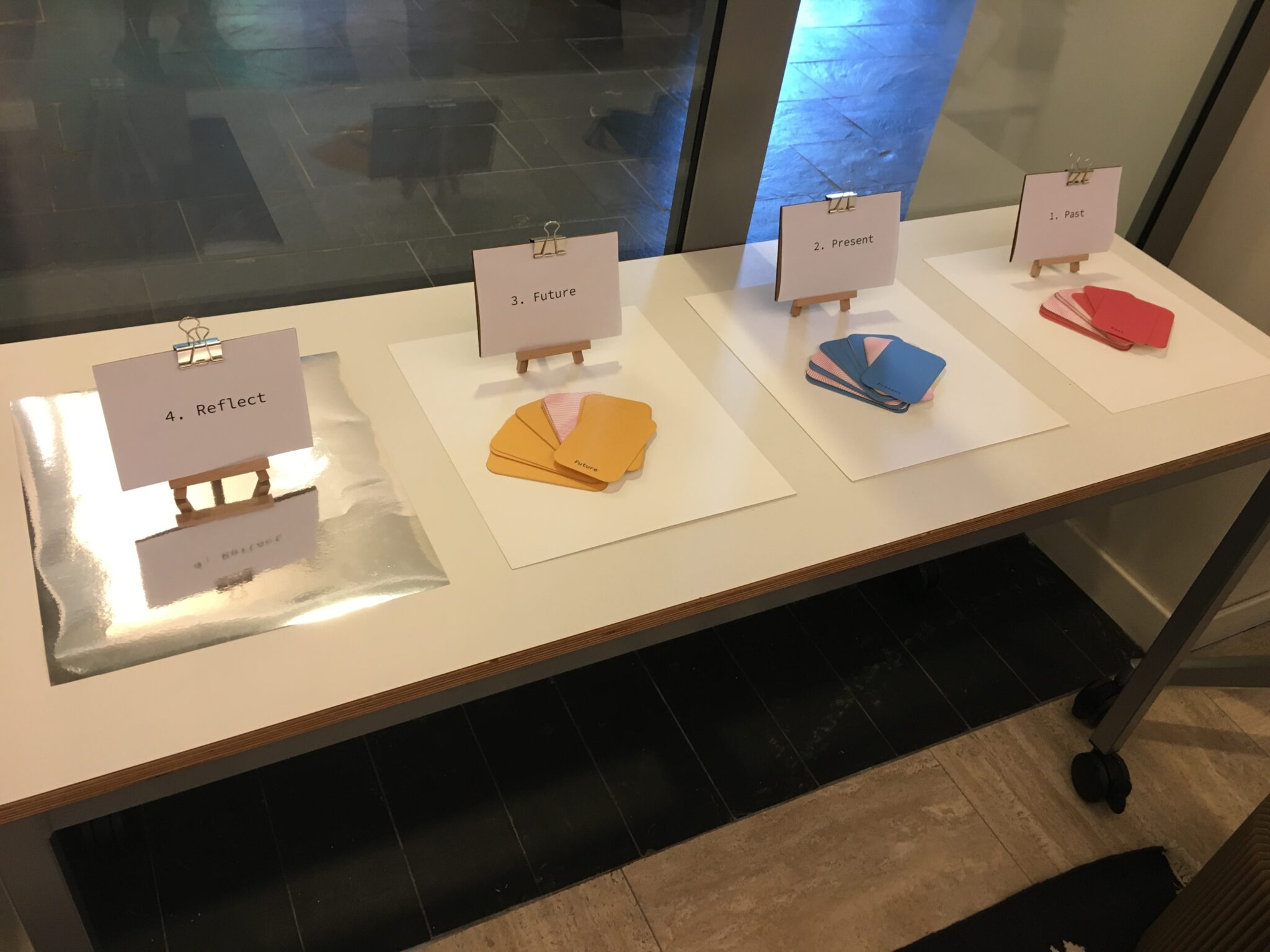 The card set contains questions zoomed into the MBO to HBO transition and zoomed out to education in general. It also contains some wildcards which include questions that students can draw or write their responses to.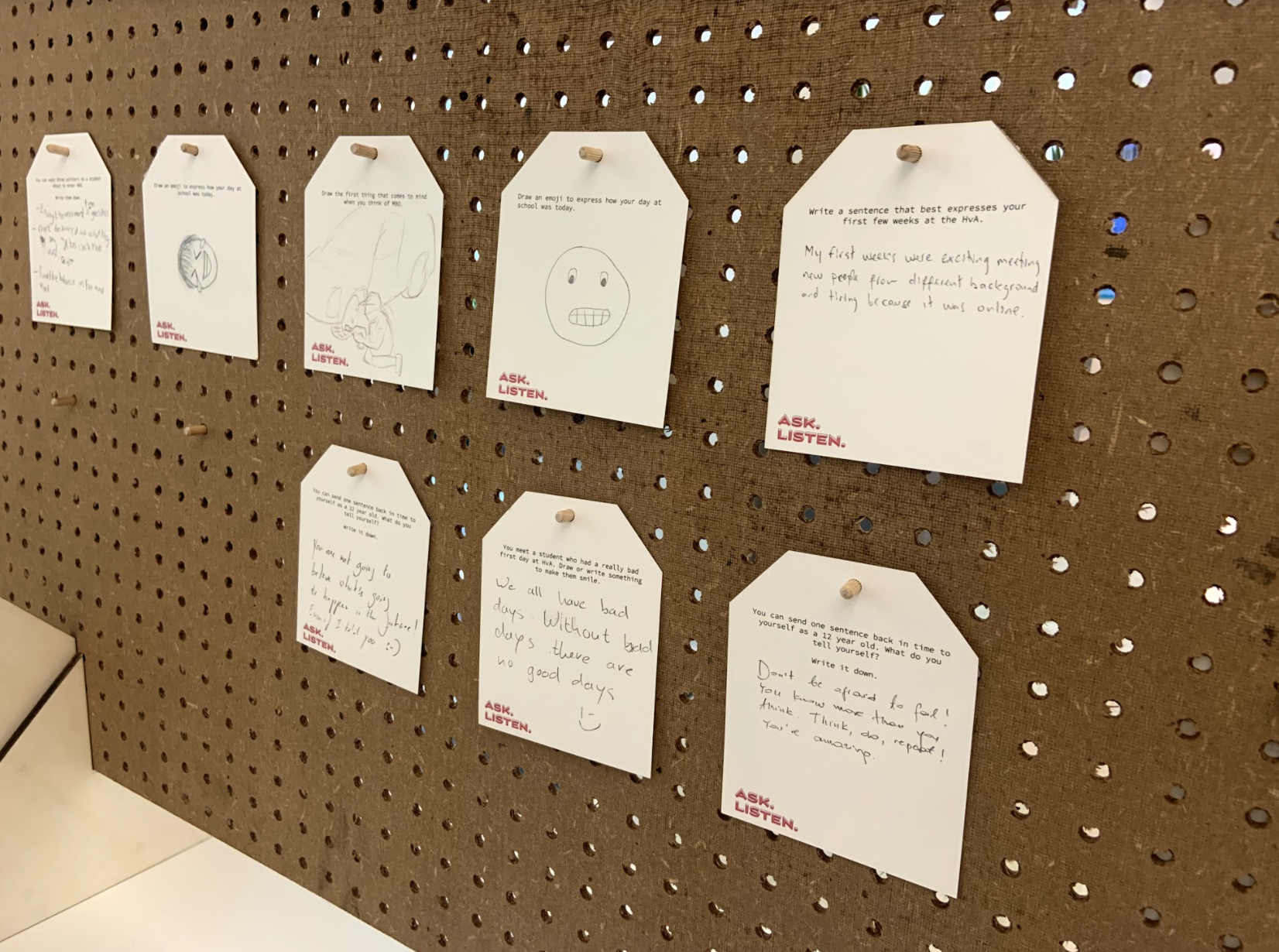 This card set can be used as an independent card deck and in the format of a booth. The independent deck can be placed in HvA locations and played amongst 2-5 students. To play, one can read out the questions on the cards from each timeframe and share responses with their peers.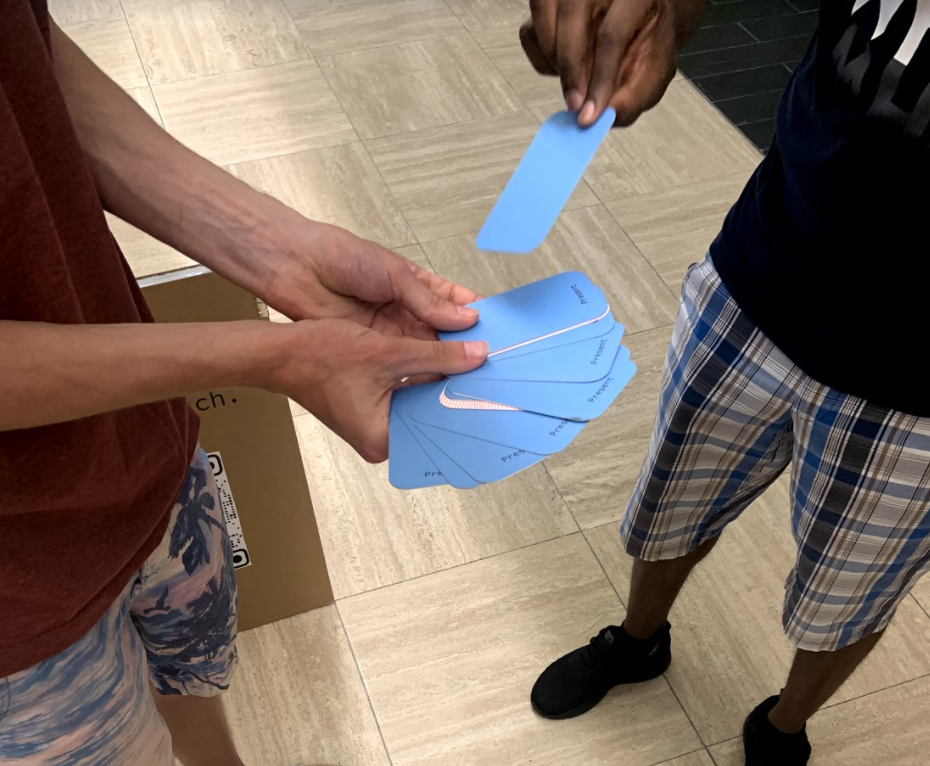 The booth containing the card game would be used at the beginning and end of the first 100 days of first year students. It can be facilitated by the introduction committee or the study association at FDMCI, HvA. The booth format during the first 100 days would make engagement more active and help new students connect with each other and transition better into their new HBO education.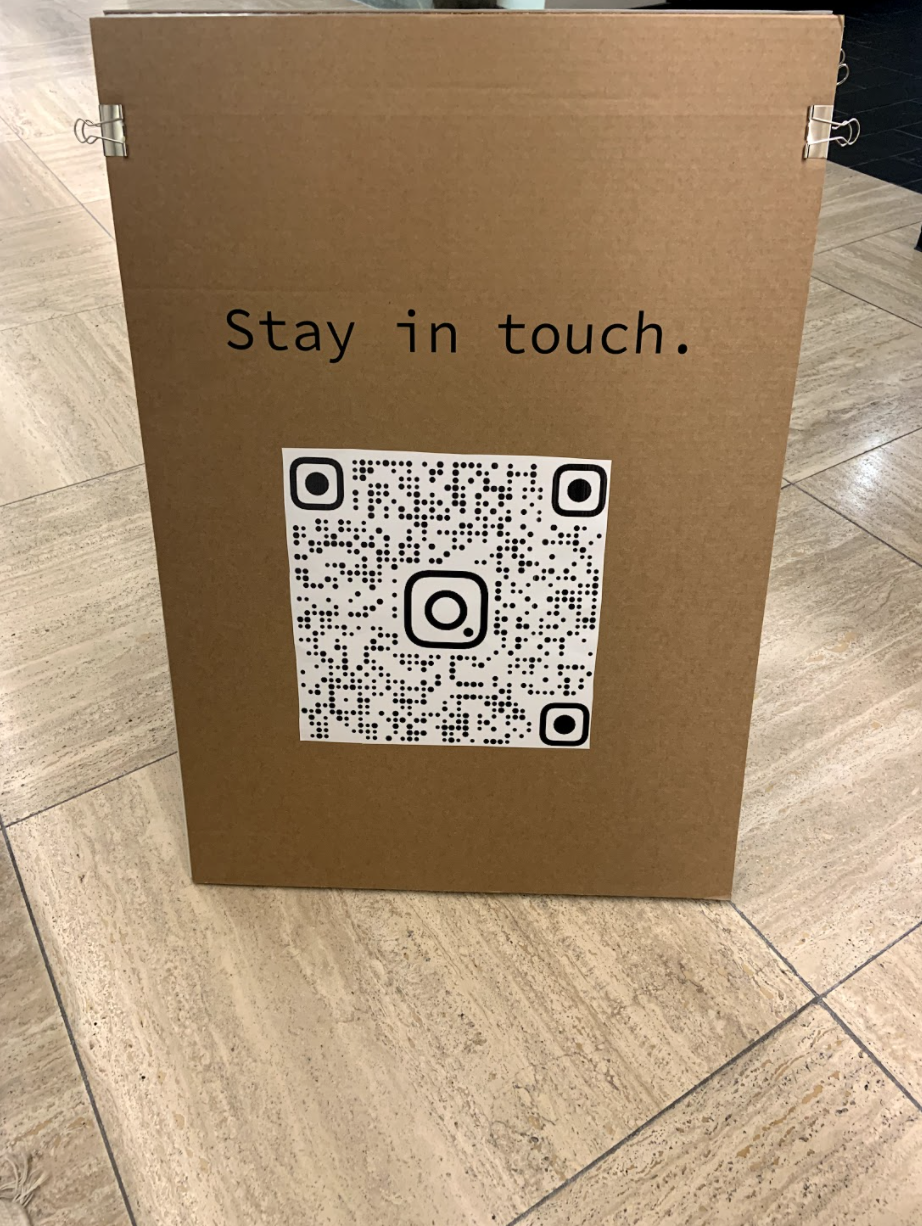 In the booth, students can respond to all the cards with one other student and the facilitator can welcome and guide them. Some responses would be permanently placed at the HvA. The facilitator would also post them on Ask.Listen.'s Instagram account: https://www.instagram.com/ask.listen_/?hl=en that works as a repository for documenting reflections of students.
In the future, this card game can be extended for use in MBO schools. HvA students could interact with to-be MBO-graduates and guide them even further in this transition.