Project
Connecting the Dots: Towards Sustainable Universities
Meet the Green Beans!
We are a team of 5 researchers and designers working on behalf of the Design Across Cultures track, here at the Digital Society School. Our mission is to connect the dots between HvA and UvA key stakeholders to support them in streamlining the transition to circular waste management at the university. We believe that all the necessary insights, skills, tools and willpower for circular waste management are already at our disposal – now is the time to ensure their implementation university-wide.
During the next 5 months, our team will tackle the following challenge:
How might we prototype a solution for HvA/UvA so that key stakeholders can identify clear roles, expectations and responsibilities in in the creation and execution of long-term circular waste management?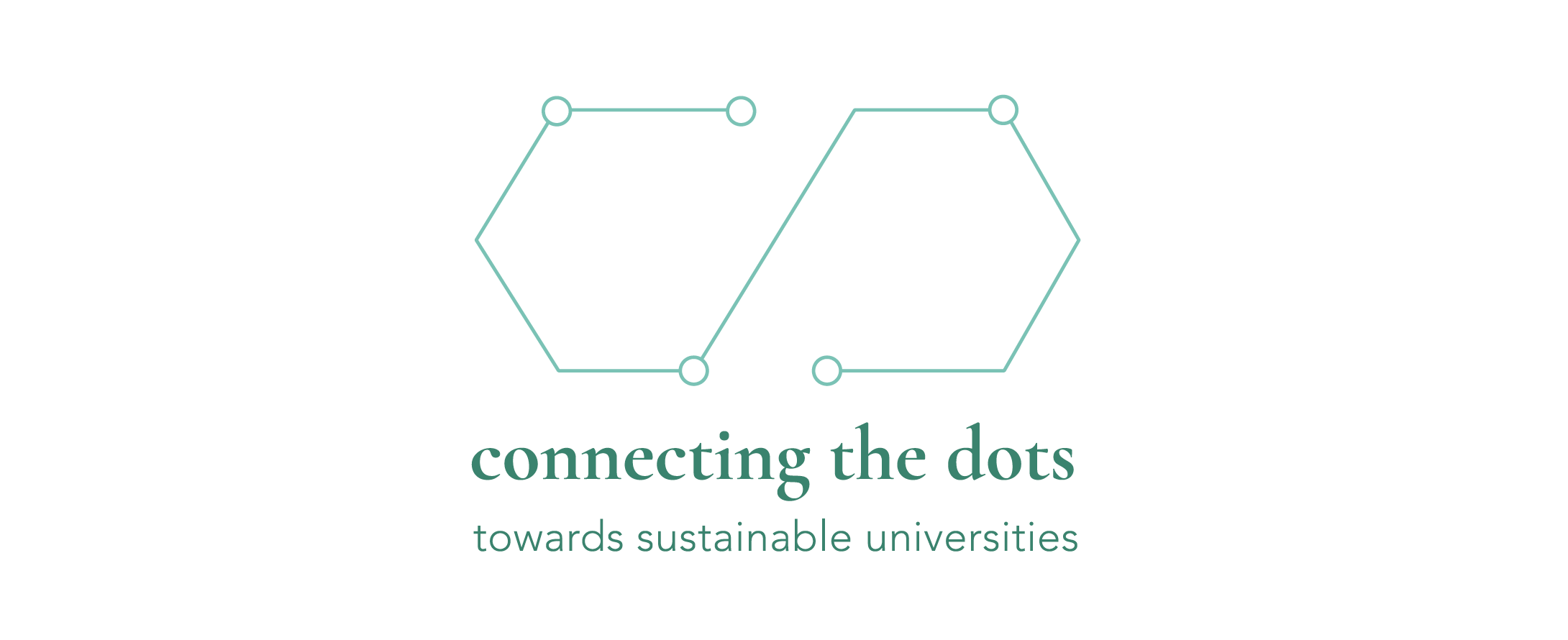 Why? learn all about it on this page!
Background
In order to contribute to a greener future for everyone, the Amsterdam University of Applied Sciences (HvA) and University of Amsterdam (UvA) are committed to make their waste management fully circular by 2025. Being the well-established knowledge hubs that they are, both universities prove to be ideal breeding grounds for research and development related to circular waste management. Indeed, their environments are buzzing with new ideas, initiatives and tools – initiated by both students and researchers. Check out, for example, the projects that HvA's Green Office has been facilitating.
In other words, it is clear that all the necessary insights, skills, resources and willpower are right in front of us in order to make the universities circular. It might come as a surprise, then, that we are currently behind on schedule to achieve this by 2025. How is that possible?
The challenge
Let's take a quick moment to visualise the sheer scope of the HvA and the UvA. According to their websites, the HvA has 13 locations spread throughout the city of Amsterdam; the UvA has 68. An estimated total of about 80,000 students visit these locations on a regular basis and make use of their facilities. Next to that, the universities also employ an estimated total of about 10,000 people – lecturers, facility managers, faculty deans, researchers, program coördinators and so on. To ensure that all students and the universities' resources are guarded and maintained, budgets are allocated carefully and a variety of rules and regulations are in place. Organisation occurs on a variety of levels: All of it in accordance with the Dutch government's national legislations; some regulations are introduced across and by the universities themselves; yet other regulations only concern specific departments.
Now imagine that you are part of a project team tackling sustainable challenges within the HvA. Together,  you come up with a fantastic initiative to make waste management more circular. When you pitch the final proposal, it is well-received by numerous stakeholders, and it looks like your idea will be implemented. This decision has to be authorised by an HvA stakeholder you don't know yet. You manage to find them and they give you their blessing, but then redirect your project team to another stakeholder that is in charge of your idea's execution. It takes a while to figure out if there is budget currently available, and whether it is possible to allocate it to your particular idea. Then, an external developer needs to be hired. There are a number of administrative challenges as their contract needs to be finalised. Meanwhile, time passes by. Your initiative is still not implemented and doors seem to close wherever you go. Later, you learn that another student project team at another faculty had an almost identical idea to yours.
The issue, in short, is not so much a lack of resources or motivation. Rather, the bureaucratic regulations and the vast scope of the universities make the journey from idea to implementation unclear and invisible. It's not a 'people problem'; it's a system problem.
That's where we step in!
What we do
By using Design Thinking and similar creative methodologies, we aim to stimulate conversations between key stakeholders connected to circular waste management. In doing so, we are gathering more insights about the pain points within the system that are currently blocking stakeholders. Our goal is that we can foster collaborations with and between stakeholders and explore new ways of working together, so that we can establish more clarity among stakeholders' respective responsibilities, expectations and communication channels.
What does that look like? Have a look at our Tarot Card set, for example! We designed this game at the very early stages of our project and invited stakeholders to help them understand their past, present and future role in circular waste management. Our methods might be fun and games, but our goal is serious: In a playful way, we let stakeholders reflect together on the issue at hand, while gathering more data to carry our the next steps for our project.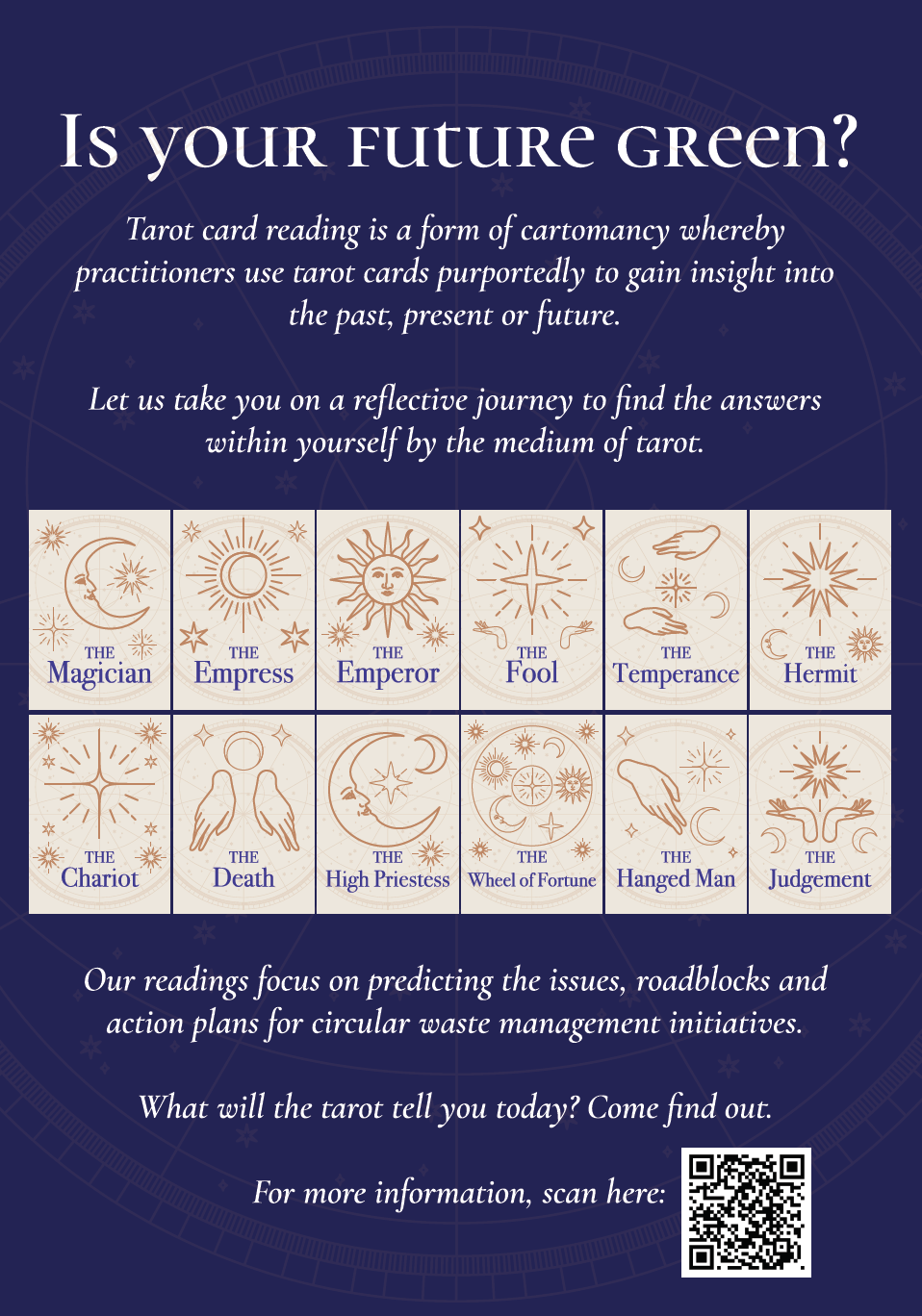 Want to learn more about our project? Updates are posted regularly on this page!