Insight
"I visited space and there is no Planet Edmunds"
Present vs Distant reality – Pondering sustainable development
In 2014, the world received a beautiful artwork in the cinematic universe – Interstellar. The meticulous artist's impression of  2067 gives a glimpse into our destroyed world. 2067 is marked by blight, death, catastrophic famine, and immense dust storms as a result of Climate change. After 91 Earth years, finally, the humans find 'Edmunds', an earth-like planet that supports life. The happiness of surviving humans is incomprehensible after the discovery of Edmunds.
In the very same year Interstellar hit the box office, the warmest annual mean temperature in the Netherlands was recorded since 1906 (Schrier et al. 2011).
The KMNI data vividly presents the temperature rise in past years. The below graph shows the temperature rise since 1906,  (the year the Central Netherlands Temperature (CNT) was established to 2017. The Netherlands has warmed more than twice as much as the rest of the world since 1950 (Oldenborgh et al., 2003; 2009).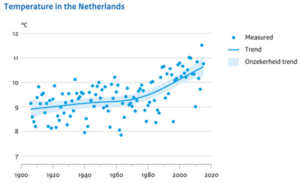 Source: KMNI. For detailed information of each year excel file is available
Quoting the words of Barack Obama, 44th president of the United States, in the context of present and distant realities –
"Someday our children and our children's children will look us in eye and they will ask us, did we do all that we could when we had the chance to deal with this problem and leave them a cleaner, safer, and the more stable world? I want to be able to say, yes we did…"
The two realities 'Present 2014' and 'Present 2067' scream at us to work towards addressing climate change before it's too late because for now, we have no Edmunds. We have no alternative Earth.
The problem of Night- time heat
After comprehending the situation of present and future, the paramount challenge lies in understanding the heat pattern in cities. Due to climate change, in recent years more extreme weather events took place. Heatwaves in particular are the worst in within cities due to humongous man-made constructions like high-rise buildings and paved paths and roads. This spike in temperature during the night greatly affects the growing citizens population in cities especially the elderly and infants. The research shows it is problematic when the night-time temperature does not drop below 25 degrees Celsius. About 3,260 mortalities were recorded due to heat stress (heat waves during daytime and night-time heat) in the second week of summer 2019.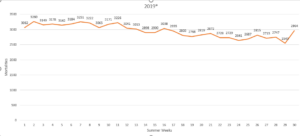 Source: CBS NL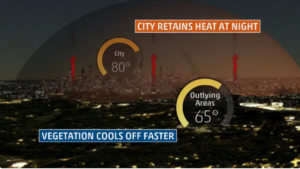 Effect of urban heat island effect at night. Source: The Weather Channel
Once Pandora's box of temperature difference is opened, the myth of cooler nights is destroyed. Night-time temperature is tremendously impacted by daytime heat.
Limitations of current measurements
Despite the importance to understand night-time heating, current measurements are limited because national weather stations are not inside the city, and the lack of awareness of the need for more accurate measurements. Hence, the temperature recorded at night is never accurate. It is important to get more accurate night-time heating numbers because not just human health is greatly affected by extreme night-time temperatures during heat waves, but also entire ecosystems' circadian cycles are imbalanced. Digital twin technology can help in simulating parts of cities and analyzing night-time temperatures.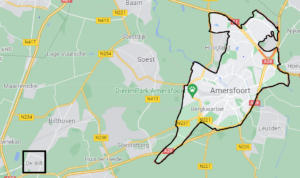 Amersfoort map and distance from De Bilt, KMNI National Weather station
Our challenge
At Digital Society School, we are working in a multidisciplinary team to come up with mechanisms to mitigate night-time heat and develop a guidebook as a reference of research done to help our stakeholders. To address this challenge, we are working with professor, Jeroen Kluck, Tauw, the municipality of Amersfoort, colleagues at the Digital Society School, as well as the Tygron digital twin software.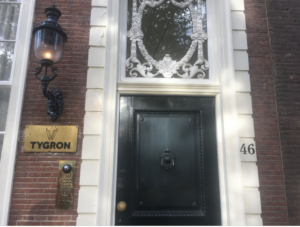 Team visit to Tygron Office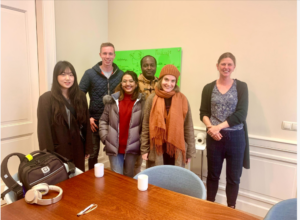 DSS Heat Resistant Team with Heidi(CEO of Tygron) and Ruben (TAUW representative)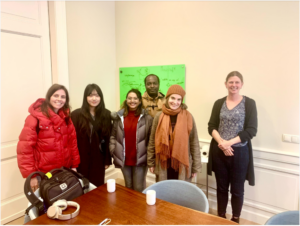 DSS Heat Resistant Team with Heidi(CEO of Tygron) and Mariana (our coach)
Developing a digital twin of Amersfoort at night
Our stakeholders TAUW and Amersfoort municipality introduced our team to Tygron (a geodesign software) that can generate a Digital Twin of a city with "night-time heating. Specifically, we aim to analyze night-time heat in Amersfoort and come up with different methods to enhance the current model to simulate night-time heat mapping in Tygron. We created a model including data sources from KMNI so that we could have a picture of night-time heating. We chose to model heat stress for 6 continuous hottest days in the summer of 2019.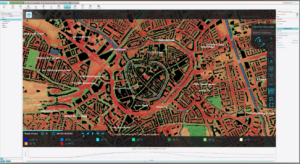 Our simulation of Amersfoort in Tygron digital twin software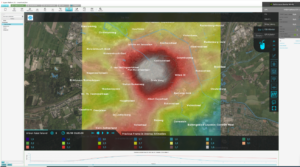 Our Tygron simulation of the Urban Heat Island Effect in Amersfoort
Accurate night-time temperature simulation is helpful in the adequate prediction of temperature at night. Creating a more accurate view can help in comparing heat affected by infrastructure and greenery within the city at night.
Examining the temperature differences across data sources
To study the temperature of Amersfoort, we used data from the KMNI De Bilt weather station. To our astonishment, De Bilt station was the warmest 2014 (the year we are discussing) since 1706. The average annual temperature in De Bilt rose by 1.7 °C in the period 1952-2017. This trend has been adjusted for exceptionally severe winters or hot summers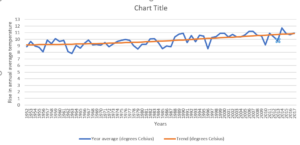 Average Yearly temperature and trend line from 1952 to 2017
We also narrowed down data from Meet Je stad (measure your city), a citizen science imitative, to comprehend the differences in the temperatures (If there is any) with the de Bilt data.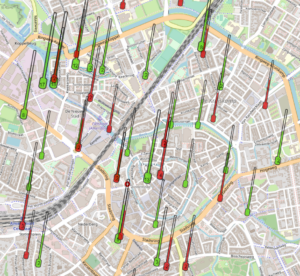 Temperatures measured in Amersfoort by citizens. Source: Meet je Stad
On analyzing data from KMNI and Meet Je Stad together, we figured out that there are differences of 2 to 3 degrees of night-time temperature that are recorded from the De Bilt weather station and local weather sensors.
Creating awareness around heat stress
Global temperature rise is an urgent and global problem. Data analysis is a good way to predict heat patterns but it is not enough. We as a society need to act together, as quickly as possible. Gathering active public participation by storytelling is a way to build public awareness of these issues. Like the way present-day humans in 2067 worked together to save humanity from extinction, we need humans in present-day 2021 to work towards shared sustainable goals. Thus, we are creating a video showing the urgency to create a heat-resistant city.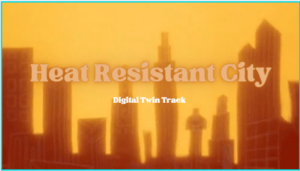 A glimpse into storytelling snapshot – 1
A glimpse into storytelling snapshot – 2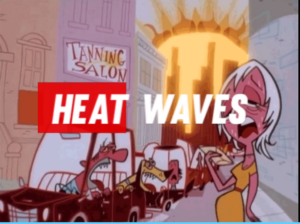 A glimpse into storytelling snapshot – 3
Reality check 
We the humans researched and developed sophisticated technology. Homo sapiens even began exploration in space. We moved and traveled a thousand of light-years. But one thing we never paid attention to, "There is no planet Edmunds". We have Earth, the cradle of evolution. Together in collaboration with the public and organisations we can prevent Interstellar from becoming non-fiction. One day the future will look at us and smile with happiness because we made a safer place for them.
---
This is the second of a series of blogs shedding light on our team project: "Heat Resistant Cities" within the Digital Twin track of the Digital Society School. Read the first post here.