Insight
Digital Society School at IAM weekend 2020
IAM Weekend is the annual gathering for creative thinkers & doers exploring the futures of the internet(s) and will be held in Barcelona on March 19-21.
This year's theme is" The Weirdness of Interdependencies. How can we change the digital economy to address the environmental emergency? The theme for IAM Weekend 2020 is a call for organizations, designers and citizens that are shaping and participating in the digital economy, to change the digital economy and understand better its role as a strategic ecosystem to address the environmental emergency and its increasing complexity, scale and speed of change.
After reviewing more than fifty submissions from individuals, collectives and organisations, and doing a public review with eighteen finalists, Youngji Cho, Dan Xu and Mick Jongeling have been selected to join the programme of IAM Weekend 2020 and represent Digital Society School at IAM in Barcelona.
Youngji Cho & Dan Xu @IAM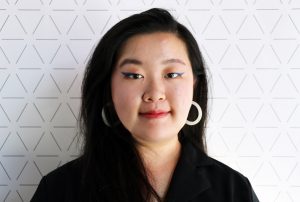 Youngji Cho
Youngji Cho is a media artist, creative technologist and playful researcher rooted in planet Earth. She is always sensing the time and space by seeing, listening, smelling, tasting, touching, and feeling life. She loves to create and share experiences, tinker around with any objects or non- objects that surrounding her, and care about her life and lives of others. Click here to read more about one of Youngji's project at Digital Society School.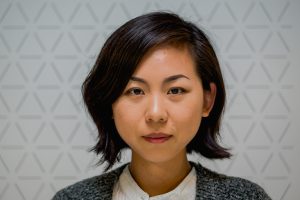 Dan Xu
Dan Xu is a creative researcher and Ph.D. candidate from Leiden University. She is currently looking into how we make sense of responsive environments, which broadly refer to systems that can sense our physiological information or behaviors and provide additional sensory feedback accordingly, from an embodied perspective. Click here to read more about one of Dan's project at Digital Society School.
Youngji and Dan met during their master's study in Media Technology at Leiden, and now they both are working as digital transformation designers in Digital Society School at Amsterdam. Together they share mutual interests in the intersection between art, science, technology and society.
Youngi and Dan will host a workshop about Designing a Multi-Sensory Future during the IAM weekend 2020. In this 90-minute workshop, we will view technology and technology interaction from a multi-sensory perspective. We will discuss theories and outline technologies that show exciting possibilities of rich multi-sensory interactions that do not necessarily rely on graphical user interfaces.  Further on, we will get hands-on and start prototyping with different technologies. Throughout the workshop we will work with the Sustainable Development Goals in order to make your designs responsible and future-proof.
Mick Jongeling @ IAM

Mick Jongeling
Mick Jongeling is a multi-disciplinary designer of curious, probing and critical things. He researches cloud infrastructures and strives to create pieces of work that questions the current state of the internet and our involvement in it. His main interests are design ethics and sustainability, which he tries to materialise through speculative design, participatory design or data physicalisation. Click here to read more about one of Mick's project at Digital Society School.
Mick Jongeling will have a talk about CONTRADICTIONS IN CLIMATE ACTIVISM during the IAM weekend 2020. With the state of emergency declared on Global Warming, we are acknowledging our responsibilities on solving problems created during the transformation process in the Industrial Age. However, our generation has also contributed to Global Warming by failing to address our collective ignorance on the infrastructure of Cloud-based Internet.
Did you know that every time you check your spelling via Google Search, you are polluting? The Cloud is one of the greatest marketing metaphors ever created, leaving us to believe that the amount of data storage is unlimited. How did this happen? The Internet has become a hyper object and we are living with it in excess. Will future generations look at the Information Age in a similar way we look at the Industrial Age? How can we raise awareness that does not create even more pollution? As we are dealing with the impact the Industrial Age has had on our planet, how do we deal with the impact we have and start creating solutions now?
Click here to read more about the talk of Mick Jongeling at IAM Weekend 2020!