Project
Online Study Space: making multisensory education a reality in university environments
Hello, it's Team-Eye here!
Have you ever wondered about how the pandemic transformed distance learning in universities? What about the consequences and the solutions we proposed?
What's the context?
Teaching and learning online can be challenging when it comes to engagement and motivation of the students. Current research in this field shows that students often access an online environment with stress and lack of motivation because of the practicalities of online interaction and collaboration and because they experience it as a "boring" process. Specifically, they find themselves feeling like outsiders or even cut off while, at the same time, they juggle their time between resolving the logistics of their studies and digesting content. Especially over the last two years, we globally experienced the implementation of online learning and emergency remote teaching to address closures in schools and universities, postponements or even cancellations of conferences and other organized events due to the COVID-19 pandemic. The promotion of flexible ways of studying aimed at hindering the rapid spread of the virus and, despite the reported challenges by teachers and students, it has revealed several opportunities for the "higher education of tomorrow", through the combination of physical and online presence for collaboration, communication and development of the sense of belonging among the student population. With discussions now occurring about how campuses are going to reopen, academic libraries face a paradigm shift. Instead of returning to the "old normal", library staff aim for a different online student experience, where students can join forces with other students and use peer-to-peer guidance during their study sessions.
What's our aim?
The design challenge is to enhance the Online Study Space of the UvA & HvA to improve (1) the onboarding, (2) learning, and (3) engagement & (4) belonging experience of students in the platform.
The project "Online Study Space" aims to address the above-mentioned challenges of university students, through the use of gamification, social media, virtual reality and mindful web design integrated with a fidget cube that traces students' emotions online, as new and flexible methods for involving students in actively collaborating and interacting online when using the library services. In particular, we propose activities with Gathertown, Mozilla Hubs, Instagram filters, the redesign of Online Study Space through a mindful digital-physical experience as means to improve student engagement.
Our process and prototypes
With the aim of meeting the 4 end goals, we worked on 4 digital prototypes validated by literature review, qualitative research, and data analysis.
Co-operative Monster Hunt
TECHNOLOGIES >> Gathertown
As rapidly evolving technological applications, games are already widely integrated in the traditional educational process. They are deployed extensively in the field of education, with an existing body of work examining the relation between games and education. This includes educational games, digital game-based learning (DGBL) , and applied games. In addition, scholars, sometimes, include interactive exercises, video games, or even expand to next generation video games. In the context of online education in particular, games have attracted a significant amount of interest from the scientific and educational community, including tutors, students and game designers. With the growing expansion of technology, instructors and those who create educational policy are interested in introducing innovative technological tools, such as video games, virtual worlds, and Massive Multi-Player Online Games. In the OSS project we focused on the use of Gathertown as a means to increase student engagement and motivation in using the online services provided by the two universities.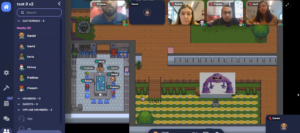 HvA Virtual
TECHNOLOGIES >> Mozilla Spoke, 3D scanner app (IPhone13), 3Dless.com
We experimented with virtual reality (VR) technology, which is basically an artificial environment generated by a computer program. VR world contains objects and scenes that look similar to real life creating an immersing experience for the user. VR technology is best experienced with a VR headset but the technology can also be accessed with just a phone or a personal computer. Specifically, we converted the physical space of Kohnstammhuis (KSH) campus of Amsterdam University of Applied Sciences to a virtual space to test the impact. We scanned the objects in the physical space with the iPhone 12 pros lidar feature and we exported the scanned 3D models after a process of editing. We used cardboard VR glasses to enhance the VR experience while keeping the expenses down, as the cardboard version of the VR glasses is a cost-effective alternative.
After testing the prototype with students from both universities, they reported engagement increase and they found the whole experience very entertaining. It is important to mention that the prototype enabled audio calls between avatars when they are close to each other like real world, as a means to improve online communication.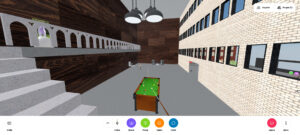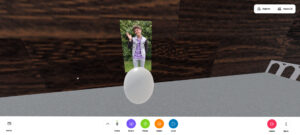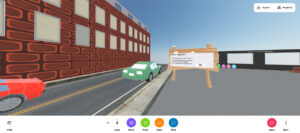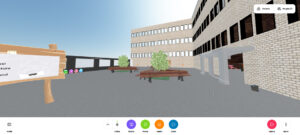 Online Study Space adv
TECHNOLOGIES >> SparkAR – Instagram filters (Augmented Reality)
Social media, likewise digital technologies and environments, are playing a fundamental role besides entertainment and informational purposes, especially in the youngest generations, and the education field has faced an accelerated and forced adaptational development, due to the pandemic.
Current education systems should be observed with awareness to design coherently every possible dimension, exploiting the possibilities between pedagogy and digital engagement strategies. One way to raise awareness is to investigate, research, and question ourselves and our past choices: for instance, what is learning, and when does it happen? The learning goal is developed by students' engagement in recursive processes that combine experiences, abstractions, inferences, problem solutions, and recombination of information. Everything mentioned above can happen in learning spaces, both physical and digital, giving life to digital communities, specialized portals and platforms where information can be disseminated.
Our review of the literature demonstrated that it is possible to use social media for education on multiple levels, but only through active and creative learning experiences that allow students to develop the necessary competencies for gaining a positive role in the uncertain and rapidly evolving future. Within the OSS project, we aimed to apply these strategies by integrating Instagram (IG) filters to enhance student engagement of the students.

Mindful Online Study Space webpage

TECHNOLOGIES >> Figma – Illustrator – After Effects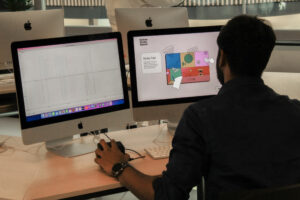 During our researches and interviews with students of both universities of HvA and UvA we realized that accessing Online Study Space through Microsoft Teams is overwhelming for students due to many impulses they receive while online, and finding the right path to follow is confusing as well. We proposed our clients a mindful online platform where to display and mask Online Study Space, as well as its services. The aim is to guarantee the accessibility and a good peaceful experience to the users. Through the design of a floating illustrated element that considered the basics of UX-UI design, we linked the university services to every element displayed.
Rollercoaster Fidget Cube

TECHNOLOGIES >> Arduino – 3D printing
With the aim of tracing students' emotions, we also proposed our clients an oversized fidget cube filled with an Arduino breadboard, capable of keeping track of the movements of hands and fingers while manipulating the object and its buttons. The concept behind the prototype exploits natural nervous actions almost everyone experienced.
SDGs
Our project tackles several issues, well explained by the Sustainable Development Goals of United Nations, the "blueprint to achieve a better and more sustainable future for all. They address the global challenges we face". Project OSS focuses on four of these goals:
3 – Good Health and Well-being
5 – Gender Equality
10 – Reduced Inequalities

Team roles
We have constantly tried to balance the skills and expertise among our team, dividing sometimes ourselves into smaller teams of designers and developers, to accomplish the tasks for each Sprint session. Through the agile work, we were able to experience Scrum Master role, rotating.
Hadi Pouranian
PR and developer, as well as our joker, always putting well-being and team dynamics above everything.
Daphne Degiorgis
Visual designer and researcher, keen-eyed for details and organization. Perpetually hungry, she never gets team's jokes.
Sameera Mudgal
Social designer and psychologist standing for ethical issues and scientific validation. Queen of drama by definition.
David Ivan
Business innovator with high skills in prototyping. Public speaker by day, geopolitician by night.
Prabhav
Electronics engineer yet quietest fast learner in town. Sometimes flexing at the gym, sometimes party animal.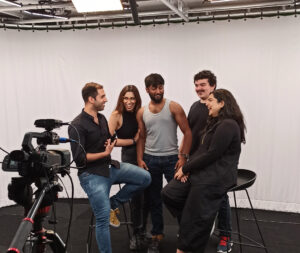 Publications
Due to the hard work of the past 5 months, we were able to participate to EDULEARN22 International Education Conference with a paper entitled "The impact of Virtual Reality (VR), social media and gamification on learner engagement. Reimagining an online study space for university students"*.
Details
Degiorgis, D., Ivan, D.T., Mudgal, S., Oosterloo, I., Pouranian, H., Prabhav, P., & Vlachopoulos, D. (2022). The impact of Virtual Reality (VR), social media and gamification on learner engagement. Reimagining an online study space for university students. 14th annual International Conference on Education and New Learning Technologies. Palma de Mallorca.
*The paper will be public in early July 2022
Funds and stakeholders
The project is funded by Amsterdam University of Applied Sciences (AUAS – HvA) and the University of Amsterdam (UoA – UvA). With the support of the SIDN fund, we also worked towards a stronger internet for all by using Tech for Good.
This project kicked off in February '22 and is to be completed by the end of June '22.