"Educational Technology (EdTech) is defined by the Association for Educational Communications and Technology as "the study and ethical practice of facilitating learning and improving performance by creating, using, and managing appropriate technological processes and resources". Through its practice, EdTech has the potential to establish positive social change and enhance sustainable development of all social groups in the world."
Since Fall 2020, the EdTech for Social Change track within the Digital Society School (DSS) has functioned as a connective hub that opens space for: partnerships, applied research, and projects within industry stakeholders. It has focused on using technology to boost individual learning, corporate training, and make learning accessible to vulnerable social groups. The current three pillars we focus on are:

We are now ready to create more impact! We will do so by expanding our reach to relevant stakeholders and establishing ourselves more widely in the EdTech community.
Design Challenge
The design challenge is to create a digital end-product or service that allows the EdTech for Social Change track to expand its scope and reach. New developments in Education Technology will be researched and explored. While designing the digital end-product or service, it is a requirement to take in account its impact on:
Sustainability
Vulnerable groups, and
(Special and) inclusive education.
While the main end-product or service must be digital, complementary hybrid solutions could enhance the effectiveness and impact of the product. A non-standard solution is encouraged.
Sustainable Development Goals
The United Nations SDG's are the "blueprint to achieve a better and more sustainable future for all. They address the global challenges we face". Project ETI focuses on two of these goals: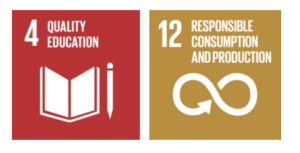 This project kicks off in September '21 and is to be completed by the end of Jan '22.