Project
Circular Wood to Robotic Production
Project Description
How can digital twin technology help the digital production research group (DPRG) realise their vision of a learning factory?
This project focuses on the Sustainable Development Goals: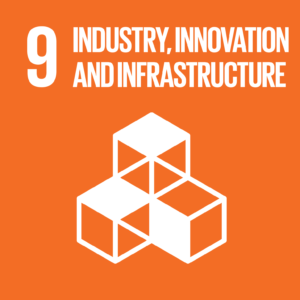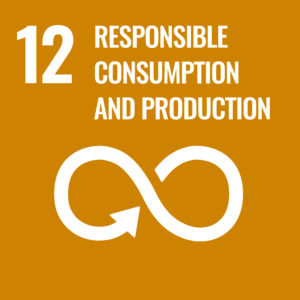 The robot lab is a place where students, researchers and digital production experts investigate new possibilities for the circular economy. They explore how to reuse valuable waste materials from urban and industrial sources, by integrating digital design and robotic production. A digital twin helps them connect design and production processes in real-time, simulate and smooth out the complexity of this process, and involve direct stakeholders in and out of the lab.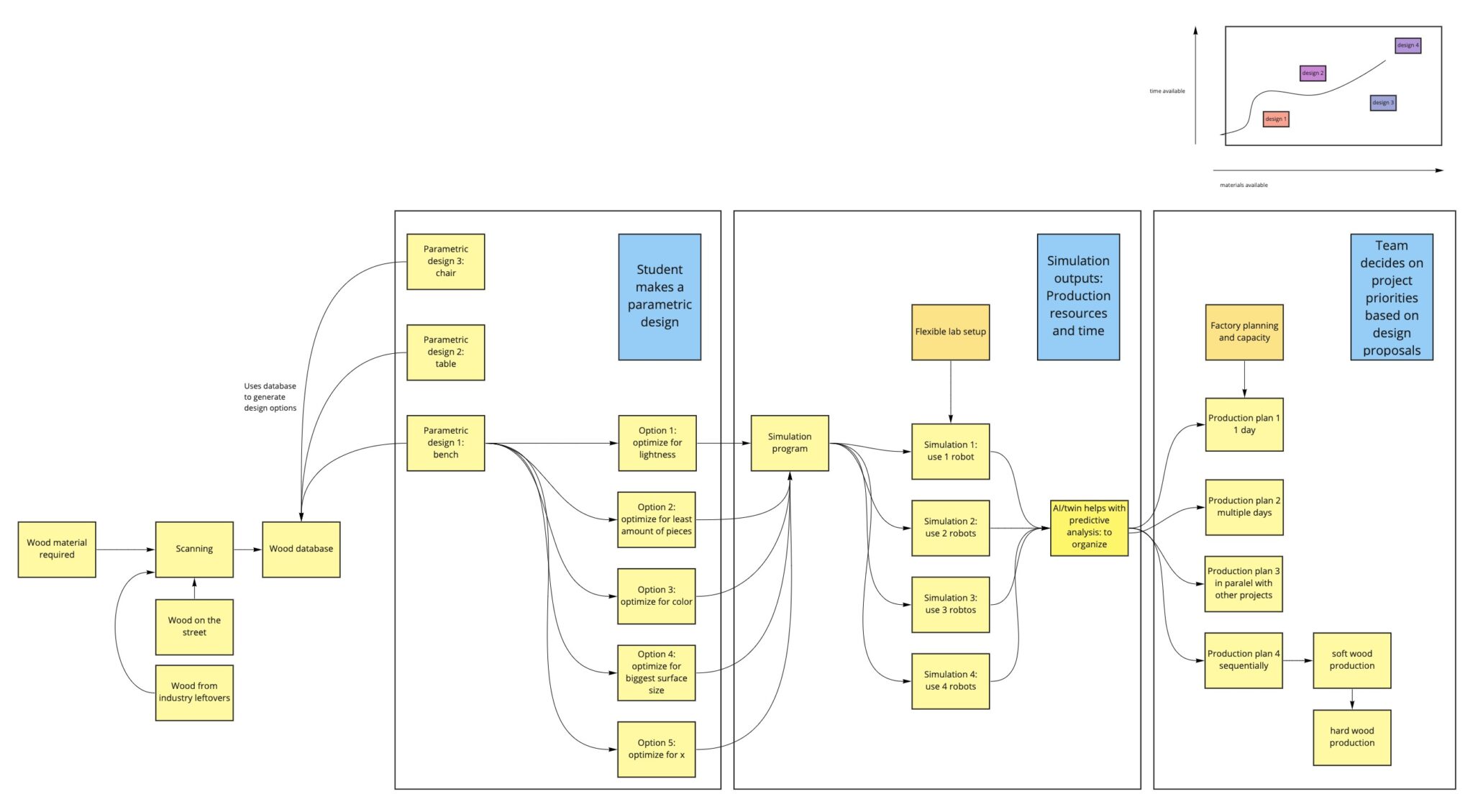 The process of realising projects at the robot lab have a high order of complexity because of the innovative nature of the designs they are producing and prototyping. This flow diagram exemplifies the different kind of variables that are to be tweaked in order to make the most efficient use of the resources of the lab as well as the time of the people.
In normal factories a process gets optimised for making one type of specific product (a car, for example). In this case, the process is looking for different alternatives of production that the staff can choose from. The parametric designs add an extra layer of complexity but also flexibility. Because the designs are parametric they can be realised with different amounts of material or production time while still staying within the boundaries of the design requirements. This means that information is flowing both ways looking for optimal solutions.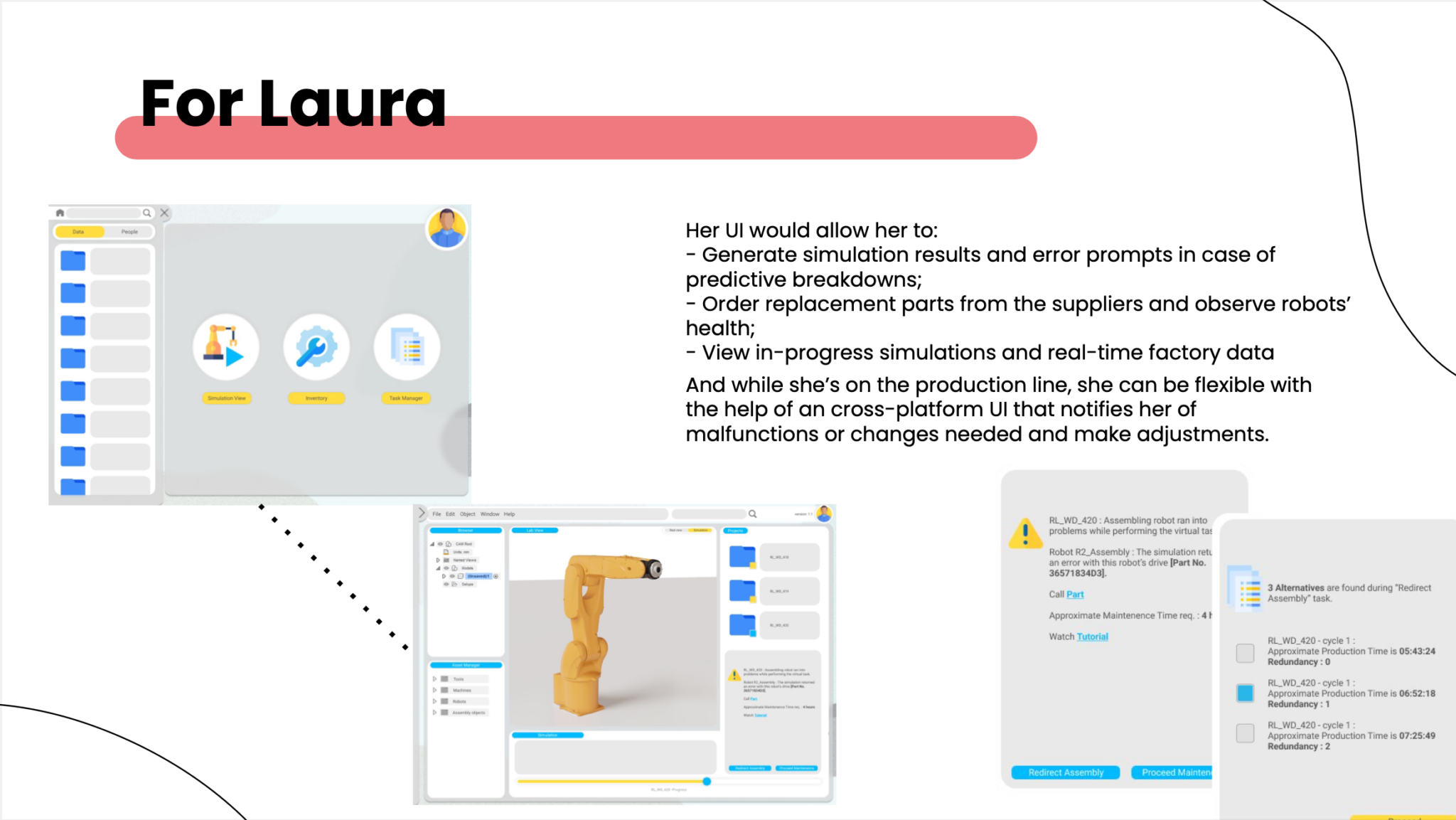 This Figure shows how the UI would look for Laura, the robot operator. During design it is hard to predict the impact that design choices make on production. The user interfaces we have developed are designed to integrate both design and production so that the different responsibilities in the lab can exchange information effectively.
Because the Robot Lab is also using custom made end effectors (tools) for the robots there are no turn key solutions (digital twin software) from the industry that can do the job completely. The Robot Lab will have to create simulations with the data that they acquire from their own processes. For this reason, open-source software for the web would be a better option to develop the digital twin that they require.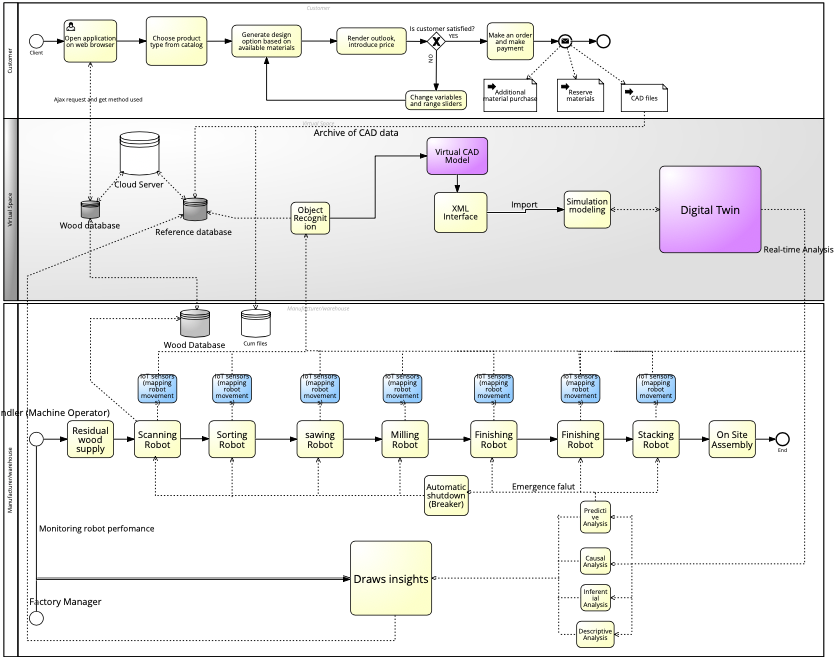 Digital Twins are data intensive processes. This diagram shows a preliminary layout of how data storage and flow could be organised for the purposes of the Robot Lab's circular wood factory. This excludes the communication and collaboration layer which lets outside researchers interact with the lab.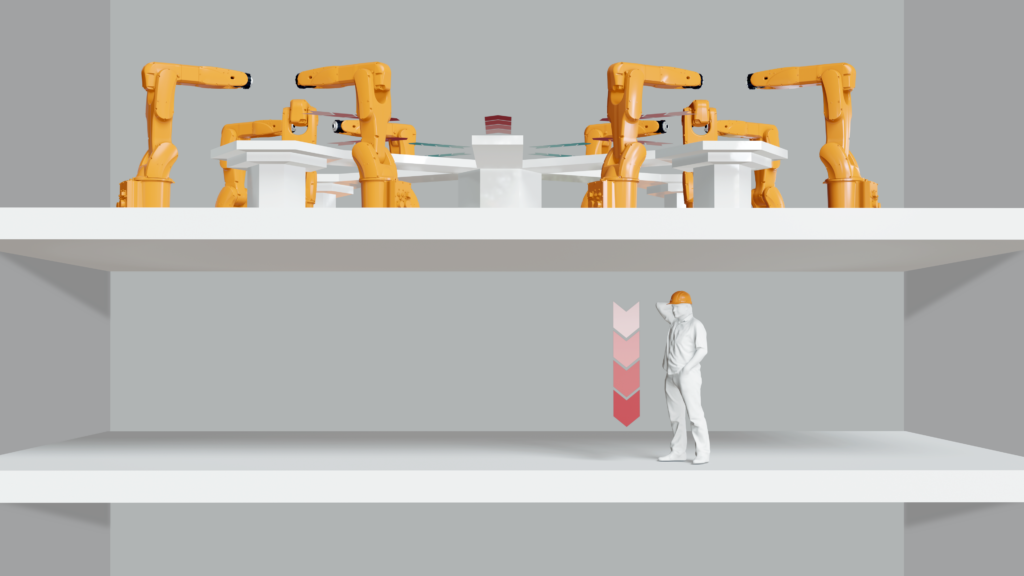 A flexible production layout for a robot factory that needs to be able to make all kinds of different of products. Rather than a linear layout which you see in normal factories this factory has a circular layout so that it is maximally adaptable. Robots can be moved down a level to be adjusted with new tools safely by an operator while the production continues on the upper floor.
—
About the Robot Lab
Construction, interior architecture and product design industries are re-discovering wood as sustainable building material with high potential to create circular buildings and interiors. Upcycling and repurposing wood is one of the key strategies for circularity, as wood represents 42% of the current waste streams. In particular, residual virgin wood (left-over pieces) from wood industry and upgraded wood waste (i.e. cleaned by the material harvester) from building maintenance, renovation or demolition, are two valuable streams with a lot of potential for upcycling applications.
Large quantities of valuable residual wood are left unused (ending up burned or turned into low-value chipboard) because it is too costly to manually sort and process considerable volumes of uneven wood pieces, with variable forms, size, type and grain. Companies with such waste streams (in the wood processing industry) want to develop knowledge on how to create more value from re-using their waste, by making 'new' standard products for the market (i.e. window manufacturers), or finding upcycling applications that can also generate value (i.e. wood importers and resellers). Beyond the wood industry, Interior design and production companies want to know how they could incorporate high quality residual wood into their customized designs. In summary, digital design and production technologies are needed by different parties as a means to cost-effectively use residual wood to make valuable objects.
In the past three years, the AUAS Digital Production Research Group (DPRG) and partners have explored the potential of digital production to effectively improve the use of residual wood. This work includes computational design methods and the deployment of a lab set-up with 6-axis industrial robots for automated 3D scanning and sorting, sawing and milling of wood. At the Robot Studio, homebase of the DPRG, two eye-catching examples have been made: a lounge chair from waste wood collected at an Amsterdam Afvalpunt, and a reception desk made of left-over hardwood pieces (from sawing) of wood reseller Amsterdamse Fijnhout.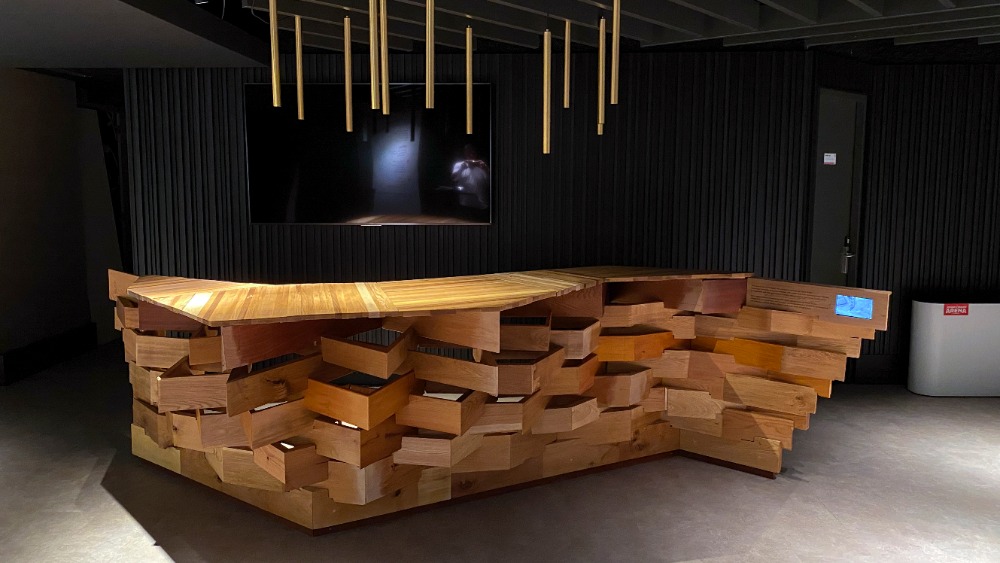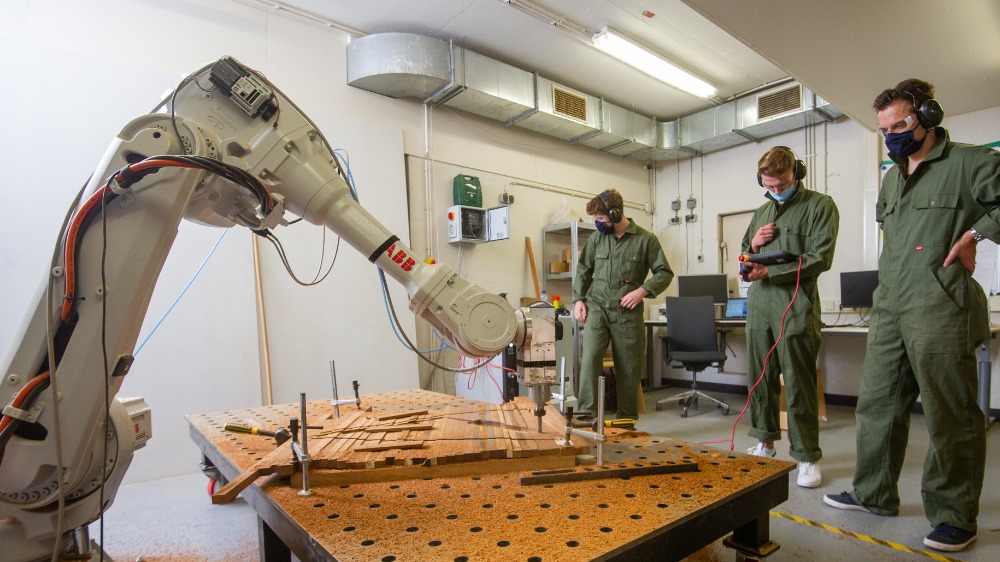 Foto credits: Sander Heezen
A wide range of companies and institutes related to wood processing have teamed with AUAS to research these subjects. DPRG and partners now want to connect all steps towards an integrated model of a wood workshop for residual wood, powered by digital production: the Circular Wood Research Factory.
The Circular Wood Research Factory is envisioned as an R&D set-up that allows for repurposing and upcycling of residual wood in an automated manner. For AUAS prototyping this set-up will facilitate new developments, innovations and process improvements, involving students from various disciplines. Most importantly, it can support working together with related institutes (HMC, TU Delft, TNO, 3DMZ and Saxion) and the direct involvement of SME's in wood industry, who can learn and test how to create new applications for residual wood.