Article
Once upon a time we decided to change the world [book interview]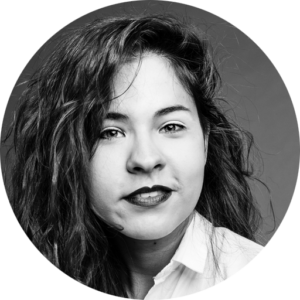 Natalia Agafonova is a designer of books, processes and transformations. For this book, she did project-management, curation, design, and wrote one of its chapters.
Photo: Alexandra Kasatkina
1. What is the connection between you and the Digital Society School?
I am an alumna from the Fall 2019 semester, Digital to Physical track, where I worked on the Augmented Printing project.
2. When did you decide to create a book?
The idea sparked in my head during the first week of DSS. During that introductory period, I already realized I was in for an extraordinary ride. The DSS approach to education is unique to my knowledge, and I wanted to document it to inspire others.
3. How did you come up with the title?
Changing the world little by little is a hope of the authors and an ambition of DSS. And nothing invites for an adventure story like a good old 'once upon a time…'
4. Who is all involved in creating the book?
A lot of people! We had 11 former trainees (Ellen McCarthy, Andrea Nesta, Aslı Erdem, Maxine Hanrieder, Hillary Jaap, Manlio Massimetti, Anissa Cochran, Willemijn Schmidt, Patricia F. Mancebo May, Vanessa Cantinho de Jesus, and myself) as authors and four members of the DSS staff (Marco van Hout, Zlatina Tsvetkova, Gijs Huisman, Sobhi Khatib) contributing to the text to the book. Ellen was also the editor, and I was a designer. We had DSS co-founders Marco van Hout and Gijs Gootjes supporting us along the way. PR specialist Tom de Munck checked the text for accessibility. Instrumentalists Ilaria Zonda and Felipe Escobar consulted us on design, and instrument developer Jake Henderson made sure the book was accessible online. After the book was complete, Printing company Raddraaier did an excellent job advising us in sustainable printing and paper as well as printing the book for us.
5. What did you guys want to accomplish with this book?
Encourage and inspire people to innovate and learn, share the knowledge we've accumulated during our projects, and showcase that anyone is entitled to change the world no matter the background. In the text, we speak our authentic voices and share our honest experience, celebrate and make mistakes together with the reader. It is not an academic publication, but rather a collection of journeys to innovation.
6. Why did you, in times of digitalization, decide to create a printed book?
Digitalization should augment the reality, not replace it, I believe. Living in physical bodies within a three-dimensional world, we need to embrace it as much as we celebrate the benefits of digitalization. We all know how it feels to be stuck in digital meetings all day by now. Spending so much time with a screen, I learnt to appreciate even stronger a sense of touch, a sound of flipping pages, and a smell of ink of a printed book.
Physical books have several positive effects on the human brain. They aid with a concentration on the text since they don't send notifications. Books also provide better memorization of the content. An idea in a twitter post might sound catchy, but the thought supported by argumentation is effortless to remember. Publications like ours 'un-hide' the work by showing all the pages at once rather than one at a time. The action of flipping pages illustrates the progress to the reader, encouraging them to proceed.
Another reason why we went with printed books was the wish to address the bias that printing is unsustainable, whereas digital information sharing is. The book design was the result of my team's research on augmented printing. We found out that the generation of a single email cost as much in CO2 emissions as printing out a 1000 A4 sheets of paper. Therefore, my goal in designing this book was to make it as sustainable as possible. We printed the content digitally with the most environmentally and workers friendly black ink on ethically produced 100% European sourced paper. To give the book a little colour, we used colourful recycled paper for section separation and full-colour offset printing for the cover. We chose a glueless binding for the same reasons as black ink.
But remember I said I was coming from digital to physical track? Of course, we did not just print the book but also connected it to the online through QR codes leading to supporting videos, websites, and articles. And our book exists in digital format as a pdf with every QR code and name clickable!
7. Why do we have to read this book?
If you are interested in practising sustainable change, you will love the nine stories about DSS' innovative approach. We invite you to enjoy the tale of what the mission of DSS is and how our learning community functions. Our projects prove that change for the SDGs is possible, it can happen fast, and solving even such complex issues can be fun! Every action matters, says the book, and while such initiatives exist, this planet has a future!