Article
Multi sense, body mapping and more on Thingscon conference
Thingscon is an international conference about Internet of Things (IoT) taking place every year at the beginning of December. This edition, Digital Society School members attended the conference, hosted a workshop and showcased some of the work we do.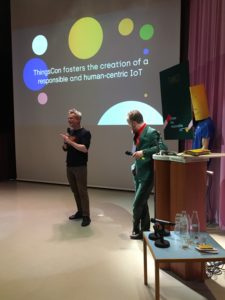 At the grounds of Het Nieuwe Instituut in Rotterdam together with Thingscon participants track Digital to Physical was challenged to "Shape the responsible IoT".
Discussions on senses in product design
A series of talks, by keynote speakers "No drugs, no alcohol and no cloud until aged 18″ Marleen Stikker and "Devices need to show always what they are doing" Heather Wiltse among others, discussions and mostly hands-on workshops prepared visitors to not only get inspired but also take action for responsible and ethical tech shaping preferable futures.
Day 1 was focused on shaping future narratives of the responsible IoT. Gijs Huisman co-created the programme 'How to ideate responsible IoT products?' with curator Arne Berger. He hosted a discussion on the senses and multi sensorial aspects of IoT product design. Our colleague Youngji Cho demonstrated her prototype of a virtual cat responding to one's stroking to spark discussion.
Body mapping and relate to machine
On the second day the current state of responsible IoT was showcased, through inspiring speeches, workshops and a showcase. We joined a workshop by Jens Ewald on body mapping and designed a garment to detect air and water quality. Gijs Huisman presented a lecture on how we relate to the machine in a programme on that topic together with Iskander Smit.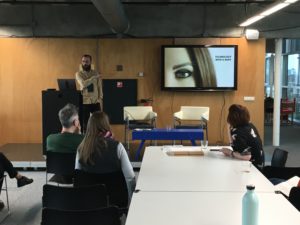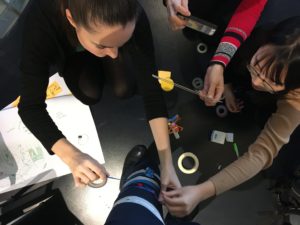 Shape IoT
Digital Society School presented the fall 2018 project "Intention mirror"; a wearable technology to help ex-convicts stick to their desired behaviour intentions and improve their rehabilitation process. Visitors responded very positive, commenting on the multidisciplinary teams we work with, our focus on sustainability and close collaboration with the end-users and partners.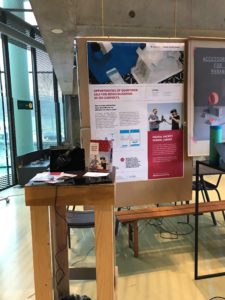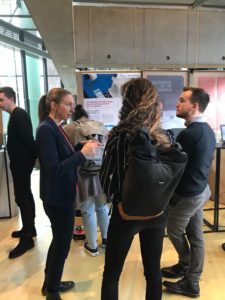 Would you like to learn more about the work of track Digital to Physical? Visit the Track project page and sign up for the Digital Society School newsletter at the bottom of this page. Check the Thingscon after movie