Project
TOMAS: Talent Ontwikkeling, Match & Select (vraaghetTomas.nl)
Who is Tomas?
Tomas is the tool for business, education and governments to find collaboration partners for talent development.

Tomas is a matching platform for talent development that does everything it can for a future-proof labor market. We bring supply and demand for retraining and further training together, so that business and vocational education are better aligned and can work together successfully. We provide an online interactive overview of all possibilities for talent development in the Amsterdam Metropolitan Area. From now on we envision;  the right people with the rights skills at the the right place.

Why Tomas?
The current competitive labor market together with the COVID-19 crises forces urgent need to lifelonglearning, up- and reskilling, match supply and demand, bridge inclusion, the diversity gap and leverage collective (digital) talent development. 
Talent development is a shared responsibility of the triple helix parties (talent initiatives, private & public sector). Together with Tomas, we strive for a future-proof labor market, we invest in the future of talent and we invest in accessibility of talent development.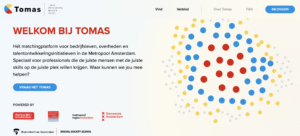 VraaghetTomas.nl works as an interactive mapping tool aiming to help the talent development ecosystem find talent initiatives, to find synergy between the triple helix to make lifelong learning, upskilling and reskilling easy in the region of Amsterdam.
It will not only help companies to have an overview on the education and training available for talent development but also give the opportunity to contribute to talent development in the region, for example by offering internships.
It will help universities, colleges and talent initiatives to increase their visibility and facilitate to come into contact with relevant target groups.
It will provide governments with an up-to-date overview for investment decisions and the efficient allocation of resources.
Project background

Born out the frustration of inefficient use of resources, fragmented solutions, reinventing the wheel and blind spots in talent development. In February 2020 the project team consisting of the representatives from the Amsterdam University of Applied Science, the municipality of Amsterdam, StartupAmsterdam, the Metropolitan Office of Amsterdam and the Amsterdam Economic Board initiated a research project to explore how to leverage talent development initiatives in an efficient way. Thanks to this research it proved a shared need for talent program initiatives overview and that is how above parties "the triple helix" initiated the Talent Ecosystem Guide (TEG) project and since the soft launch of the website at the 10th of June 2021 called TOMAS: Talent Ontwikkeling, Match & Select; with the key feature of the platform including an interactive mapping tool to find a variety of talent development initiatives in the region facilitating efficient decision making about investments, finding the right connections and making a good assessment on which potential initiatives to partner with. Their ambition is to make TOMAS one of the central tools for a future-proof labor market by facilitating and supporting  #lifelonglearning, #reskilling & #upskilling in the region.
After last year's trainees team who proposed to engage the private sector with an impact profile T-Passport as an addition to the website, a space showcasing their goals and accomplishments whilst recognizing them for their collaborative work in this industry and giving an additional benefit for their participation in social return projects that contribute to society, leading the way to be a Talent Development Influencer in the MRA.
We are beyond excited to now welcome a new multidisciplinary intercultural trainees team to tackle below design challenge to come up with a tangible and impactful solution in 5 months and wish them lots of  luck embarking this stimulating learning journey!
Design challenge
How might vraaghetTomas.nl engage the triple helix to foster collaboration and provide a high-quality triple helix customer experience?

Connection with the EdTech for Social Change Track
The EdTech for Social Change track is a connective hub that opens space for partnerships, applied research and projects with industry stakeholders. Together we use technology to boost individual learning, corporate training and to make learning accessible to vulnerable social groups.
With Tomas we like to establish a positive social change and enhance sustainable development in the MRA region. Facing the current labor landscape perspective (Post Covid-19, possible recession, increasing talent shortages, digitalization, automation etc) , the aspiration is to bring key players together to leverage talent development in an effective way, upskill and reskill as many people in the right manner to assure they are ready for the jobs of today and the future.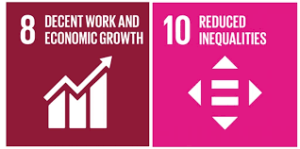 Connection with the Sustainable Development Goals
We believe talent development is a shared responsibility; not only government institutions, talent development initiatives are instrumental in reducing inequality but also companies have a big influence in designing strategies to support sustainable economic development, decent work and promote inclusive growth.

Tomas is for everyone who is professionally involved in finding and developing talent in the Amsterdam Metropolitan Area.
Are you dealing with above topics such as lifelong learning, reskilling and upskilling ? Don't be shy to contact us, we would love to exchange ideas with you to create a future-proof labor market!