Project
SPACE T for Tomas: from tool to movement in talent development
The Tomas project is born out of the frustration of inefficient use of resources, fragmented solutions, reinventing the wheel and blind spots in talent development. In February 2020 the project team consisting of the representatives from the Amsterdam University of Applied Science, the municipality of Amsterdam, StartupAmsterdam, the Metropolitan Office of Amsterdam and the Amsterdam Economic Board initiated a research project to explore how to leverage talent development initiatives in an efficient way. This research proved a shared need for an overview of talent program initiatives, and that is how the above parties, "the triple helix", initiated the Talent Ecosystem Guide (TEG) project. Since the soft launch of the website on the 10th of June 2021, the project is named TOMAS: Talent Ontwikkeling, Match & Select. The key feature of the platform includes an interactive mapping tool to find a variety of talent development initiatives in the region, facilitating efficient decision making about investments, finding the right connections and making a good assessment on which potential initiatives to partner with.Their ambition is to make TOMAS one of the central tools for a future-proof labour market by facilitating and supporting  #lifelonglearning, #reskilling & #upskilling in the region.
Trainee Projects
T-Passport
The first trainee team working with the Tomas project proposed to engage the private sector with an impact profile T-Passport as an addition to the Tomas website. T-Passport is created to be a space showcasing companies' goals and accomplishments, whilst recognizing them for their collaborative work in this industry. It aims to offer an additional benefit for their participation in social return projects that contribute to society, leading the way to be Talent Development Influencers in the MRA.
Space T
In September 2021, another interdisciplinary group of trainees took over the innovation of the Tomas project with a new challenge under their belt. Their prototype, Space T, aims to respond to the need for more collaboration among the Triple Helix actors working in talent development. Realising that a movement is called for, one that unites the different parties under the banner of lifelong learning and a better connected talent ecosystem, they envisioned a virtual exhibition and co-creation space where such a movement can be sprouted and nurtured. 
Space T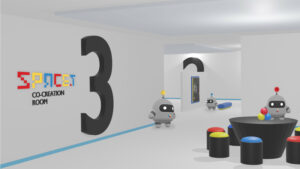 Why Space T?
In today's climate of accelerating digitalisation, technological innovation, and changing socio-economic imperatives, the need to adapt and transform talent development has become urgent. As the Tomas project has already identified, the current talent ecosystem in the Amsterdam Metropolitan Region suffers from a talent shortage and mismatch in supply and demand, similar to other innovation hotspots around the world. In sectors such as IT, technology, education and healthcare, the right talent is in short supply and demand is only expected to increase in the future with automation and the energy transition. Covid-19 has only reinforced these trends by pushing learning and working in virtual spaces, posing limitations while also opening up new possibilities. 
The trainees at DSS were given the challenge to support the efforts of Tomas and help innovate the talent development ecosystem in Amsterdam with fresh ideas and interventions. The initial design challenge was the following:
"How might vraaghetTomas.nl engage the triple helix to foster collaboration and provide a high-quality triple helix customer experience?"
Space T is meant to be a response to the need for a better connected talent ecosystem, in which parties of the Triple Helix – companies, schools and academies and the government – can work together more efficiently and collaboratively to solve these challenges. 
What is Space T?
Effective talent development depends on the collaboration of the different actors working on its many components. These are:
companies seeking new employees with the right skills,

nontraditional talent development initiatives (TDIs) training people in transition from one sector to the next and teaching them new skills, and

the local government searching for an overview of the ecosystem for a better allocation of funds and support.  
Space T (T stands for 'Tomas', 'talent' and 'toekomst', meaning 'future' in Dutch)' is a virtual environment where these parties can come together, form new connections, reflect on the state of the talent ecosystem and discuss some of their challenges. The space consists of three main areas:
1) the exhibition hall showcasing informational and activist materials to provide visibility and raise awareness;
2) a co-creation space with a rich collection of ideas and practices for better collaboration;
3) a meeting point where visitors of the space can gather to get to know each other.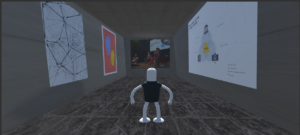 The first version of our virtual gallery
A glimpse into the final prototype of the DSS Tomas Team.
The trainee process
Following the design methodology of DSS, we embarked on a transformation design journey that weaved personal development with the SCREAM methodology. It is based upon the premise that "transforming yourself is the first step of transforming the world", and so the process began with playful methods of getting to know one another, the project team, the clients and DSS. 
The SCREAM methodology uses the well-known agile development framework, SCRUM, as a basis but complements it with design thinking principles and practices. Accordingly, teams work in short, iterative periods of 3 weeks called sprints, which begin with sprint plannings and end with sprint reviews and reflections. At DSS, trainees follow a succession of five sprints, each with a different theme and focus, using the design method toolkit and engaging in hands-on co-creation sessions. 
Sprint 1 was about getting to know the team and meeting our clients for the first time. In this Empathy sprint, we dedicated much of our time first cultivating empathy towards each other and our circumstances. Setting up a hybrid workflow was inevitable, given the continuing corona restrictions, and we engaged in team-building exercises to get to know each other's strengths and weaknesses, quirks and preferences. We also reached out to the Tomas team for a chat about their assessment of the challenge and personal priorities when it comes to the solution. I recall being positively surprised by the youthful openness of our partners who work in various positions at the municipality of Amsterdam. Our initial expectation of government employees as conservative, somewhat rusty and grumpy office clerks was luckily disproven.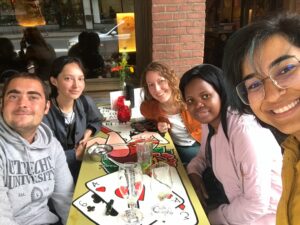 Team drinks in early October
In mid-October, we started Sprint 2 – the research phase of our project. While the initial mist around the talent development context at hand was clearing up, we still had many questions. For instance, what exactly are 'talent development initiatives' (TDIs)? And what do they expect from the Tomas platform? Since the previous trainee team had companies as their target audience, we decided to collect more information about those nontraditional learning hubs that are training future talents and teaching those very skills in high demand on the market. Learning the perspective of TDIs was a key part of understanding the overall challenge and defining the angle of our solution.
With two exploratory sprints behind us, it was time to get into co-creation mode. Sprint 3 was all about Ideation, or new idea creation. As prompted by our coach, we tried to adopt a beginner's mindset and allow the craziest ideas and solution seedlings to be put on the table for serious consideration. There was no bad idea or 'yes, but…', only 'yes, and…', we were told. And so we began brainstorming with different methods, building impromptu prototypes out of scrap paper or riffing off word associations in post-it races. We diverged and diverged even further, temporarily forgetting the pressure to choose or live up to any expectation. It was fun.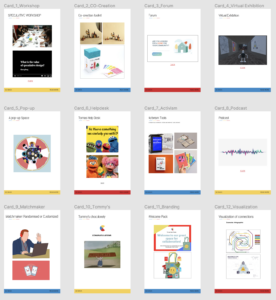 The result of Ideation sprint
The Christmas holiday was closing in as we transitioned to Sprint 4. On top of the usual end-of-year madness, we were faced with the ungrateful task of killing our darlings. There was no other way around it: we had to pick a maximum of two ideas out of ten. Sadly, as Covid was still wreaking havoc, organising in-person events had to be off the table and we reached for our digital solutions. Finally, our collective decision landed on creating hybrid materials that can support a movement in talent development, presented by a virtual exhibition and co-creation space. This meant that we began creating posters using our research findings, and our techies began working with Unity, a 3D gaming engine, to create a virtual gallery and meeting space. 
By this point, our time at DSS was running out and the nerve-wrecking countdown until the showcase began. As Sprint 4 gave way to Sprint 5 and we awoke in January from our brief winter slumber, there was no more time to waste and a lot of ground to cover. While this sprint was supposed to be all about testing and improving our prototype, there were many other promotional duties, like making videos or updating our webpage. At the time of writing this piece, we have exactly 6 days, 19 hours and 20 minutes to go until the final presentation. We are so excited and almost can't wait to start the show.
Are you curious about our digital solution Space T? Join our showcase Wednesday the 19th of January from 16:00 (CET) ➡️ register and check out all the info here https://bit.ly/337PfpT
Learn more about Tomas
Tomas is the tool for business, education and governments to find collaboration partners for talent development.
Tomas is a matching platform for talent development that does everything it can for a future-proof labor market. We bring supply and demand for retraining and further training together, so that business and vocational education are better aligned and can work together successfully. We provide an online interactive overview of all possibilities for talent development in the Amsterdam Metropolitan Area. From now on we envision;  the right people with the rights skills at the the right place.

VraaghetTomas.nl works as an interactive mapping tool aiming to help the talent development ecosystem find talent initiatives, to find synergy between the triple helix to make lifelong learning, upskilling and reskilling easy in the region of Amsterdam.
It will not only help companies to have an overview on the education and training available for talent development but also give the opportunity to contribute to talent development in the region, for example by offering internships.
It will help universities, colleges and talent initiatives to increase their visibility and facilitate to come into contact with relevant target groups.
It will provide governments with an up-to-date overview for investment decisions and the efficient allocation of resources.
Tomas is for everyone who is professionally involved in finding and developing talent in the Amsterdam Metropolitan Area.
Are you dealing with above topics such as lifelong learning, reskilling and upskilling ? Don't be shy to contact us, we would love to exchange ideas with you to create a future-proof labor market!

Connection with the EdTech for Social Change Track
The EdTech for Social Change track is a connective hub that opens space for partnerships, applied research and projects with industry stakeholders. Together we use technology to boost individual learning, corporate training and to make learning accessible to vulnerable social groups.
With Tomas we like to establish a positive social change and enhance sustainable development in the MRA region. Facing the current labor landscape perspective (Post Covid-19, possible recession, increasing talent shortages, digitalization, automation etc) , the aspiration is to bring key players together to leverage talent development in an effective way, upskill and reskill as many people in the right manner to assure they are ready for the jobs of today and the future.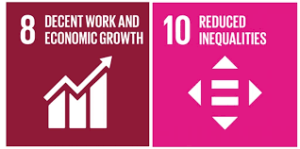 Connection with the Sustainable Development Goals
We believe talent development is a shared responsibility; not only government institutions, talent development initiatives are instrumental in reducing inequality but also companies have a big influence in designing strategies to support sustainable economic development, decent work and promote inclusive growth.