News
Why we need to really make privacy secure wearables
The Track Digital to Physical of Digital Society School (DSS) presented their work last Thursday 3 October at the symposium Wearables in Practice that was hosted by the Ministry of Safety and Justice (Min JenV) in The Hague. The focus of the symposium was on trends, research and projects, on opportunities and threats provided by the use of Wearables in relation to technical, ethical, judicial and safety issues.
We concluded that the existing wearables on the market are not facilitating local data storage and privacy of users. Presenters shared their work to create their own software to be able to keep data safe. We were happy to present our project in which we developed and build our own prototype of a wearable that respects privacy of its users.
Intention Mirror
The invitation by the organizing committee was a great opportunity to present project Intention Mirror for track owner Assia Kraan, partner Roselyne van der Heul of Exodus and DSS alumnus Alec Stewart. In the project Intention Mirror DSS and Exodus together with a team of trainees designed in only 20 weeks a product to help ex-offenders stick to their desired behavior intentions. We created a wearable that collects, stores and translates information on the terms of the participants, to improve their rehabilitation process.
Responses
Visitors of the symposium were academic researchers, manufacturers of wearables, law professionals and policy makers amongst others. The project got praise for our user centered design; we developed a wearable in close collaboration with the user. Also our local data storage and our approach to really keep users owner of their data caught attention. Why didn't we use existing wearables? We frequently got asked. Because existing wearables don't facilitate in the privacy Exodus aims for. By designing and developing our own wearable Exodus knows what it needs from a wearable and what characteristics it needs, for the project to be taken to a higher level and for implementation.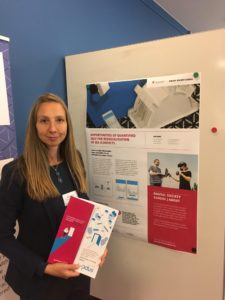 Design for privacy
The project we presented was very much in line with the calls to action as posed by presenters such as Suzanne Hartholt to design for privacy. Visitors see great potential to apply this concept in other fields for example in programmes for families who face challenges in sticking to their desired behavior related to child care. We welcome all suggestions to explore implementation of this concept.
Would you like to learn more about Intention Mirror? Visit the project page and sign up for the Digital Society School newsletter at the bottom of this page.