Article
DSS Alumni Stories – Meet Tanishqa Bobde
We present the alumni Tanishqa Bobde, innovation expert and designer. Discover her career and what inspires her!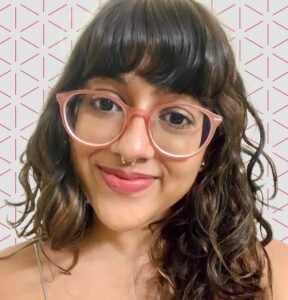 Where are you from?
Pune, India
Where are you now?
Amsterdam, Netherlands
Where do you currently work?
Innovation Sourcing Intern at Impact Hub Amsterdam
Tell us about your career path
I've been practicing design since 2017 and working on/off since 2019. I did my Bachelor's in Design in India, and I always had an interest in service design. Whilst working on my Bachelor thesis, I did an internship at a social design agency called (ink). in Amsterdam. 
During a thesis interview, I discovered DSS and after graduating, I joined the Design Across Culture track in Spring 2021. After finishing the traineeship, I became an intern at Impact Hub Amsterdam where I've been supporting my colleagues with brainstorming and sourcing impact innovations for diverse client needs, ranging from omnichannel packaging for IKEA Global to cancer care in Côte d'Ivoire for Roche. 
(You can read more about Tanishqa's work at Impact Hub in her blog here).
As of March 2022, I will be joining the innovation studio of Arcadis in Amsterdam as a UX Researcher where I will design user-centered value propositions for the business – whilst considering sustainability and digital transformation. 
How would you describe your time at DSS?
DSS is a safe space to create, get constructive feedback, and help you grow. It's a good step to venture into before a full-time job after university and was a crucial puzzle piece in my professional journey.
My entire cohort was very diverse and inclusive, and DSS was a great case in point for how diversity should be in practice. My project was about the Dutch education system and I noticed how our different cultures brought so much richness into the project.
My traineeship helped me in strengthening my design and leadership skills through actual experience of not only design doing, but also managing a team, learning about team dynamics, and how to communicate with myself in order to be the best version of myself. I discovered that what I enjoy and excel at is creatively facilitating people and processes: which manifests by way of design research, service design, and design management.
As a migrant, I experienced bureaucratic visa struggles but felt supported along the way by the people around me at DSS. It's important to stay patient and lean on the community for support when needed. If anyone is going through a similar situation, feel free to reach out to me. Within a year, I managed to get a visa sponsorship, I did it and anyone can– it's all about the mindset, perseverance, and believing in your skills.
Is there something in particular that impacted you?
Facing challenges and reflecting on what I am good at and what I need to work on. Which context brought the best out of me and what made me uncomfortable. Innovation comes with ambiguity and challenges, and for me, the best way to tackle this is to dive in headfirst with some love for the chaos. To approach the chaos with a sense of playfulness – like a child – and not take it too seriously. 
It is important to learn how to communicate with diversity of input – especially learning how to make a cohesive fusion whilst respecting everyone's voice. Never forget the importance of your voice – and how crucial it is for that voice to be heard. No matter what you look like, what you do, or where you come from. 
Design is so deeply connected to daily life, and the learnings from my profession manifest in several facets of my life. I'm so grateful to do what I love and notice how it has molded and is molding me into a better person.
What does digital transformation mean to you?
For me, it's all about "sensible innovation" and that doesn't necessarily mean doing something new. It can be reviving something that already exists, looking into the past, or reframing viewpoints/ways of being. I don't believe that it's about going digital for the sake of going digital, but about using the tools offered by technology to rethink the world around us for a solid purpose. My project at DSS didn't have a huge digital part per se, because based on our research it wasn't necessary for our audience. Digital transformation should be focused on the why, and the needs of people and the planet. This 'why' can then lead to a sensible (and creative) 'how'. Facilitating that is a large part of my work, and I love it!
What are your sources of inspiration?
Nature – the interconnection of everything, genius design, and mechanics, and sense of calm. I draw a lot of inspiration from it that is relevant to daily life – work and play.
Any advice to share?
Take time for yourself. At DSS, you won't only gain experience with digital transformation but you'll also experience a transformation of self, as an individual. Find a moment to reflect and have space to listen to yourself. Be aware that with patience you have the peace of mind for anything.
Also, the importance of mentors and reaching out to people, asking for help, involving yourself in communities of practice, harboring and growing from the experience of others. Valuing your voice, other peoples' voices, and of course – the voice of the planet.
What's next for you?
Finishing my internship, and going to Madrid to recharge for a week before starting my new job in March!