Insight
A deep dive deep into sport student's lives
This is the second entry of a series of posts detailing the journey of the Brain Profile project part of the Digital Twin track at Digital Society School.
Have you ever wanted to drop out of school? Or have you ever had an emotionally hard time in school? Every year, around ⅓ of students drop out from ALO (Academie voor Lichamelijke Opvoeding) in their first year. ALO is HvA's academy of physical education offering higher professional education (HBO) for aspiring trainers and coaches.
We, the Brain profile team, are working with ALO and elite student athletes in HvA to support their self-development and skills, to reduce drop-out rate. After Makers lab, where we created a first quick prototype, we aimed to create a virtual representation of the students' mind, body, self-development, mental health and their progress through school. Our first goal is to design a communication tool to enhance mutual understanding and self-development.
Throwing javelins: learning from students
Sprint 1 and the first four weeks of our Brain Profile team's full-fledged project are complete. Most of our sources from the beginning are based on general research, anonymous surveys from school, and data from brainfirst games which is the capability test that was played by some of the students. Brainfirst games measure the user's reaction times and skills, but do not address the user's personal level. So, we decided to use this sprint to get to know one of our partners, ALO, and our future users to communicate with them and set the main direction for our journey.
We gained a lot of insights through field and desktop research and through several meetings with partners. We also participated in a physical class, which is part of our partner's program, and interviewed students who will become future users of our final product.
The main output of this sprint is a set of posters detailing the results of our field research into ALO. The posters include a roadmap of a student's journey through the academy, working hypotheses to explain the dropout rate, and multiple personas representing ALO students. In the following post, we'll share our journey over the past four weeks.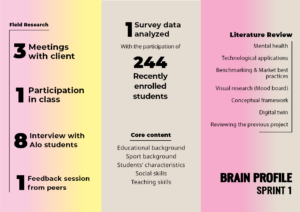 A summary of our activities in Sprint1 with numbers 
In this sprint, we conducted three interviews with our partner ALO exploring the school facilities and collecting data from students. In addition, ALO invited us to participate in the first grade's practical javelin class to interact with students and experience the school environment.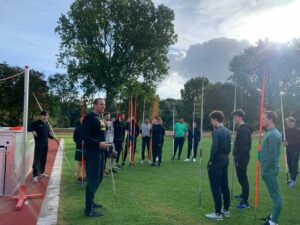 Attending to the Javelin class of first year students 
After this class, we got a chance to conduct informal interviews with eight students about their daily life at school. From these, we learned that our users are mainly young men, aged 18 to 24, looking forward to improving their physical and academic skills. However, their goals and expectations vary depending on their previous academic background, age, and general expectations concerning the program. So we wanted to create personas based on these insights to represent their differences.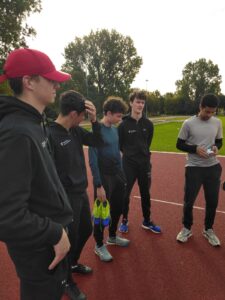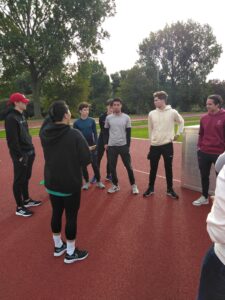 Interviewing eight students after javelin class with some informal questions 
To get a clear idea of who our main users are,  we were able to get useful information to create student personas by asking questions about their age, educational background, dreams after graduation, and impression of the school. With this process of creating user personas, we started making hypotheses to answer the main questions, such as, why are they have problems with theoretical exams, and what their priorities are in their personal life outside of school.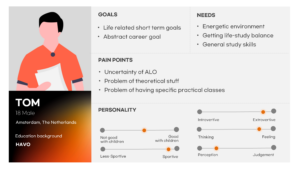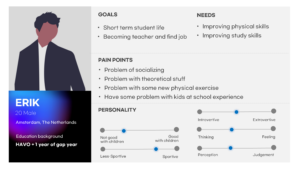 Two examples of our user personas are based on interviews in ALO.  It includes their personal goals, needs, pain points, and personality. 
In addition, we devoted some time to learn about the overall education system in the Netherlands, so that our team members with diverse nationalities and educational backgrounds could better empathize and understand local Dutch students.
We also conducted literature reviews in various fields to solve follow-up questions as well as field research. We investigated and shared about mental health and well-being, multiple technologies that we could apply to our future solutions, similar products on the market, and what application of digital twins we are fundamentally pursuing.
Mapping the student journey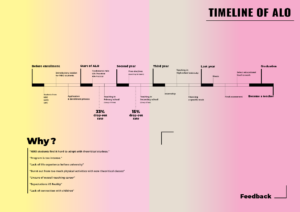 Timeline of 4 years of ALO curriculum
From our research, we first created the overall student journey of ALO students. Decreasing the drop-out rates is one of the main goals of this project. Not only did we map the basic curriculum, but we also identified the pre-admission process, main activities for the whole four years, and the main educational background of the students.
We understood the key moments, such as the first theoretical exam in first year, internship at the primary schools, and the beginning of the second year. These moments are important to address to decrease student drop out. Thus, we took the first step toward more holistic development by identifying what they are actually struggling with beyond superficial reasons. For example, some of them are having a difficult time to pass a theoretical course even though they are satisfied with the school curriculum because they don't have any related education background or they are from a lower education level (MBO).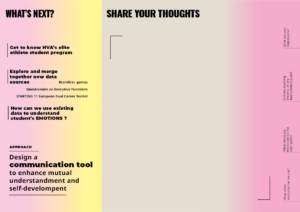 Our approach of this sprint, and next steps of our project for sprint 2
Design vision: A communication tool for developing mutual understanding
By the end of this sprint, we finished the basic research needed before moving on to the ideation stage and set the primary goal for the project's future direction.
But a lot of questions are still waiting to be answered:
What other resources can we use?
How can we use existing data to understand students' emotions?
How can we deal with privacy while we are using student's data?
What are the criteria for measuring self-development?
What belongs within the concept, 'Mutual Understanding'?
What details exist within the idea of 'communication tools'?
In the process of answering these questions, we will begin to devise feasible and tangible ideas during the next sprint based on the various insights and resources collected over the past month. In addition, we will conduct richer background research through examining a variety of toolkits, brain game analysis, and in-depth learning of our other partner: HvA's Elite athlete students. So please watch the moment when existing data, research, and ideas meet to create a new digital twin solution. See you in the next post!
---
About us:
*Coach: Mariana Pinheiro – Industrial Designer.