Online Course
Is It Really Sustainable?
2-day Course
How sustainable is digital?
During this course, we will start building a critical view on the sustainability of digital products. Where sustainability is an umbrella term for globally embraced values that help create solutions that make the world a better place, it is sometimes hard to determine what "sustainable" really means. With concepts and frameworks like the Sustainable Development Goals, the Doughnut Economy and circular design for example, we are becoming more and more aware of how to organise ourselves and our organisations in a more sustainable way. However, often the digital space is not – consciously – included in these discussions and decisions.
In this course, we will help you get clarity on the impact of our digital world on our physical environment. We will start with exploring why sustainability is an ambiguous term, and which challenges exist in the digital space when wanting to create a more sustainable world. Using sustainable design principles, you will learn what is needed to design for people ánd planet, and directly apply this knowledge through a predetermined brief of re-designing a digital product that you think can, or should, be more sustainable.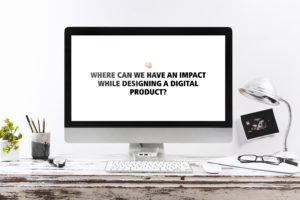 What you will learn:
The bigger philosophies colliding in the universal term 'sustainability'. What type of sustainability are you interested in and how can you talk about it?;
How sustainability can inform your choices in a personal and professional context;
How to assess the sustainability of a digital product or service;
Sustainable Principles within Digital Design and how to re-design accordingly;
Lo-fi prototyping;
How to define sustainable choices, from an individual and societal perspective;
How to collaborate and co-create remotely, using online tools
Covered DSS competencies:
Applied Human-Centred Design

Collaboration and Co-creation

Social Innovation & Sustainable Mindset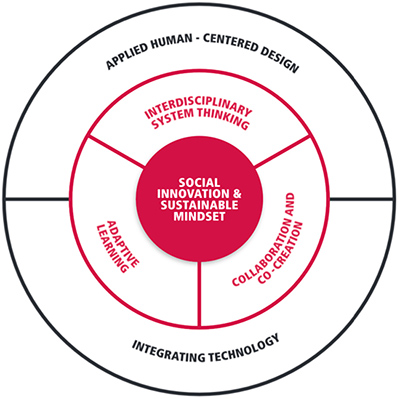 ---
What you will do:
The course consists of 2 sprints that are trained online in blocks of 3 hours over a period of 2 days. During the sprints, you and your team will be guided by our trainers. In the sprints, you will be introduced to theory, practical examples, useful methods and fun!
Module 1: What are your preconceptions of sustainability? We talk about sustainability, the Digital Society School philosophy and Sustainable Principles for Digital Design. How do you design digitally ánd sustainably? How do you design a digital product that has the least possible impact on the environment? What are changes you can do to improve the sustainability of current digital products? What are key examples of Sustainable Digital Design?
Module 2: Re-design a digital product or service according to Sustainable Design Principles. Create your lo-fi prototype and test it among your peers. Present your ideas in the group and discuss your key learnings.
---
Whom is this course for?

You 👇:
You love your sustainable mindset and want to develop it further. You are an aspiring change-maker looking for ways to reflect critically on your area of work, taking sustainability and ethics into account. You are a professional who wants to learn more about the hidden impact of online and digital. You might be a (digital) designer looking to put your skills and expertise to work for sustainability. Or maybe you are somebody within sustainability or CSR, and want to gain more expertise on the digital side of your work and how to include this into your strategy.

" The 'Is It Really Sustainable' course was great. Really good mix of tangible theory and stats that can be taken away, and hands-on designing of a solution to help reduce the environmental impact of the digital economy. Would definitely recommend!"
– Beach Baganel, Strategy Director at Iris Amsterdam

---
Questions you may have:
Q: How theoretical will this course be?
A: At Digital Society School we work through experiential learning, or learning-by-doing. This means theory is always balanced with hands-on methods, followed up by deeper reflections to learn and further implement the process. Expect action!

Q: I am not a (digital) designer specifically, is this course also for me?
A: Yes, for sure! We believe that a sustainable mindset is valuable to everyone even if you are not a designer per se. You will learn how to use a mindset that goes beyond the area of design, and definitely feeds into your own work and life in general. The methods used will also be relevant and applicable for non-designers.
Q: I am not an expert in sustainability, but would love to learn more. Is this for me?
A: Yes! The morning makes sure everybody is able to connect through a common language around sustainability, and different perspectives and understanding are explicitly welcomed – as this enriches the process. We cannot solve the current global challenges on our own, neither can we leave anyone behind in the journey.
Q: Who will I work with during this course?
A: The Digital Society School community consists of makers, doers and thinkers across nationalities and disciplines. Most likely the group will be a mix of different professional backgrounds and ages. The course is open to max. 25 participants, and you'll work in groups of 3-5 people. The course will be facilitated by instructors from Digital Society School.
Q: Where and when will this course happen?
A: Due to the current situation, we have adapted the course into an online format, without losing it's interactive and collaborative spirit. We will be using tool as Zoom.us and Mural.co to ensure active participation and creation. And you can join from anywhere in the world, as long as you have a computer with stable internet!
Normally we would do the full course in a day, but that is a very long time to be behind a screen. Therefore, we will divide it up in 2 blocks of 3 hours. Let us know if you are interested, and we will announce the new dates as soon as we have enough participants!
---
Meet your instructors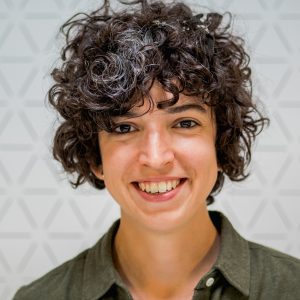 Ilaria Zonda
Digital Transformation Designer 
Digital designer passionate about sustainability. Challenging the balance between nature and technology to create the greatest impact.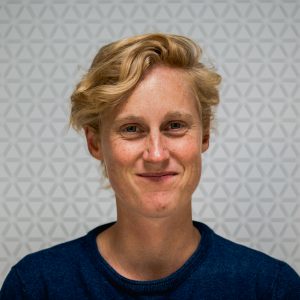 Anneke van Woerden
Impact Producer 
Experienced trainer and facilitator working on the intersection between design, social innovation and sustainable development. I work on tools, events and content that bring in sustainability and social impact. From time to time, I try to spark up teams with some energisers when needed and team culture tools.
Mick Jongeling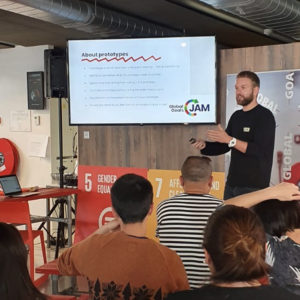 Digital Transformation Designer 
I research the visual and social impact of rapidly developing technologies on individuals and society. I strive to create pieces of work that questions the current state of the Internet and our involvement in it, being it by speculative design, participatory design or field research.