Article
DSS Alumni Stories – Meet Bridget Dooley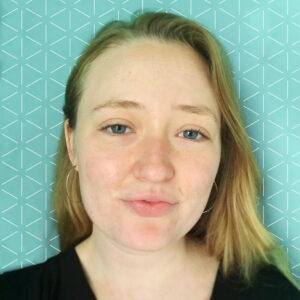 We present the alumni Bridget Dooley, UX Researcher and Designer. Discover her professional journey and what inspires her!
Where are you from?
Boston, United States
Where are you now?
Amsterdam, Netherlands
Where do you work?
UX Researcher and Designer at Topdesk Netherlands 
Tell us about your career path
I studied Political Science and Photography in the US, and after graduating I did some personal photography projects, and worked in communications with a range of civil society organizations. After this, I wanted to move abroad and went to Spain. I  taught English and wrote for some magazines remotely before starting my Masters. I studied an Erasmus Mundus program in Journalism, Media and Globalization; it was one year in Denmark and another in the Netherlands. 
During my Masters' research at the University of Amsterdam, I became very interested in the intersection between journalism, digital media formats, and misinformation online. I ended up writing my thesis on the role of web design on audiences' perceptions of the credibility of news content found online, and it was through this research that I first learned about the profession of a UX designer. 
After graduating I took a few courses through the California Institute of the Arts on User Experience Design. From there I got my first internship in UX design, which I did remotely with the Vancouver-based startup NovaTools. At the time I was also looking for opportunities to grow in UX in the Netherlands and came across the Digital Society School. I joined in Spring 2021, and was part of the Design Across Cultures track and my project was about Dutch Education system.
What are your sources of inspiration?
This past winter I became a member of the 'News Product Alliance', a group of journalists and product thinkers interested in journalism and digital product design. It's a slack community where there's a great exchange of resources, support, plus great networking opportunities. 
Mentorship is also very important for me. I was a 'Ladies of UX' mentee while working at DSS and it was great to see how other people got started in UX, and get support from someone in a more senior role. 
How would you describe your time at DSS?
My initial motivation to apply was to find a place to experiment, develop a portfolio and work with others that had experience in UX. Even though my traineeship was remote due to the lockdown, the best part for me was the people I met through the program. The project was very valuable in the way it taught us to work in agile methodologies and engage with project stakeholders.
Something that I really underestimated at the time but now value is the element of stakeholder management in our project. During my traineeship, one of the core problems we faced was figuring out who within our partner organization was responsible for the student transition that we were focused on. At the time I saw this as kind of a funky outlier type of situation, but now working in UX I find that a huge part of my work is figuring out where my work intersects with the work of others in our organization, and who the right people are to engage to synchronize our collective efforts.
Is there something in particular that impacted you?
DSS is a perfect place to work on an impactful project where the stakes aren't so high. It's kind of like a sandbox to play around and test new methodologies and new ways of working. You're encouraged to take risks, you know it's okay to fail, and you learn how to fail quickly.
I think that the biggest way I've been impacted by the experience has been coming to understand that failure is actually a key part of any successful project.
One way this manifested was in starting a series of portfolio feedback sessions along with my team member Tanishqa. We formed a group to get feedback on collaborative work and had alumni input to see what was working and what wasn't in the way we presented our portfolios. This series still continues to this day.
What does digital transformation mean to you?
Mainly  I see it as a series of processes that help make collective work more agile (the rituals associated with working in SCRUM, the application of design thinking methodologies) 
Any advice to share?
It is really okay to fail,  failure is part of the process. If you're someone in the job application process right now and you're being rejected – don't let that discourage you, it's part of the process. Try as much as you can to find out what works and doesn't work.  Take advantage of the fact at DSS you're in the community that might be in the same place socially with your peers but also networking wise is beneficial. 
What's next for you?
I can see myself in the future working at the intersection of news and product, translating my skills learned at a software company into a newsroom.