Project
Sustainable Fashion

Project Brief
How might we generalize the "Ultra Personalized Product Service Systems Game (UPPSSG)" for multiple fashion product categories while adding the societal, ethical, and social dimensions to improve the "society readiness level (SRL)" of the technology?
Our project centered around a new framework (based on the UPPSSG, see next paragraph) that helps businesses to structure their data flows around one of their product-service systems. This framework is similar to the well-known 'business model canvas' that structures components of a business onto a canvas, where each box representing part of the business is positioned in relation to the other parts. Our framework focuses on how the design and production of a product service are informed using the product service. In contrast, the business model canvas focuses on how a value proposition generates revenue streams. Because these kinds of frameworks or canvases require some understanding of business or design operations, in other words; how the boxes relate to each other, we created a game that includes an introductory handbook and a set of cards with instructions that help beginners to fill in the boxes with their product-service in mind. This game can be used by startups and established companies trying to improve their product service. Getting a grip on their data flows is a much-needed step for fashion companies to become more circular.
What's UPPSSG?
Ultra Personalized Product Service System is a new and potentially more sustainable way of producing products that are sold as a service rather than just an object to their customers. Body data is acquired with a 3D body scanner, and based on the data, a 3Dknit machine can produce clothing suited to an individual's body shape. In addition, compared with machines for mass production, colors, and patterns, shapes can be easily customized and used with any thread. However, companies need to make a platform for customers to order and introduce new machines to build such a system. The process involves a variety of stakeholders that fashion companies have not been engaged with in the past, such as 3D designers and knit programmers, platform knit analysis. In addition, body scanned data is so personal that companies must be concerned about handling the data, but they have not worked with the data before. Therefore, they don't know how much data is necessary and where to store it safely, and how to share it within the company.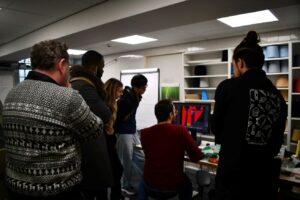 Our partners have already tested this framework for Personalized 3D Printed Shoes. To be able to create such a system, a company can play a game where they identify how data should flow between all stakeholders of the system. This game is UPPSSG. Though our partners designed it, some elements of the canvas might be very product-specific (Personalized 3D Printed Shoes) and therefore more examples are needed currently. In addition, the game is still more of a framework than a game.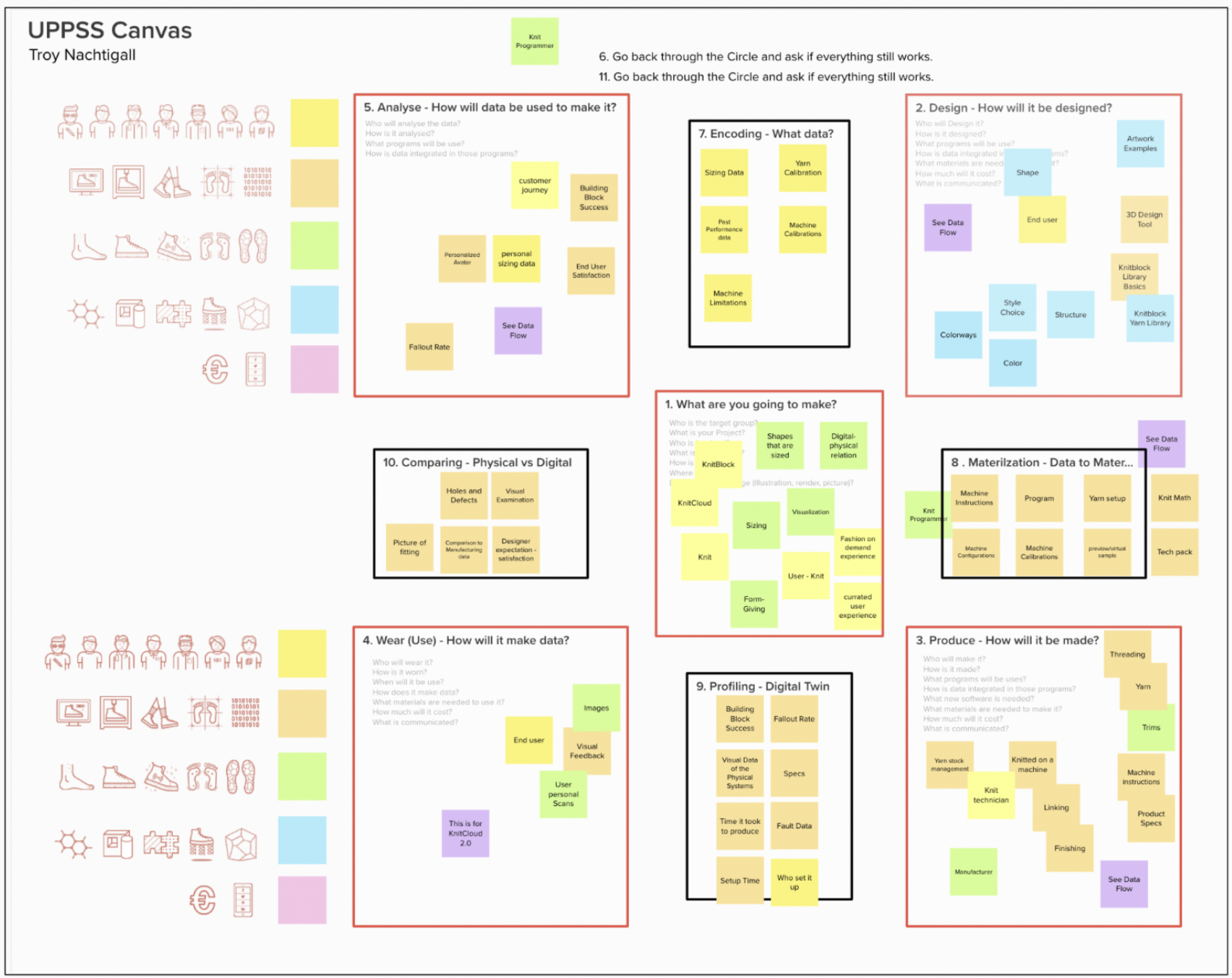 Our Challenge
1. Apply this UPPSSG to the category of 3D knitted garments to learn how to better generalize this framework for application to other product categories. The generalized framework should help to make it usable and tastable with stakeholders; actual fashion companies and research departments at the Amsterdam University of Applied Sciences.
2. Add game element: transform from framework to game
3. Deepen our understanding of User Journey and reflect it in this game. The ethical concerns of the use of these new technologies have not yet been relieved or well enough understood. It should stimulate the increase of the SRL, by identifying barriers and finding strategies to circumvent them.
Solution: LOOPHOLES
Troy Nachtigall, a Fashion Designer and Researcher working with Fashion Tech research group at the AUAS, came up with the Ultra-Personalized product-service systems canvas for Circularity and Sustainability. This canvas encourages brainstorming between stakeholders involved in production of a specific product from start to finish, taking into consideration the data, stakeholders, and finance needed. However, to maximize the benefits of this canvas, a facilitator who fully understands the components of the canvas needs to facilitate the session.  
As a team from different backgrounds, one of our tasks was to redesign this canvas to make it useful with little or no facilitation, fun to play, encourage more brainstorming, and generate and document post-game insight.  
LOOPHOLES makes use a board which still retains the key components of the UPPSSG, a few decks of cards that correspond to the different boxes on the board, start and finish cards, trigger cards, circularity cards, and action cards. Also, to start the game, players choose a specific product/service they plan to produce, and envision a timeframe needed for such product/service.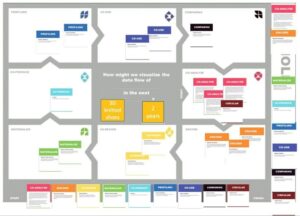 Expected outcomes
After successful gameplay and thorough brainstorming, the players are expected to:​ 
Have a clear understanding of their ideal dataflow

Gain insights into the key data that are missing in the existing dataflow

Understand next actions 

​

to fix the current gap

 
User test with Knitwear
After creating LOOPHOLES idea, we sent out invitations to a number of fashion companies for a user test and fortunately, one of the companies that responded is the KnitwearLab. From the user test we had, the team comprised of the CEO, 3D Designer, and Business Development Interns. During the session, the game forced the team to brainstorm together and decide on which card is best for each of the boxes.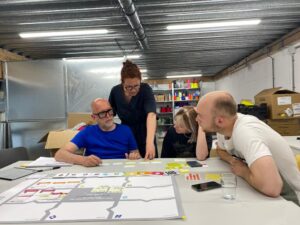 What changed in the user experience?
At the beginning of the project, we tested the UPPSS canvas with Robotlab and we had reviews which are some of the key considerations when we were trying to upgrade the idea. After coming up with LOOPHOLES, we tested the new canvas with another company: the KnitwearLab. 
From this session, we had some feedback: 
The gameplay session was interactive because the players sometimes had to jointly decide on which card to put in the box. They added meaning to the cards as it fit their business. 

​

 
Little or no facilitation was needed because of the detailed explanation on the cards. The discussion was prompted by the users themselves.

​

 
With the action cards, the players were able to come up with different strategies

 
Post-game Insight

(Physical-to-Digital)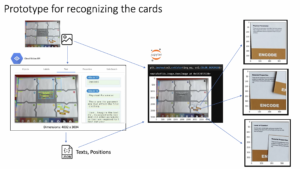 Sustainable Development Goals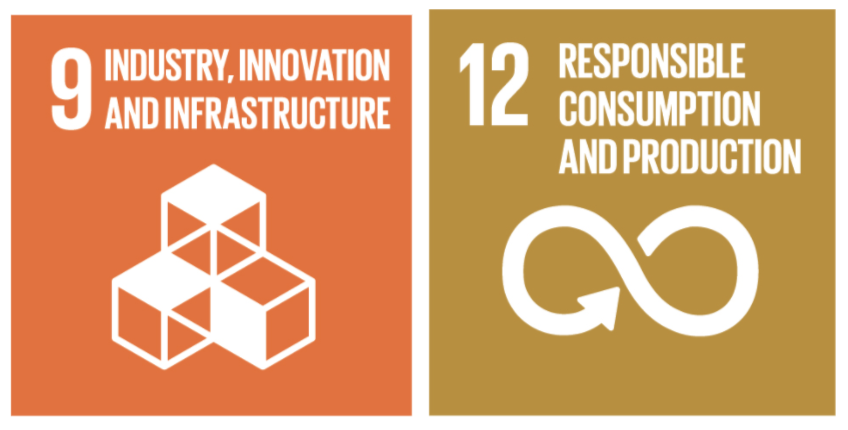 THE 17 GOALS by United Nations
Members