Project
Hybrid Democracy – Tech Citizenship
TECHNOLOGICAL CITIZENSHIP
FOR EMERGING IMMERSIVE
TECHNOLOGIES
THE CHALLENGE:
how can citizens engage with the public discourse and politics of emerging immersive technology?
New technologies are rapidly taking over more and more aspects of our daily lives. With the advent of the Metaverse, many public services, such as education, health care and finance, will be offered by predominantly private companies. This is a big challenge for traditional democracies as core values such as accountability and transparency, of primary importance when it comes to public services, are disregarded in favor of convenience and profit.
The purpose of our project is to help citizens develop the awareness and knowledge to understand these technologies and empower them to take collective action over technological trends in society. We want to help form public opinion on how to make sure these instruments shape society in a way that caters to public interest instead of corporate bottom line.
OUTCOME
The ideal outcome of our project is a tangible product that helps citizens develop a narrative on the Metaverse, by focusing on democratic and societal values. It would help the Rathenau Institute to foster an inclusive public debate on the implications and ethical considerations of emerging immersive technologies, where everyone's voice is taken into account, ultimately benefiting democracy as a whole.
Our Outcome Criteria:
Characteristics:

tangible product, not "tech-first" as a

form, reproducible, empowering, designed to be usable in libraries, fun, simple, safe, UX centered, inclusive, zero language barriers, no app.
Experience:

Designed for emotion, thought-provoking,

conversation-starting, interactive, gets people confused, sparks conversations.
ACTORS
Citizenship:

Influence the government through voting and lobbying. Influence tech companies through consumer demand and coalitions. Motivated by individual needs/interests.

Government:

May use tech to engage the people. Motivated

by power/responsibility.

Private Tech Companies: May influence people through tech cultural trends and government through lobbying. Motivated by profit.
TARGET AUDIENCE
Not necessarily tech illiterate, but not included/engaged in public

discourse around emerging tech.

Focused on ages 18-25, mainly students
Touchpoint: Access, attitude, knowledge and skills.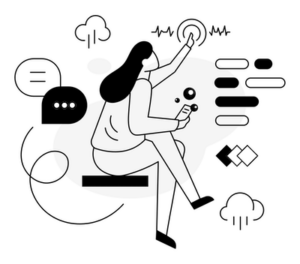 .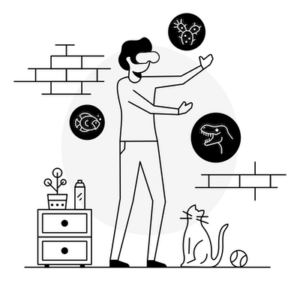 KEY CHARACTERISTICS OF TECH CITIZENSHIP
Awareness and knowledge of the impact of technology

Influence over the politics of technology in their society
Access to technology

Feeling connected to their society
THE TOOLS WE USED FOR THE RESEARCH
Focus Group: we organized a focus group where we asked people to give their opinion on the following four questions: 
What first pops into your mind when you hear the word Metaverse? 

Do you have any experience with immersive technology?

What concerns do you have about the future of immersive tech?

What hope/excitement do you have about immersive tech?
One Day at the Rathenau Institute: During our day at the Rathenau Institute we furthered our understanding of its inner workings and its relationship with various institutions, meeting the people involved and learning about the projects they're working on. We had the chance to participate in a meeting and present our project, receiving precious feedback and suggestions. This visit helped us better understand the significance and scope of the Institute's undertakings and consequently bolstered our own commitment to the project.
Desk Research: We dedicated ourselves separately to doing desk research about new emerging trends in the field of immersive technologies (The Metaverse) and then shared and summarized the outputs that emerged. 
MoSCoW: We used the MoSCoW method to clarify and prioritize the different features of our prototype. We categorized those into "Must have", "Should have", "Could have", or "Would like but won't get".
For our Expert Session we met:
Ad Korf – OBA
Laurence Guerin – Rathenau Instituut.
Babusi Nyoni – Expert in Machine Learning 
Gaspard Bosnian + Shauna Jin – Coaches from DSS

Dutch Design EXPERIENCE: 
Our team had the opportunity to explore new ideas through the Dutch Design Week in Eindhoven, where we were inspired by instruments that aim to discuss social issues through engagement of citizens.
On the other hand, we explored various tech tools within immersive technology, such as VR, projection mapping and AI. These tools encouraged us to build our own instrument to engage the public with immersive tech and shape public opinion. For example, the "technoprivilege" exhibit allowed us to participate through our phones: the users entered a physical tent, scanned a QR code, and spent the next 7-10 minutes interacting with an online chatbot. The anthropomorphized bot would ask users questions about their technological citizenship and daily usage and then compile the data collected to generate a technoprivilege profile for the user.
HYBRID DEMOCRACY EXCURSION: 
Another inspiring meeting with the "Raad Voor Openbaar Bestuur (ROB)" Council for Public Administration. We learned how the government of the Netherlands developed its policies through the Council for Public Administration (ROB). One of the mandates of the ROB is to collect data from different resources, such as desk reviews from previous accredited reports, to come up with a recommendation and share it with the public through various meetings across the country. The team discussed the definition of "gezag" and the phenomenon of a decline in gezag-worthiness, such as shortage of power, cognitive shortage, moral shortage and societal shortage.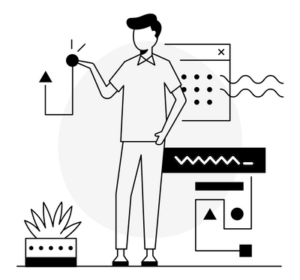 PROTOTYPE CONSTRUCTION PHASES
Conversational Object – Paper Prototype
We developed a paper version of the initial concept and built a cardboard VR through which we could start getting a feel for immersive technology and exploring its implications. During our first Review we used the cardboard VR to showcase a dystopian reality and facilitate a conversation on this subject.
from the imaginative plane to the physical plane
immediate contact with a physical object
exploring the viability of VR as a contentious issue
How we came up with the Concept – Meta Library 
Making the most out of our partnership with the OBA (Amsterdam Public Library), we decided to make a meta–version of the real library by playing on the contrasting concepts of "real" and "virtual". 
gaining a complete understanding of the actual library
understanding which services can be useful in the Meta Library
translating these into the virtual space
Concept Sketch and Storyboard
We started throwing down some ideas on how to transform our main concept  – the "Meta Library" – and the story we wanted to tell in a proper immersive and engaging experience.
We started imagining different scenarios and activities present in the Library and subsequently defined a precise narrative structure of the experience we wanted to share.
formalizing the concept
seeing the concept from all different perspectives
embedding the concept in a coherent narrative
Figma Prototype
We made our Storyboard more interactive with the Figma Prototype, then made new tests to collect more feedback and further optimize the content and define the experience.
implementing the storyline
finetuning the content
seeing the complete picture
ENTER THE META-LIBRARY AT OUR SHOWCASE!
ARE YOU READY FOR THE LIBRARY OF THE FUTURE?
We developed a lowfile, meta-version prototype of Amsterdam's National LIbrary (OBA). Join us in this immersive experience and explore how the future of technology changes everyday life. Be a part of the conversation on the risks and opportunities of digital transformation in a democratic society.
PROJECT TEAM: Tech Tech Team
Anja Bedrick: Digital designer with a focus on political science
Giulia Lenzi: Community manager, interested in the intersection of sociology and anthropology with design and communication.
Ruth Abena: Social designer, with a strong passion for strategy and innovations.
Samar Jubran: Development Practitioner with a Passion for SDG and intensive experience in project management with a focus on Youth and Women