Project
Emergency Remote Teaching Hub
How can we assist in the teaching and learning process to alleviate the educational disruption caused in the emergency remote teaching context?
Inequality of quality education is excavated by COVID-19. In poor communities, many children have no access to online education because of many different factors, for example, lack of experience from teachers in an online environment, poor internet access, and shortage of digital devices. Under the pandemic situation, the gap in educational opportunities between vulnerable communities and rich communities are expanding even more. Hence, we decided to seek ways to reduce this gap and prevent educational disruption.
Our Design Approach
As a model country, we focused on Ghana considering its vulnerable economic aspect, its official language English, and the fact that the government focuses on ICT education. To understand the current educational situation and narrow down the problem to solve, we conducted qualitative research in four different approaches:
We conducted more than 20 hours of interviews with eight local teachers and three non-profit organizations to understand the problem from multiple angles.

We observed an online classroom in a private elementary school. We also studied online teaching materials created by local teachers.

We observed online communities of teachers on WhatsApp and Facebook. We learned that those online spaces do not work as a place to ask and offer help to each other. 

We asked for a video diary for a primary school teacher to observe his daily life during the pandemic. This practice gave us a chance to be in the "field" remotely and gain empathy. 
From the research, we learned that, in many cases, teachers are missing immediate access to clear guidelines and support to adapt to the new challenges. Many teachers are giving in to the circumstances and pause their teaching activities. In contrast, other teachers are still trying to provide education creatively, even when schools are closed. 
In private schools, some teachers started to manage online education; however, there are many struggles because of this lack of guidelines. Public schools are mainly relying on governments' TV and radio programs for teaching. Some of these public school teachers mentioned that they voluntarily follow up with their students by checking in via a call, sending assignments via WhatsApp, or sticking worksheets on street light posts. 
We considered that teachers need to acquire new skills to adapt to the new reality. In fact, they are confused about how and where to learn those skills; some teachers even don't know what skills to learn and improve. We believe that the best way to assist teachers is to provide an environment where teachers can help each other: sharing experience and resources to survive in the situation. Therefore, we created the mobile app HubMe to offer the environment digitally.
How HubMe Creates an Organic Peer Support EcoSystem
HubMe is a digital toolbox that facilitates peer support among teachers and helps them to improve online teaching skills. On HubMe, users can find ready-made online teaching materials, gain practical knowledge of running online classes, and get direct advice from peers on specific challenges. HubMe creates a habit to share knowledge and support others actively. As teachers gain more skills using HubMe tools, they will contribute back to the community. In this way, HubMe creates teachers' organic peer support ecosystem.
We are currently working with the local teaching community in Ghana; however, we aim to expand this service around the world to prevent educational disruption. 
How HubMe Get Teachers Onboard
Many teachers who form a part of our target audience are not very familiar with technology, therefore we designed a system that supports onboarding among non-tech savvy users. This system consists of the following services. 
Onboarding Meetup
Partnering with the local EdTech Initiative, we host a welcome meetup periodically to support new users learning how to use the application.
WhatsApp Group
We invite users to welcome meetup and help them get in touch with other users and service providers.  
HubMe Booklet
Our booklet is our invitation card to the HubMe community. Teachers can learn about what they can do on the app and how to join the WhatsApp group. You can check the digital version of our booklet by accessing the link HubMe Booklet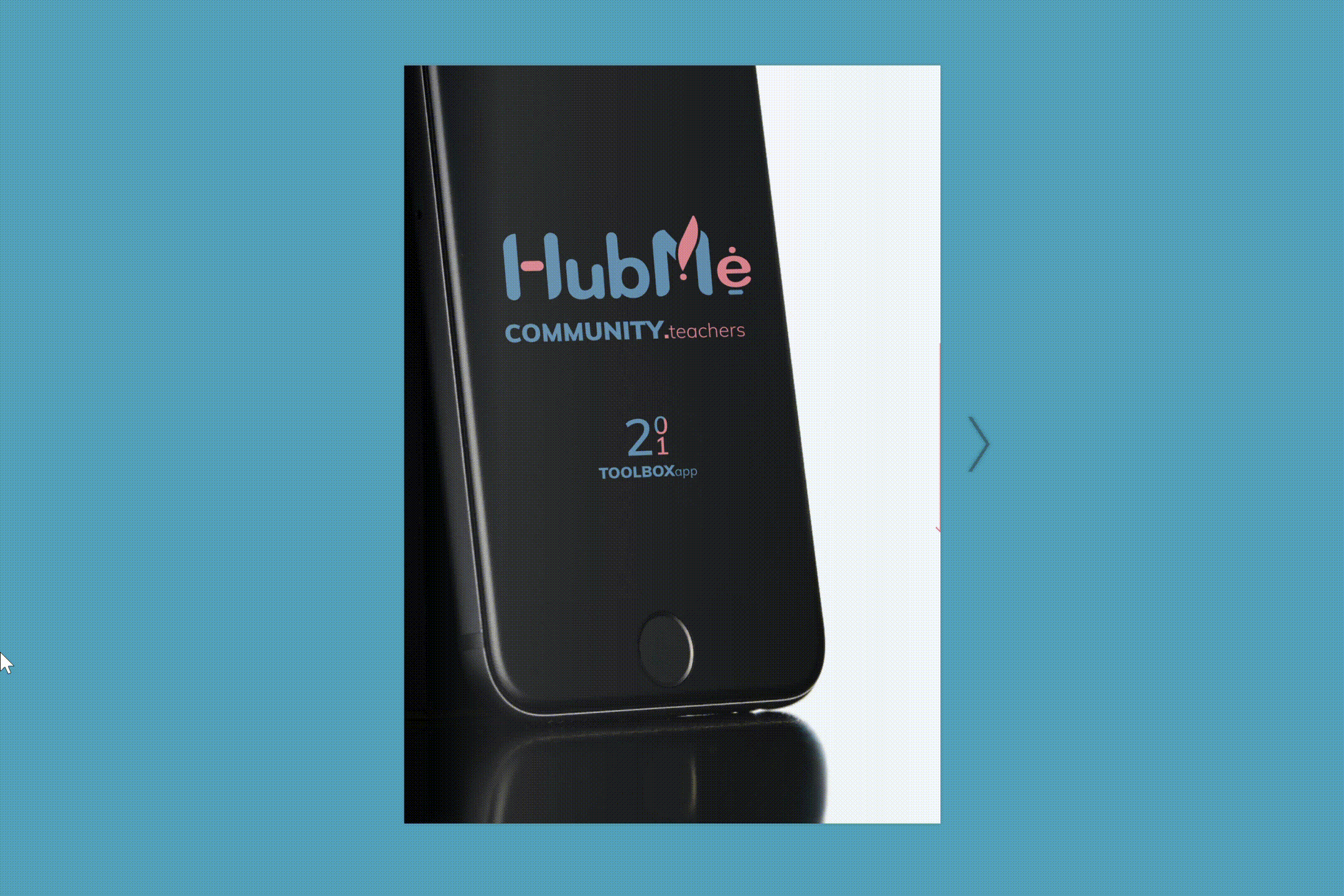 The core features from HubMe 
Classroom Visit
According to our research, teachers had practiced classroom visits to improve their teaching skills before the pandemic. So, we designed a feature that offers the functionality of the existing upskilling technique. On HubMe, teachers can find online classrooms that are open to other teachers and reserve their participation. Teachers can observe how other teachers run their online classes and learn how to manage digital interaction with children better. Teachers also can invite other teachers to their online classroom and expect feedback from them. This feature offers teachers many chances to learn from each other as they did in person before.
Teaching Material Sharing
In our interviews, many teachers mentioned that creating good quality online teaching materials is very difficult and time-consuming. At this moment, there is no official content for online education. This means that teachers need to create teaching materials on their own. Also, many teachers in Ghana are not used to make presentation slides. 
To help teachers overcome these issues and spare time for other important activities like facilitating discussions and having individual sessions with students, we designed the Teaching materials feature. This feature offers space for teachers to share online teaching materials. Teachers can browse contributed slides by other teachers and use them for their class. When they create their materials, they also can contribute to the HubMe community by easily sharing this content. Teachers also can give 'likes' and 'comments' for the materials. This social feature motivates teachers to keep sharing their materials and gain recognition among the teaching community.
Mentoring
During our research, we discovered that teachers in training are often assigned a mentor, but after they graduate this practice no longer takes place. On the other hand, there are local education initiatives that want to provide support to teachers in need but struggle to have a well-established procedure to do so.
To create a place for mentors to offer help and provide mentees with a well-rounded upskilling experience and personalized feedback, we included a Mentoring feature that provides an opportunity to find a mentor and book a 30-minute session.
Event
Currently, online events are shared through different channels, including Facebook, WhatsApp, Meetup, etc. However, as this information is dispersed through many platforms, it rarely reaches a broader audience, such as teachers in rural areas. One of our interviewees, a village teacher, mentioned that he really wants to connect and learn from teachers in the capital, but is not sure to find such an opportunity.
To tackle this problem, we designed the Event feature that aggregates information about upcoming teaching-related events and serves as a one-stop destination for conferences, talks, and meetups, helping to bring together teachers from all over.
HubMe includes teachers with no reliable internet access 
Poor or lack of internet connection was mentioned by all interviewees as the number one pain-point. To create an inclusive product that covers users with low bandwidth, we designed a low data mode, which stops automatic media download. Users can control which images and videos they want to see. We are also considering a feature that allows users to pre-download content to access it when they have a stable internet connection. On top of that, if users cannot participate in a virtual conference, they can subscribe to receive an audio recording of the event.
About Us
We're a multidisciplinary team experienced in UX/UI design, graphic design, service design, corporate innovation, and software development. Together we lived and worked in 8 different countries, and, thanks to this diverse experience, each of us brings up a different perspective on the problem we are solving.
We have been passionate about this project because we believe that education is the basis of our hopeful future. So far, this experience has been challenging yet rewarding.    
This project reinforces to achieve two Sustainable Development Goals: