This is a story told by one of our trainees, Victor Johnson.
The starting point and bedrock of any meaningful relationship with a problem or anything of value is conversation and understanding. This was the thought in the minds of four trainees of multidisciplinary backgrounds as they were handed their design brief; The challenge stated boldly:
''.. design and build a high-fidelity prototype that will include tools for teachers to be able to assess students' practical skills in the teacher education field.''
There we were excited and terrified wondering how and where to start this process. Luckily for us, our first task was to get the conversation going with our clients and the goal was to empathise and understand their needs, so we can apply design thinking and research to propose a solution.
As this thought lingered in our minds, we started brainstorming to come with an idea for a conversational object. After debating and getting stuck for days, our excitement levels were slowly dissipating and frustration lurking in the corner, viola!!! one of us had a brilliant idea,
Guys!!! she yelled I think we should make a Magic Board !!!, moments like this are refreshing, just like a ray of light at the end of a dark tunnel or the calm after a great storm. That was the breakthrough moment for my team, we refined the idea and got working in the makers lab to build this magic item that would start the journey into the development of the D-EVA BANK platform.
THE MAGIC BOARD: Where wishes and Dreams of teachers on e-assessment are transformed to workable solutions.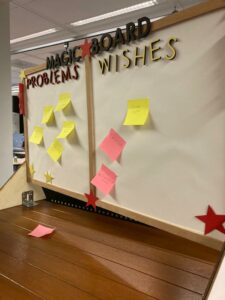 E-assessment is crucial to the educational process. Done properly, it drives improvement, shapes learner behaviour, and provides accountability to employers and others.1 The covid pandemic affected all aspects of life. Learning was no exception to the might of the virus as institutions of learning were shutdown and students were forced to stay home. As time passed and it became apparent that adaptation was key to survival, face-to face learning had to be moved online so students could resume all their learning activities. But with such brilliant approaches comes new challenges especially in fields of studies that require physical interaction. The new challenge was born, and this is the nucleus of the D-EVA project:
''How to support teachers with digital tools and resources that they could use to assess and evaluate the practical skills of their students in social sciences, pedagogy and teacher education.''
Design Thinking; as I write these words, I laugh in excitement like a child who just learnt a new magic trick. When we started the journey towards developing D-Eva platform, we as a team were aliens to the concept of design thinking. This was a methodology that required constant iteration and rapid prototyping to develop ideas for complex problems, build those ideas and test their veracity in real world situations. It was indeed new for our team, but with practice comes steady improvements and growth. Since the project was divided into sprints, we got better and better each sprint, till we came up with the prototype you now see.
Design thinking allows you to dig deep into the underlying truths of a problem, empathise with all the stakeholders involved, so they are part of the solution and then coming up with a possible solution, testing it to see if it works and then repeating the process again and again. That's the beauty of the methodology, just like learning you improve over time. Another key element of design thinking is the flexibility of the model as you can combine it with other research methods and ways of thinking. It is a big picture approach.
Throughout the course of our research, we started to identify key problems as:
The gap between technology advancement and the skills to match it.
The struggle to keep students engaged in a virtual learning environment.
Lack of frameworks for e-assessment
Digital competence
Lack of best practices and resources for e-assessment
These and a lot more were the fundamental problems the D-Eva project is providing some solutions too. We developed this platform to provide academics and teachers of tertiary institutions e-assessment tools customised to their needs, resources of best practices they can apply and a safe environment to share and learn from the experiences of their peers. Peer-to-peer learning is important because it encourages creativity and motivation to try new ways of doing things. This we believe is an extra bonus to the D-Eva platform as teachers can get to learn from their peers' creative ways to use existing technology for hybrid teaching and apply this to their unique situations.
Sustainability is the ability of something to maintain or "sustain" itself over time. The D-Eva platform is not a complete solution, but it is the start of the ongoing conversation for the future of e-assessment. We see more improvements to this platform and the services it can offer in the future, so as you interact with it, think about what you can add to it and how best we can use it to support our teachers who have the responsibility of raising the leaders of tomorrow.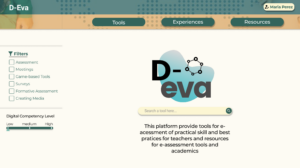 Teamwork is the heartbeat of any great achievement. We are the D-EVA team, and we call on you to join us in shaping the future of E-assessment, Online and virtual learning. Be part of the Team.
Click on here to see our prototype and join us on this remarkable journey.
Victor Johnson
On behalf of the D-EVA Team
This project is a part of Erasmus+ project Practical Skills Evaluation With Digital Technologies in Teacher Education. Please visit our website: https://d-eva.eu/.