Insight
The Service Blueprint
Our Product
In the previous sprint we developed future scenarios based on our test of our need-based profiles. These possible futures informed our design of a service blueprint which serves as an approach for every public library in the Netherlands. We followed the concept below for the design of the service blueprint for an hybrid citizen science hub.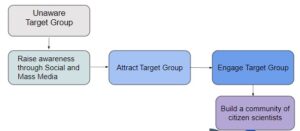 Image: Concept for service blueprint
User requirement list for libraries (MoSCoW)
We developed a MoSCoW list that enabled us to prioritise  requirements according to their importance in setting up a citizen science hub. These requirements are listed as follows: Most have, Should have, Could have and Won't have.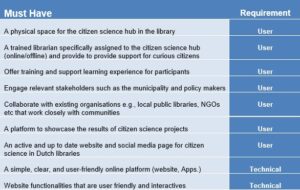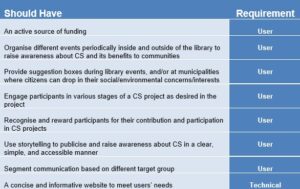 The Interactive E-hub
As a suggestion we also designed an online citizen science platform which is unique and interactive that will incorporate well into the blueprint. A major highlight of this platform is the ability to show a map of every local library with an active citizen science hub using legends as indicators. Other features of the website are: 
Top cities of the month: This feature acknowledges the top three cities based on a ranking system from  points earned through participation in Citizen science projects. This has the capability to enhance motivation for a larger audience.
Projects: This feature allows users to find projects, start new projects and also join ongoing projects. 
Libraries: This feature enables users to see active libraries functioning as  citizen science hubs in the Netherlands. With the map tool, users can find the nearest local library to support their project. 
Explore community: Users can find other users in their community who have similar environmental concerns. Together they can create groups for doing citizen science projects. These groups will be moderated by librarians.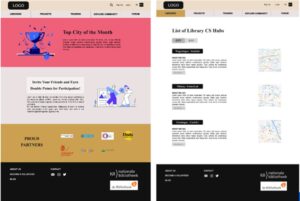 Image: Online platform for citizen science in the library
In effect we designed a service blueprint for top down and bottom-up approach to citizen science, with the bottom up considered as ideal but difficult to achieve in the short term. Hence, the top-down approach was meant to facilitate a bottom-up approach in the long run.

Image: Service Blueprint (Top-Down Approach)

Image: Service Blueprint (Bottom-Up Approach)
Our task for the last sprint is to refine the service blueprints after feedback from our partners and also test the blueprint with libraries.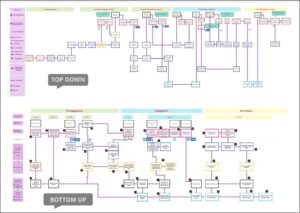 Before the showcase we made adjustments where necessary on the service blueprints based on feedback from the partners.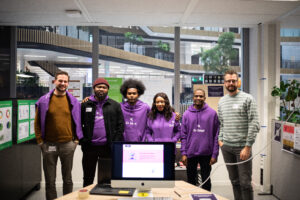 During our showcase we made preparations for our booth and made it as obvious and captivating as possible so that the audience come around to get a feel of what citizen science is about, while they also get to try our online platform and how it links to the service blueprint.
Project Team