Event
DSS online talk: Grace Kwon about "Community Design"
December 8th, 14:00-15:00 CET
This talk is especially organized for our Digital Transformation Design Intensive Program, but we open it up for our community to join until we fill the Zoom room 🙂 Limited seats available!
Community Design
Citizen participation as design methodology
Design Thinking is useless if we don't understand the history or implications of its predecessor – Community Design. How can design become a practice of facilitation and care rather than a performance of power and hierarchy? How might design methodologies change and heal societies? Through this talk Grace shares stories of why we need to reassess and redesign Design Thinking to elevate design as a communal effort in solving for the most complex challenges our future brings.
About the speaker – Grace Kwon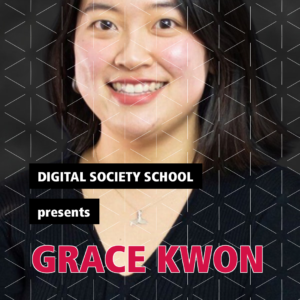 Grace is a Strategist at
Purpose based in NYC
whose expertise lies at the intersection of Design Research, Service Design, and Content Strategy.
Prior to joining Purpose Grace was a Social Innovation Fellow at The Vaid Group where she created a Community Design curriculum for nonprofit leaders, facilitated design research projects for Wikimedia's chief of staff, and led the comms strategy for the inaugural LGBTQ+ Women's Survey – a comprehensive national survey that addresses the life experiences, concerns, needs and challenges faced by LGBTQ+ Women.
Before coming to New York Grace was heavily involved with Human-Centered Design work in South Korea. With UN-Habitat she led a group of 15 designers, half North Korean refugee youth and half South Korean, in co-designing what a unified Korean education system could look like. Passionate about corporate social responsibility Grace was at SAP where she taught over 150+ university students on Design Thinking, led Service Design projects that focused on digital services made by social entrepreneurs, and consulted nonprofit clients at Greenpeace, The Red Cross, and Department of Defense in what design and innovation culture can bring in preparing for digital transformation.
Grace holds a BA in Visual Communication Design at Yonsei University Wonju Campus and a MFA in Design for Social Innovation from the School of Visual Arts in New York. Passionate about decolonizing design education, Grace is also an educator and Faculty at the School of Visual Arts where she teaches master's students on Mapping for Visualization and Community Design.
Pre-COVID19, Grace enjoyed hopping in to her local community pool in the mornings and hosted hotpot dinners for her community of artsy fartsy friends.
We look forward to seeing you there!