Article
Found in Translation: Learnings from a workshop given in Japanese
Almost a year ago the Digital Society School was approached by Canon to host a workshop. They were looking to learn about working with multidisciplinary teams and work life balance. "Sure, sounds fun! That'll be a piece of cake," we said! "To a group of people visiting from Canon's offices in Japan," Explains Nick Verouden, who runs our Design Across Cultures track. "Chance is they don't speak very much or any English," he adds. We laugh. He's serious.
In the end we had fun and so did the participants. So we thought we'd share how we approached such a fun request and what we learned from the experience!
Zlatina Tsvetkova, our learning experience designer, and I picked up this assignment. To prepare we spoke with colleagues who had experience giving workshops in Japan. They told us that a lecture was most common. However, we were explicitly asked not to do this. We were asked to get the participants out of their comfort zone. Luckily, that's our specialty at DSS. We prefer to play and facilitate conversations based on our experience with the Art of Hosting rather than lecture. The language barrier forced us to strip away anything unnecessary and remove all jargon. We had to be very clear and intentional about which exercises we used and which questions we prompted the group to think on. We also had to trust that the group would talk about what they needed to talk about. Going in we really hoped that the participants learned what they came for.
On April 16th, 16 managers of the Labor Unions from various Canon offices across Japan walked into our studio, ready to learn. They are responsible for the working conditions at their respective offices and this is their first stop on tour through The Netherlands and Germany to learn how work is organized here. We had never seen people head straight for their seats, sit down and be ready to go within two minutes of walking through the door. Usually, we have to herd participants away from the coffee to their seats.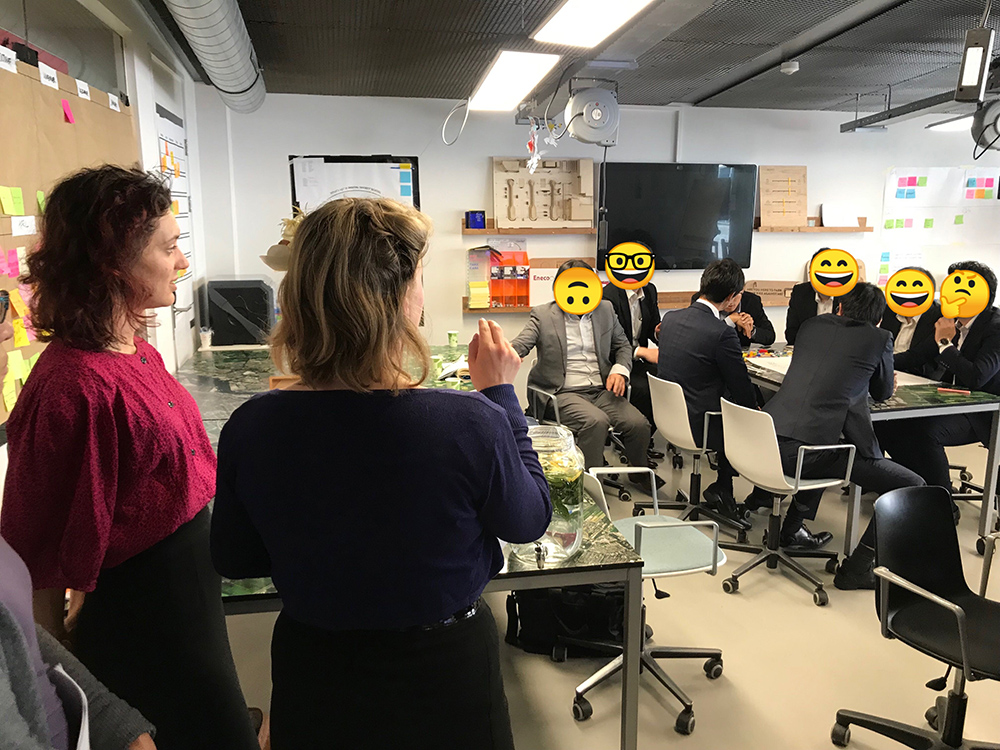 As we made moves to get the session started, one of the participants stood up and the translator asked us to wait a moment. The participant thanked us for the invitation to come to the Digital Society School and told us what they had come to learn from us today as well as the context of their trip (this wasn't the first time that I have been stopped from diving into the material too quickly, this reminded me of a meeting with the geography professors at Makerere University. Maybe it's very Dutch of me to get straight to it). As hosts we love hearing from participants about what they're expecting to learn and we find it helpful to make adjustments during the workshops.
First, we wanted to start with something interactive to understand multidisciplinary team work.
Using the Hyper Island Lego Challenge we were able to discuss working in multidisciplinary teams. The Lego game translated really well! There was a lot of laughter and the group was able to reflect well on the concept of multidisciplinary teamwork (thanks to our translator who summarized a few of the participants' thoughts for us). We were struck by the difference between their entrance and their participation, everyone seemed to have a lot of fun.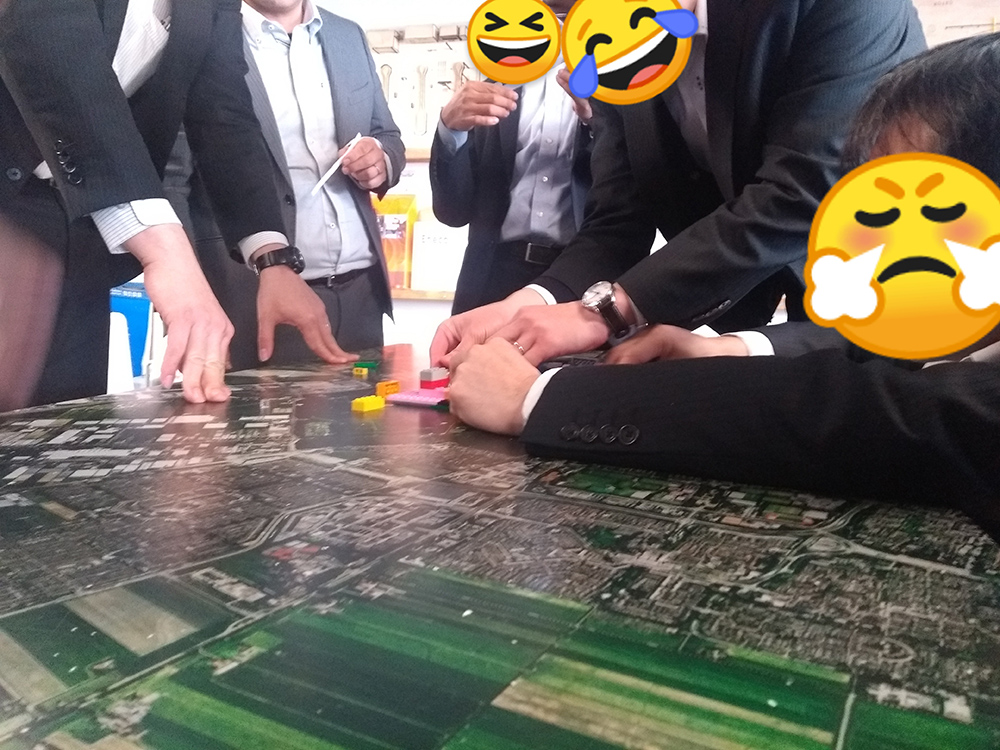 Then we moved onto part two, on work life balance. We knew from the person who gave us this assignment that the way of working at Canon is different from how we work at the DSS. He told us, for example, that there is less interdisciplinary work, they often work in silos, and use less of a design approach. Knowing this we quickly came to the conclusion that we could not simply give a list of things that we think they should start doing tomorrow. We chose to use Appreciative Inquiry. We invited the participants to talk about what has worked in the past so that they can learn from those moments, rather than saying how we think they should manage their work life balance.
The Appreciative Inquiry did not translate as well as the Lego Game. Practically, I think it is because it requires several minutes of instruction followed by a long amount of time for conversation (15 minutes of instruction for 3 rounds of conversation of 15 minutes so one hour in total). What happened was after 15 minutes each team was finished and had each had 5 minutes conversations. Rather than explain it again and start over, we decided to spend more time sharing learnings between the teams. We were able to use the extra time to have a circle practice where each person shared something they learned with the group. This final practice was a much better ending than the one we had initially planned, so it turned out to be a happy accident!
So, what could you keep in mind if you're ever in our shoes?
And a question for you: do you have experience with multi-lingual facilitation? What worked for you?
Body language
It was immediately clear to us when the Appreciative Inquiry wasn't going well when we noticed people telling stories turn by turn without reflection. No need to speak Japanese. We used this signal to start hatching a back up plan.
Keep it Simple
It is easy to make a very nuanced sentence in your native language. Be sure to make this in collaboration with the translator if possible. Otherwise, keep it simple!
Let it happen
In the Art of Hosting tradition a host should facilitate it and trust that whatever conversation happens is what needed to happen. In this case we had little choice in this and were pleased to hear the learnings (via the translator) of the group were in line with what they came for.
Communicate with the Translator in advance
We prepared a document for the translator so that they would know what we would discuss. We shared our intentions and this helped in the translation process. If possible, have a call with the translator beforehand.
Look up other peoples experiences
Read more articles like this one.
Learn some Japanese
I asked one of our interns to teach me how to welcome the group and how to say goodbye. I think it was appreciated, unfortunately I have since forgotten.
Pictures permission
Ask if you can use the pictures for later, so that you can share the happy faces with the world. I clearly didn't do that.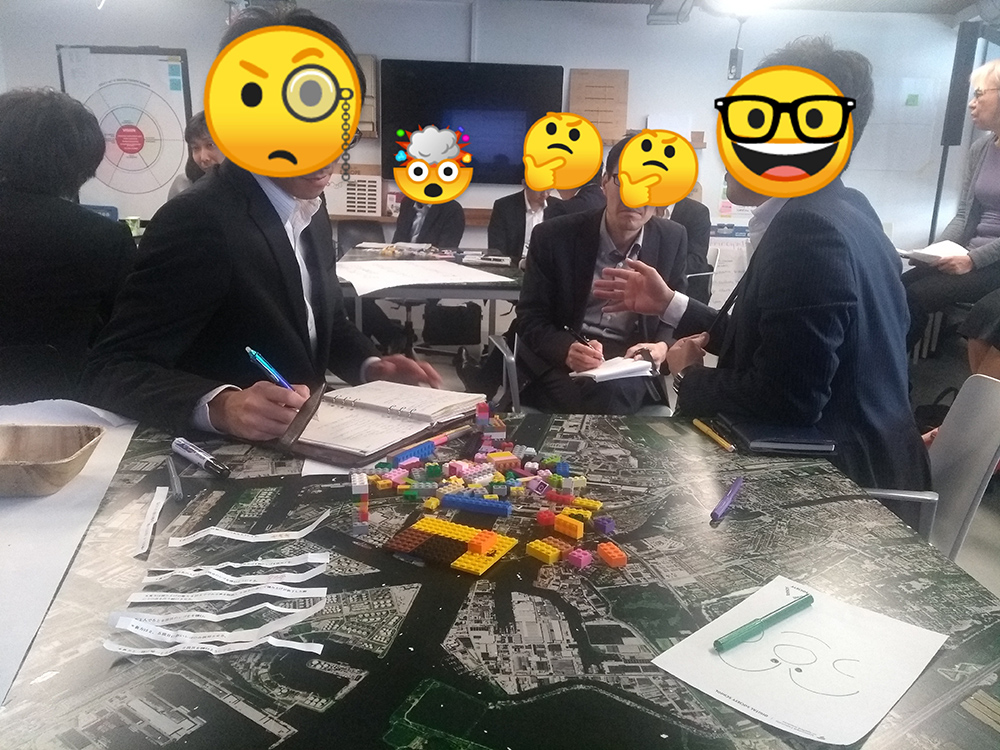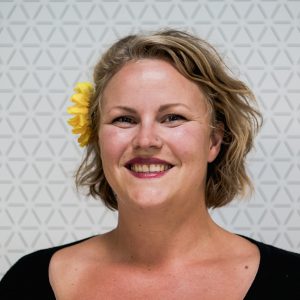 Evelien Christiaanse is Digital Transformation Designer at Digital Society School.
"I am a geographer turned media researcher passionate about researching the relationship between people and technology. My goal is to learn how to translate theory to practice together with a multidisciplinary team."